SalesFlow Review|SalesFlow Alternative – LinkedRadar
The biggest challenge in B2B marketing is lead generation. It's not just about your product or your branding—it's all about finding leads consistently and converting them into paying customers. In a highly competitive industry, your business won't be able to keep up if you can't create a stream of leads.
This is where automation tools come in. With the right tools, you can spend less time looking for leads and more time engaging with them and building a relationship.
LinkedIn automation tools, in particular, are great for utilizing the social networking platform's large user base. You can find your target clients, connect with them, and get started on converting them.
There are plenty of tools out there for you to choose from. But if you want the best results, you need to pick the right one.
However, Salesflow is not the best choice for LinkedIn automation, and the LinkedRadar on the market is more suitable for the needs of the public.
What is Salesflow?
According to SalesFlow, it enables users to "take your personal LinkedIn profile and turn it into a lead converting sales machine". It is simple to use and helps you automate certain tasks on LinkedIn. This cloud-based automation tool uses static IP's to ensure a secure prospecting outreach, even while you are running on autopilot.
With it, you can set up integrations to send data from LinkedIn directly into your CRM system by using Zapier.
From a pricing standpoint, SalesFlow has three available plans: Starter, Pro, and Advanced. They cost $79, $99, and $149 per month, respectively. The Starter plan gives you access to basic LinkedIn search as well as messaging sequences. The Pro plan adds more features like Zapier integration, team management, etc. The Advanced plan gives all of the Pro features plus open InMail sequences.
This means you need to upgrade to Pro before you can access essential features such as the Zapier integration and the Sales Navigator and Recruiter compatibility.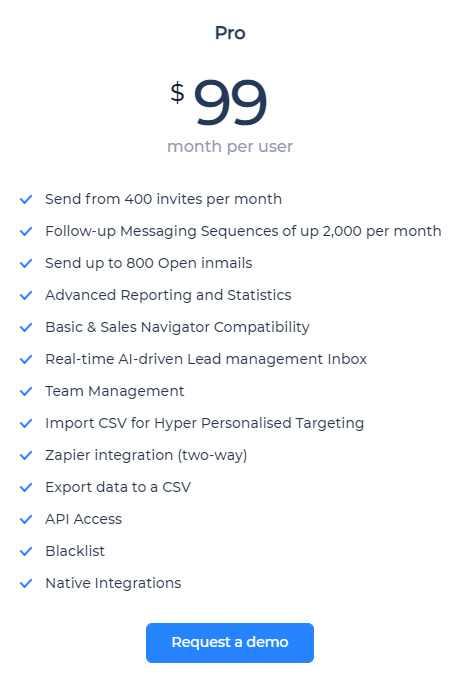 Why LinkedRadar is Better Than Salesflow?
We have incorporated all the best features of any robust LinkedIn automation tool, including Salesflow, into LinkedRadar. Our next-generation automation tool already includes all the features of Salesflow that we explained above, so we'd not want to repeat all the information here. On top of all those features, LinkedRadar LinkedIn automation software comes loaded with other excellent benefits and more advanced features.
LinkedRadar is exceptionally powerful and advanced in terms of features, which ultimately translates to:
1. Higher acceptance rates: With a 92% acceptance rate on average, LinkedRadar is sure to take your LinkedIn lead generation to the next level. Simply switch your LinkedIn account on autopilot and let LinkedRadar follow, like, and view even profiles that usually disregard your connection requests. The invitation note incorporates more than fifteen factors for enhanced customization and A/B testing.
2. Exceptional message response rate: Dripify users get an average of 55% responses to their messages. We have made that possible with our leads warm-up action that incorporates automatically viewing, liking, endorsing, and following before activating your lead generation strategy. Plus, LinkedRadar uses the Message Viewed, and Message Replied triggers and boost message adaptation with more than 15 key actors.
3. Record conversion rates: At an average of 94%, LinkedRadar leads all LinkedIn automation tools in terms of conversion rates. Thanks to the advanced campaign creation features, multiple A/B testing options, message alerts, and more powerful elements built into the software, you can now close deals you've never imagined with other automation tools.
Comparison of LinkedRadar and Salesflow
Check out our Salesflow vs LinkedRadar comparison report table below, and you're sure to switch to LinkedRadar right now. From LinkedIn automation's key features and actions to team management and analytics to safety and security, LinkedRadar LinkedIn automation CRM takes the lead over Salesflow in every aspect.
| | | |
| --- | --- | --- |
| function | LinkedRadar | Salesflow |
| CRM Native Integration | √ | × |
| Extension Services | √ | × |
| Advanced Statistics | × | √ |
| Integrate a Lead into a Post-Response Sequence | √ | × |
| Create a Campaign via Comments on a LinkedIn Post | √ | × |
| Pricing | FREE | $99/month per user |