Linked
in
Headline
Generator
A LinkedIn Headline Generator using AI to generate highly
engaging LinkedIn headlines to get more profile visits
I am a...
Helpful tips
To improve results, we suggest including a bit more information than just your title and company. For example, consider specifying what your company does, who it targets, or what kind of content you like to share on LinkedIn.
For example:
Co-founder of LinkedRadar, a tool to help you build a personal brand on LinkedIn
Head of marketing at lempire, and I share copywriting tips
I run ABC, an online community focused on Web3 and FinTech
Headline Copied ✅
Headline copied to clipboard.
What Linkedin Headline?
What is Linkedin headline?
Your LinkedIn headline is often the first thing hiring managers and recruiters will see on your profile. 93% of recruiters said a strong headline made them more likely to view your full profile. It's featured prominently and searchable on Google. An optimized, compelling headline indicates you have a high-quality profile and strong personal brand. It helps you stand out from the crowd.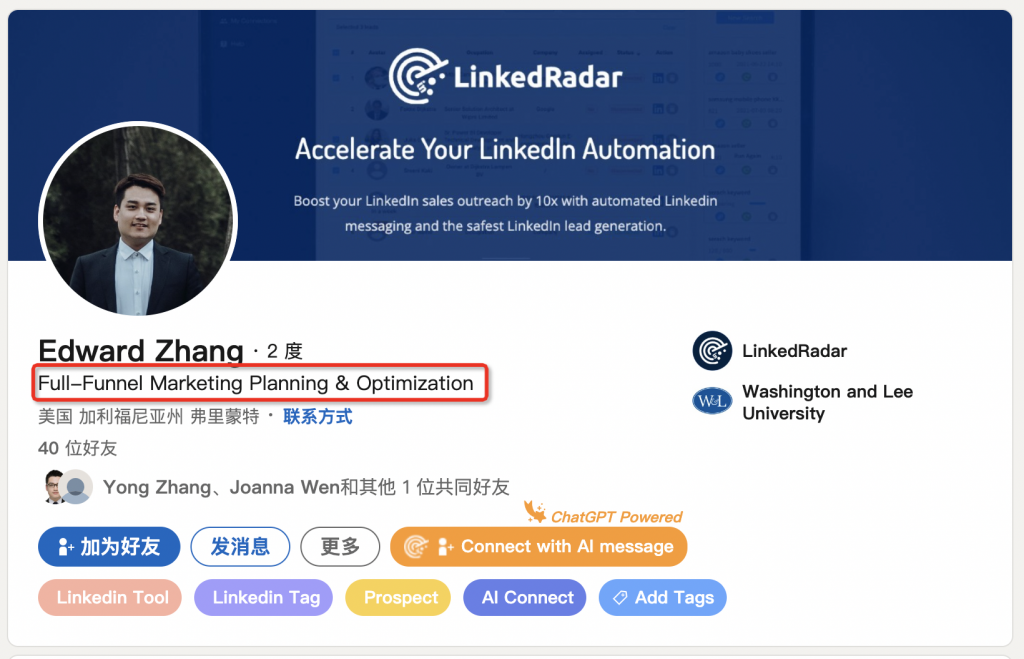 What should be on Linkedin headline?
Your LinkedIn headline should highlight your current job title and company, industry experience, professional identity, top skills and qualifications, certifications, achievements, awards, and future career goals. It should showcase what makes you unique as a candidate. Avoid generic titles and focus on showcasing your best differentiators.
What to avoid in your LinkedIn headline?
Avoid overused cliches, buzzwords, and repetitive job titles that are vague. Don't keyword stuff as it looks spammy. A customized headline tailored to your personal brand and goals is most effective. Stay away from inflated claims that can't be backed up or too-good-to-be-true statements.
Why Linkedin Headline?
Why is your LinkedIn headline important?
Your LinkedIn headline is often the first thing hiring managers and recruiters will see on your profile. 93% of recruiters said a strong headline made them more likely to view your full profile. It's featured prominently and searchable on Google. An optimized, compelling headline indicates you have a high-quality profile and strong personal brand. It helps you stand out from the crowd.
Which profile would you click into?
When you're browsing LinkedIn profiles, which one would you click into:

Chances are, you'd be much more likely to click on and explore the second, more descriptive headline. Even though they're both summarizing the same person - a marketing professional - the headline with more keywords, personality, and specificity catches your attention.
The headline that is flushed out with details about someone's skills, interests, and goals gives you a fuller picture of what they're about in those crucial first seconds of introduction. Generic, vague headlines like "Marketing professional" do little to engage people or encourage them to learn more.
An optimized, keyword-rich headline that summarizes who you are and what you do makes viewers more likely to explore your full profile. That's why crafting a compelling, customized LinkedIn headline is a key way to get noticed and connect with opportunities.
How Linkedin Headline?
How many characters in Linkedin headline?
LinkedIn headlines are limited to 120 characters, including spaces and punctuation. This concise word limit means you have to be selective with what you highlight. Focus on showcasing your current role and professional identity in a scannable way. Use power words strategically to get your message across in limited space.
How to Write a LinkedIn Profile When Unemployed?
If unemployed, highlight previous job titles, industry experience, and transferable skills in your headline. Use it to summarize the professional identity and expertise you bring. Mention your ideal career or job search targets. Promote services as freelancer/consultant. The goal is still to make a strong first impression and convey value.
How to write a good LinkedIn headline?
Start by brainstorming your target identity, skills, company details to feature. Choose just 1-2 things to highlight. Craft a memorable slogan using power words and numbers. Check character count. Get creative with formatting like slashes, parentheses, hyphens. Keep revising and testing different options. Headlines with metrics highlighting achievements tend to perform well.
How to use AI to generate LinkedIn headline?
AI writing assistants and LinkedIn headline generators like LinkedRadar can help create optimized, personalized headlines tailored to your brand in seconds. You simply input some background details and the AI suggests catchy, unique headline options for you to choose from, customized to your goals. This saves you time over manually writing and testing multiple headlines. 87% of users said AI tools helped them create better headlines.
Linkedin Headline Examples
Linkedin Headline for Sales
Driving Digital Transformation Through Consultative Selling

I utilize consultative selling techniques to understand client needs and guide their digital transformation journeys. With 5+ years of enterprise software sales experience, I excel at strategic networking and value-based selling.

Cloud Software Sales Specialist Exceeding Quarterly Quotas

Award-winning SaaS sales professional consistently exceeding quarterly sales targets. Skilled at building long-term partnerships and articulating ROI of cloud solutions. Seeking opportunities to drive revenue growth.

Corporate Account Executive at Leading SaaS Company

Proven track record of managing complex sales cycles from prospecting to close. Adept at C-level engagement, solving business challenges through SaaS solutions. Passionate about enabling digital transformation.

Award-Winning B2B Tech Sales Professional

Data-driven sales expert ranked top 10% of sales team 3 years in a row. Skilled negotiator who builds trust and guides customers to solutions that maximize value. Thrives in fast-paced, dynamic work environments.

Enabling Business Growth Through Value-Based Selling

B2B sales leader delivering 118% to quota yearly through value-based selling. Focused on long-term partnerships, not one-time transactions. Ready to drive revenue and growth for dynamic organizations.
Linkedin Headline for Job Seeker
Digital Marketing Leader | Open to New Opportunities

Forward-thinking marketing executive with 10+ years overseeing digital marketing teams. Proven success in demand generation, branding, and ROI optimization. Open to senior leadership roles.

Solutions-Driven Sales Manager Seeking New Challenges

Innovative sales leader with 8 years consistently driving double-digit growth. Seeking new challenges where I can make an impact and develop high-performance sales teams.

Product Marketing | Go-to-Market Strategy | Available for Hire

Data-driven product marketer with 7+ years experience leading successful product launches. Skilled at positioning, messaging, and go-to-market strategies. Exploring new product marketing opportunities.

Customer Success & Support | Improving CX and Retention Rates

Proven ability to drive customer loyalty, satisfaction, and retention. Led initiatives improving NPS by 30+ points. Ready to bring analytical abilities to new customer success role.

Supply Chain Optimization | Lean Manufacturing | Exploring New Roles

Six Sigma Black Belt and operations leader with history of optimizing supply chains. Ready to bring continuous improvement expertise to new challenges in manufacturing or end-to-end operations.
Linkedin Headline for Student
Business Student | Marketing Intern at XYZ Company

Results-driven business student interning with marketing team at top tech firm. Supported campaign driving 20% increase in leads. Excited to apply skills in future marketing roles.

Computer Science Major | Founder of Campus Coding Club

Driven computer science student leading coding club to teach programming skills. Passionate about bringing together tech enthusiasts to build community, share knowledge. Seeking internships.

MBA Candidate | Strategy Consulting | Stanford 2025

First-year Stanford MBA candidate interested in strategy consulting roles. Strong track record of problem solving and data analysis from past work in venture capital.

Psychology Undergrad | Research Assistant | Future Clinical Psychologist

Dedicated psychology student planning to pursue clinical psychology graduate degree. Gaining research skills as assistant in university cognition lab. Passionate about helping others.

Mechanical Engineering Student | Robotics Enthusiast | Aspiring Design Engineer

Top-performing mechanical engineering student and robotics club leader. Experience with 3D modeling, prototyping, and machine design. Seeking internship to gain industry experience.
Linkedin Headline for Graduate
Computer Science Graduate | Machine Learning | Aspiring Data Scientist

Recent computer science graduate with machine learning coursework. Built predictive models and analyzed data for capstone project. Excited to apply skills as an entry-level data scientist.

MBA Graduate | Marketing | Passionate About Brand Strategy

Recent MBA graduate with brand management experience from capstone project. Heavy background in segmenting audiences, positioning brands, and executing integrated campaigns.

Finance Masters | Financial Analyst | Achieving CFA Certification

Master's degree in finance with solid academic and internship experience in valuation and financial modeling. Currently pursuing CFA to become a licensed financial analyst.

Engineering Graduate | Robotics | Seeking Entry-Level Design Role

Bachelor's degree in Mechanical Engineering. Led university robotics team to compete in NASA Robotics Mining Competition. Strong 3D design portfolio. Seeking entry-level engineering opportunities.

Biochemistry Graduate | Laboratory Skills | Exploring Research Opportunities

Recent graduate with degree in biochemistry. Experienced with chromatography, cell culture, PCR, and other lab techniques. Excited to begin a career in research or quality control.
Linkedin Headline for Recent Graduate
Class of 2022 Graduate | Computer Science | Aspiring Software Engineer

Energetic computer science graduate from Class of 2022. Led senior project developing mobile apps. Built programming expertise through internships. Seeking entry-level software roles.

2022 Marketing Graduate | Digital Marketing Specialist | Exploring New Opportunities

Recent marketing grad with digital marketing experience from internships and classes. Passionate about creative content production, SEO/SEM, and analytics. Excited to start new career chapter.

Recent MBA Grad | Business Analyst | Strategy Consulting Interest

MBA 2022 graduate interested in business analyst or consulting roles to utilize problem-solving skills. President of Consulting Club. Analytical thinker with 3.9 GPA.

2022 Finance Grad | Financial Analysis | Pursuing CPA Certification

Licensed CPA candidate. Graduated with honors in 2022 with B.S. in Accounting. Completed 2 tax internships. Pursuing finance or audit roles in public accounting firm.

Class of 2022 | Chemical Engineering | Seeking Process Engineering Role

Chemical engineering graduate from Class of 2022. Experienced in process simulation, equipment design, and lab safety. Excited to begin career as process or manufacturing engineer.
Linkedin Headline for Unemployed
Digital Marketing Leader | Currently Unemployed | Open to Opportunities

Forward-thinking marketing executive with 10+ years experience now exploring new leadership roles. Proven success driving ROI through positioning, branding, and integrated campaigns.

Product Management | 7 Years Experience | Seeking New Challenge

Innovative product leader now looking for next challenge after recent layoff. Led cross-functional teams through full product lifecycle. Excels at strategic planning and user insights.

Software Engineer | Java, Python, JavaScript | Laid Off During Merger

Software developer with 5+ years experience developing applications using Java, Python, JavaScript, and AWS services. Seeking new engineering role after recent layoff.

Call Center Manager | Improving CX and NPS Scores | Open to Opportunities

Proven call center leader laid off due to company restructuring. Grew agent satisfaction scores 20%+ while maintaining service metrics. Ready for new management role.

Accounting Manager | CPA | Currently Unemployed But Eager to Work

CPA and accounting manager with 15+ years experience. Led initatives to improve month-end close and reporting. Unemployed but staying active in the field and excited to join a new team.
AI Headline Generator
The Best Headline Generator for Linkedin
LinkedRadar's data-driven LinkedIn Headline Generator creates optimized, catchy headlines personalized for you in one click for free. Get AI-powered headline ideas that help you stand out and get noticed.
The LinkedIn Headline Generator analyzes your profile and suggests keyword-rich headlines tailored to your background and goals. Generate hundreds of options instantly to inspire you. Customize the headlines further for the perfect fit.
According to LinkedRadar data, members who optimize their headline get up to 17x more profile views. The Headline Generator helps you come up with creative, personalized headlines to showcase your best professional self on LinkedIn.
AI creates catchy headlines personalized for your profile in one click!
START FOR FREE