FinalScout Review: Is It the Best Linkedin Automation Tool?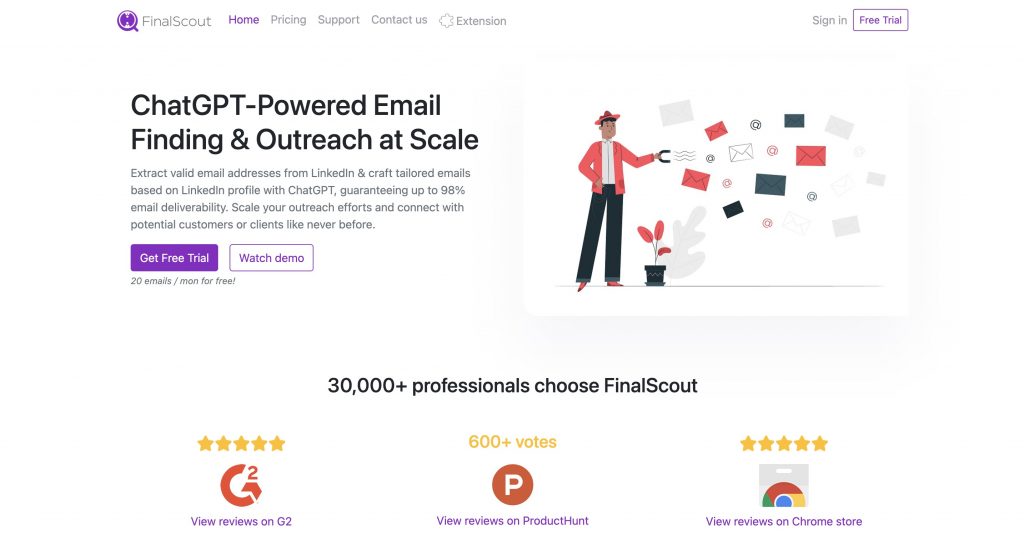 01 What is FinalScout?
Introducing FinalScout, the AI-powered email finding and outreach tool that revolutionizes the way users connect with professionals on LinkedIn. With FinalScout, users can effortlessly discover valid email addresses on LinkedIn and compose highly personalized messages. This dynamic Chrome extension goes above and beyond, enabling users to uncover professional email addresses for any LinkedIn profile and scrape profiles with emails from LinkedIn search results.
One standout feature of FinalScout is its cutting-edge EmailAI functionality. Harnessing the power of artificial intelligence, EmailAI assists users in crafting emails with a personalized touch for maximum impact. By generating email templates based on the recipient's LinkedIn profile and incorporating dynamic variables, FinalScout elevates the effectiveness of email outreach efforts.
Designed for ease of use and packed with versatile features, FinalScout is a powerful tool suitable for professionals seeking to expand their LinkedIn connections. This remarkable tool presents a host of benefits to enhance email outreach results:
Find Valid Email Addresses on LinkedIn: Utilizing various methods, FinalScout employs public profile scraping, LinkedIn database email searches, and AI-driven email address predictions to secure valid email contacts.
Craft Highly Personalized Messages: With EmailAI's intelligent assistance, users can compose emails that resonate with recipients on a personal level, significantly increasing the likelihood of engagement.
Track Email Opens and Clicks: FinalScout offers invaluable insights by tracking email opens and clicks, empowering users to gauge the success of their outreach efforts and refine future campaigns accordingly.
For those seeking an efficient tool to navigate LinkedIn connections, FinalScout stands as a stellar option. Its impressive array of features offers:
Automated Email Address Finding: Save time and effort by seamlessly discovering valid email addresses on LinkedIn.
Personalized Messaging: Craft emails that stand out and increase the chances of being opened and read by recipients.
Amplified Reach with EmailAI: Extend your outreach to a wider audience on LinkedIn, assisted by the powerful EmailAI feature.
High Email Delivery Accuracy: FinalScout boasts an impressive 98%+ accuracy rate, optimizing email delivery success.
To delve further into the world of FinalScout, visit their website or explore the benefits of a free trial. Elevate your LinkedIn outreach game with FinalScout's AI-powered efficiency and unlock unparalleled opportunities for professional networking and connection-building.
02 FinalScout Reviews: Is it worth It?
FinalScout, a well-known email finding and outreach tool, has garnered a diverse range of reviews from its users. Some have praised it as an invaluable asset, saving them time and enabling broader outreach on LinkedIn. On the other hand, some have expressed concerns about its reliability and perceived high cost.
Let's delve into the pros and cons of FinalScout:
Pros of FinalScout:
Ease of Use: FinalScout offers a user-friendly interface, simplifying the email finding and outreach process.
Finds Valid Email Addresses on LinkedIn: With its capability to discover valid email addresses on LinkedIn, FinalScout enhances efficiency in connecting with professionals.
LinkedIn Profile Scraping: Users can leverage FinalScout to scrape LinkedIn profiles with emails from LinkedIn search results, expanding the scope of potential connections.
Free Trial: The option of a free trial enables users to experience the tool's functionalities before making a commitment.
Cons of FinalScout:
Cost Consideration: Some users have expressed concerns about the cost, perceiving it as expensive compared to alternative options.
Email Delivery Rate: There have been reports that the email delivery rate may not always meet advertised expectations, potentially affecting outreach performance.
Customer Support: A few users have noted that the customer support provided by FinalScout falls short of expectations.
Is FinalScout the Right Fit for You?
Ultimately, the decision of whether FinalScout is the right fit for you hinges on your unique requirements and budgetary considerations. If you seek a dependable and cost-effective tool to navigate LinkedIn connections efficiently, FinalScout may well be a promising choice. On the other hand, if budget constraints or uncertainties about FinalScout's suitability persist, exploring alternative options might be prudent.
Keep in mind that each user's experience with the tool may differ, so it's essential to evaluate your specific needs and expectations before making a decision. Take advantage of the free trial to assess FinalScout's compatibility with your objectives and gauge its value in streamlining your LinkedIn outreach endeavors.
03 FinalScout Pricing: Is FinalScout Free?
Indeed, FinalScout offers a free trial, granting you the ability to find up to 500 email addresses and send up to 500 emails. If you wish to continue using FinalScout after the trial period, you will need to select a paid plan.
Here are the pricing plans for FinalScout:
Standard Plan: Priced at $50 per month, this plan includes 1,200 email credits, 6,000 EmailAI credits, 1,200 potential client credits, and 1,200 profile credits.
Professional Plan: Priced at $100 per month, this plan encompasses 3,000 email credits, 15,000 EmailAI credits, 3,000 potential client credits, and 3,000 profile credits.
Enterprise Plan: The pricing for this plan is custom-tailored to your specific needs. It includes dedicated account management, priority support, and unlimited email credits.
Furthermore, you have the option to purchase credits in batches. For instance, you can acquire 10,000 email credits for $400.
If you are uncertain about which plan suits your requirements, you can reach out to FinalScout to obtain a personalized quote.
Here is the pricing table for FinalScout:
| Plan | Price | Email Credits | EmailAI Credits | Prospect Credits | Profile Credits |
| --- | --- | --- | --- | --- | --- |
| Standard | $50/month | 1,200 | 6,000 | 1,200 | 1,200 |
| Professional | $100/month | 3,000 | 15,000 | 3,000 | 3,000 |
| Enterprise | Custom pricing | Unlimited | Unlimited | Unlimited | Unlimited |
04 FinalScout Tutorial: How to Use FinalScout for Lead Generation?
Certainly, here is a step-by-step tutorial on how to effectively utilize FinalScout for lead generation:
Sign Up for a Free Trial: To get started, head over to the FinalScout website and sign up for a free trial using the provided signup link.
Choose Your Plan: After successfully signing up, you'll need to select a plan. The free trial grants access to finding up to 500 email addresses and sending up to 500 emails. If you wish to continue using FinalScout beyond the trial period, you'll need to opt for a paid plan.
Connect Your LinkedIn Account: FinalScout leverages your LinkedIn account to discover email addresses. To unlock the tool's capabilities, you must connect your LinkedIn account to FinalScout.
Initiate Lead Searches: Once your LinkedIn account is connected, you can begin searching for leads. Utilize keywords, company names, or job titles to narrow down your search.
Export Leads: When you've identified the desired leads, export them to a CSV file. This file can be imported into your CRM or email marketing software for further management.
Here are some additional tips to enhance your lead generation efforts with FinalScout:
Use Specific Keywords: Employ targeted keywords during lead searches to discover prospects who are more likely to be interested in your products or services.
Diversify Search Criteria: Explore various search criteria, including keywords, companies, and titles, to broaden the scope of potential leads.
Leverage CSV Export: By exporting leads to a CSV file, you gain the flexibility to integrate them seamlessly into your CRM or email marketing software.
Harness EmailAI for Personalization: Embrace the EmailAI tool to craft personalized emails, significantly boosting open and click-through rates.
Monitor and Analyze Results: It is essential to track and analyze the performance of your lead generation efforts. Understanding which leads are most likely to convert can refine your approach.
05 FinalScout Alternatives: Which is your Best LinkedIn Automation Tool?
ProspectIn
ProspectIn is a comprehensive LinkedIn automation tool that is designed to streamline your lead generation efforts. It offers a wide range of features, including personalized messaging, email outreach, and social media automation. With ProspectIn, you can efficiently manage and engage with your LinkedIn connections to nurture meaningful relationships.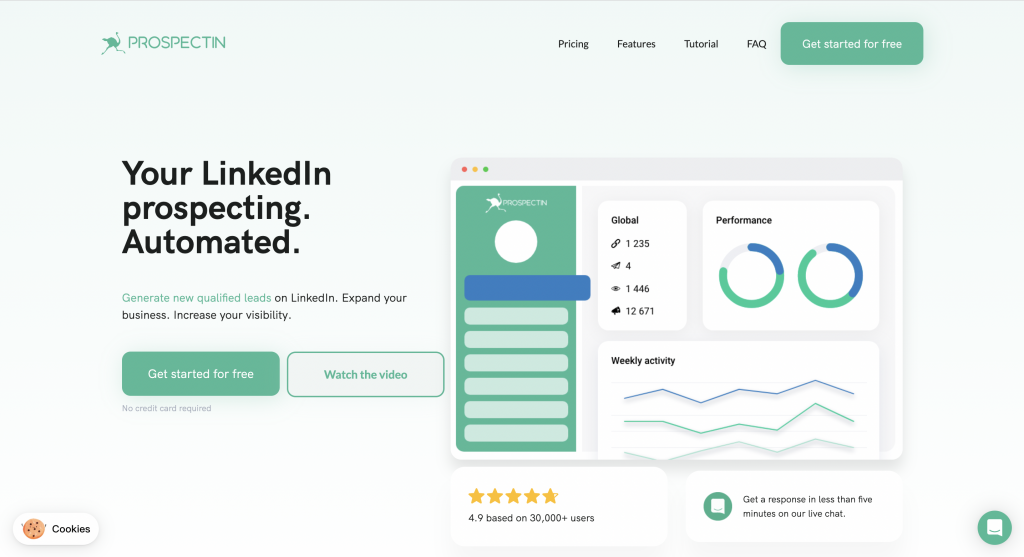 LinkedIn Sales Navigator
LinkedIn Sales Navigator is a premium tool that provides a plethora of features to help you find and connect with potential leads on LinkedIn. With advanced search filters and lead recommendations, LinkedIn Sales Navigator enables you to target your ideal prospects and build a strong network of valuable contacts.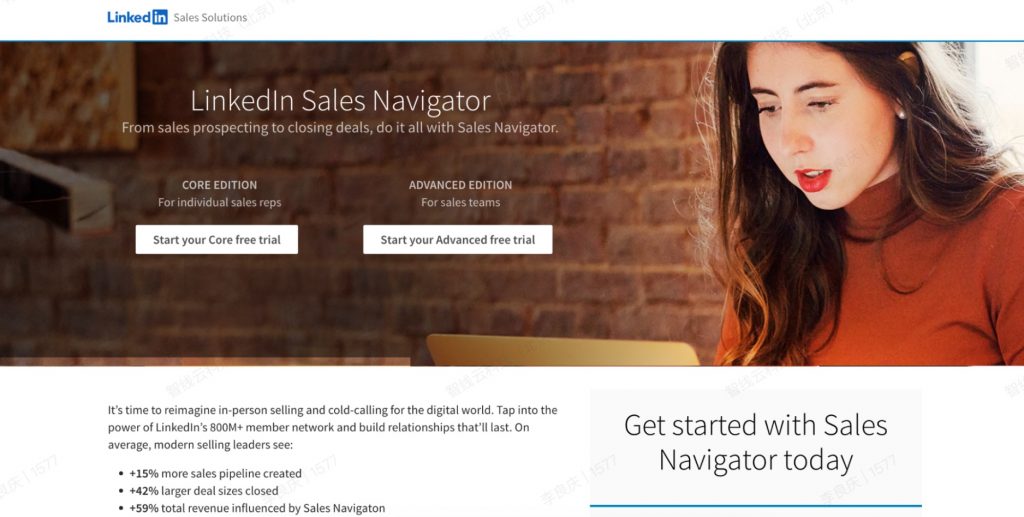 Octopus CRM
Octopus CRM is a powerful automation tool that simplifies your LinkedIn marketing activities. It allows you to automate personalized message campaigns, connection requests, and follow-ups, helping you maintain a consistent and effective outreach strategy on the platform.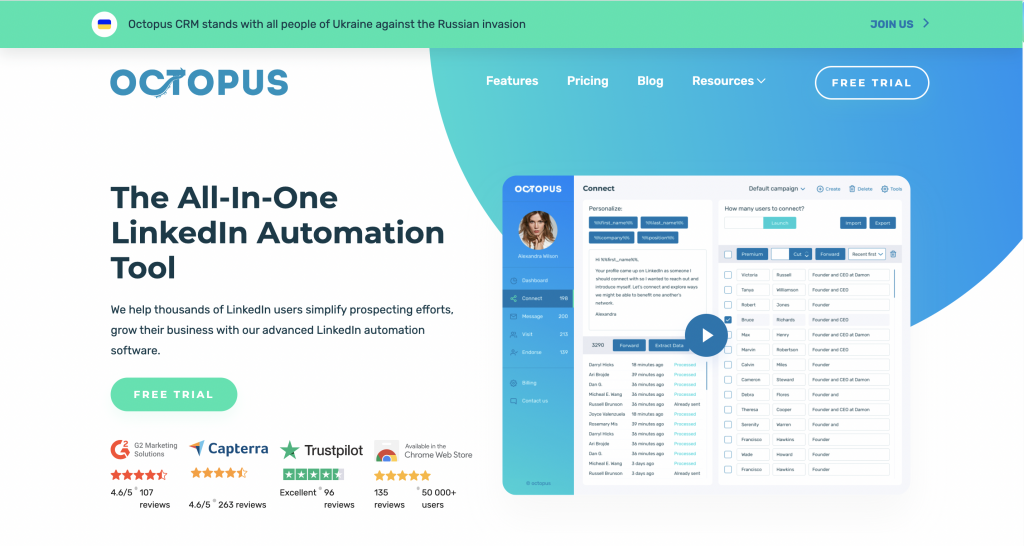 Dux-Soup
Dux-Soup is a versatile LinkedIn automation tool that enables you to automate various tasks, such as profile visits, connection requests, and messaging. It offers a seamless way to engage with your LinkedIn audience and expand your network effortlessly.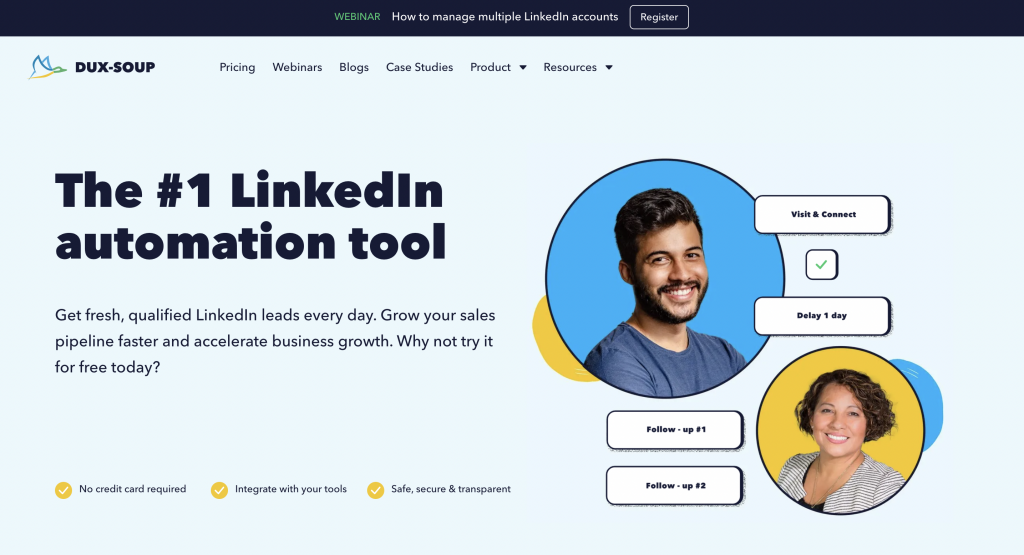 Expandi
Expandi is an innovative LinkedIn automation tool that offers automated personalized outreach campaigns, connection requests, and messaging. It helps you maximize your LinkedIn presence and engage with your target audience on a large scale, driving valuable connections and opportunities.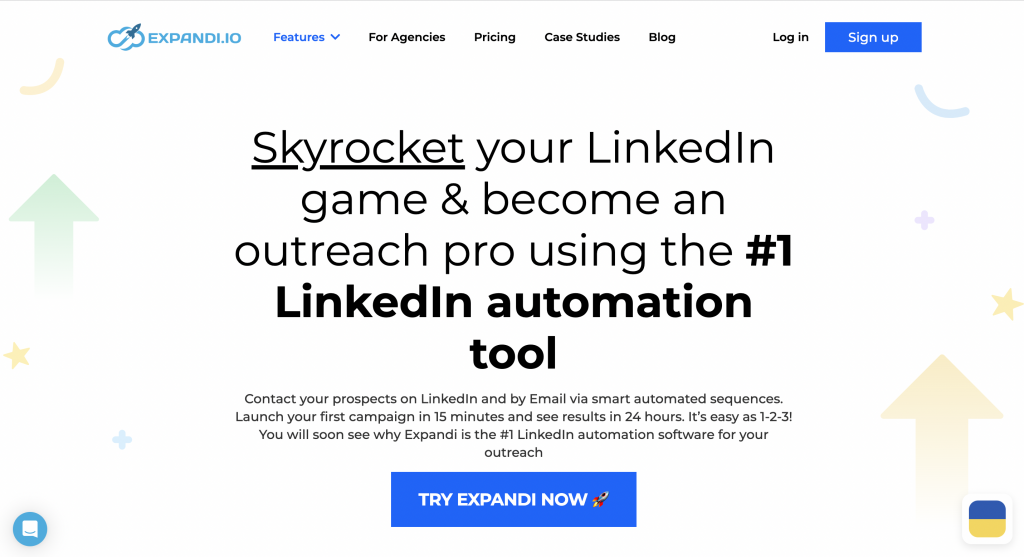 Waalaxy
Waalaxy is a feature-rich LinkedIn automation tool that simplifies your prospecting efforts. With automated personalized messaging, connection requests, and profile visits, Waalaxy helps you efficiently reach out to potential leads and build strong connections within your industry.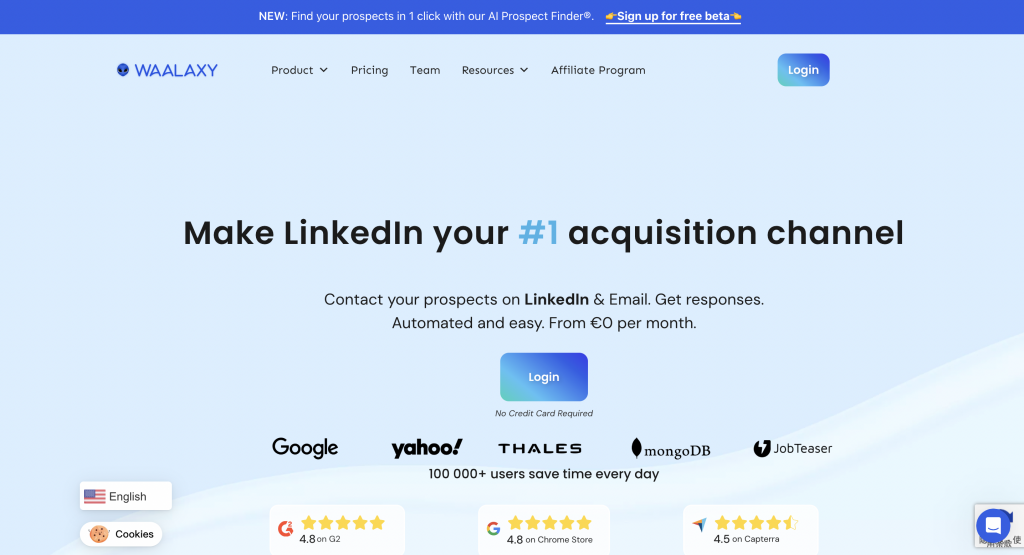 Dripify
Dripify is an innovative LinkedIn automation tool that focuses on nurturing relationships with your connections. With automated personalized messaging, connection requests, and follow-ups, Dripify helps you maintain a consistent and engaging presence on LinkedIn, building trust and rapport with your network.
Connect with your prospects on LinkedIn. Receive responses effortlessly through LinkedRadar🚀
Mimic Human Behaviour
Reduce account risk by mimicking human behavior. Including random delays between actions, and gradually increasing daily limits.
Smart Limits
Allowing our users to send up to 100 invites and 100 messages in one day.
Templates
LinkedIn's specialists meticulously craft high-conversion templates, designed to augment the efficacy of your automated LinkedIn messaging outreach.
Stable Country-based IP
LinkedRadar provides each user with a stable country-based IP so that the user's account is not under suspicion.
Boost your LinkedIn sales outreach by 10x!
The safest lead generation for LinkedIn
START FOR FREE