Salesflow Review: Is It the Best Linkedin Automation Tool?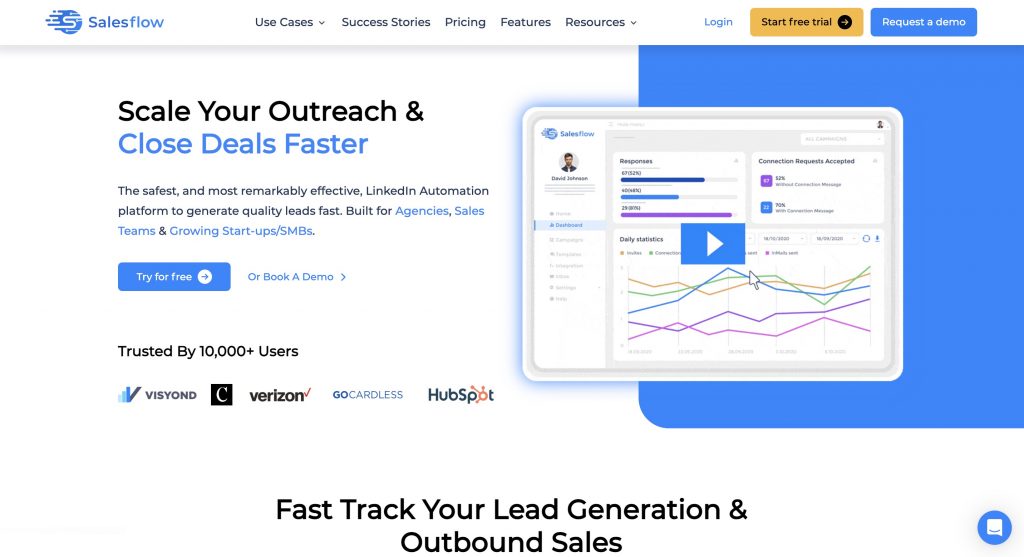 01 What is Salesflow?
Salesflow is a cutting-edge LinkedIn automation solution designed to empower businesses in lead generation and sales process enhancement. Operating from the cloud, Salesflow streamlines various tasks on LinkedIn, including messaging, prospect connections, and meeting scheduling. This allows users to focus on critical endeavors like closing deals while optimizing their outreach efforts.
Prominent features of Salesflow include:
LinkedIn Automation: Salesflow proficiently automates messaging, prospect connections, and meeting scheduling on LinkedIn, liberating users from manual tasks and enabling efficient lead engagement.
Lead Generation: Salesflow equips businesses with a plethora of tools and resources to generate leads effectively. These tools encompass lead capture forms, lead scoring, and lead nurturing mechanisms.
Sales Tracking: Businesses can effectively track their campaign progress and measure results with Salesflow. These insights offer invaluable data to optimize campaigns and drive improved outcomes.
CRM Integration: Seamlessly integrating with popular CRM systems like Salesforce and HubSpot, Salesflow allows businesses to synchronize their LinkedIn data with their CRM, streamlining data management.
Salesflow is a game-changer for businesses seeking to elevate their LinkedIn lead generation and sales process. With its user-friendly interface and an array of features, the platform facilitates substantial time and cost savings.
The advantages of leveraging Salesflow encompass:
Amplified Lead Generation: Salesflow's task automation and lead generation tools empower businesses to generate a higher volume of leads efficiently.
Enhanced Sales Process: Employing lead scoring, nurturing, and CRM integration features, Salesflow enables businesses to refine their sales process for enhanced effectiveness.
Heightened Efficiency: Through task automation and insightful LinkedIn data analytics, Salesflow optimizes business efficiency and resource allocation.
For those seeking to optimize their LinkedIn lead generation and sales process, Salesflow presents an invaluable and versatile solution. Its robust feature set, user-friendly interface, and time-saving capabilities make it a compelling choice for businesses looking to elevate their outreach endeavors.
02 Salesflow Reviews: Is it worth It?
Salesflow is a cloud-based LinkedIn automation platform dedicated to aiding businesses in lead generation and streamlining their sales process. As a well-regarded tool, it has garnered positive reviews for its effectiveness.
Advantages of Salesflow:
User-Friendly: Salesflow boasts an intuitive interface and well-organized features, making it exceptionally easy to use. Robust Automation: Offering a diverse array of automation features, Salesflow empowers businesses to save time and enhance efficiency.
Effective Lead Generation: With its task automation and lead generation tools, Salesflow proves highly effective in generating a greater number of leads.
Enhanced Sales Process: Through lead scoring, nurturing, and CRM integration features, Salesflow enables businesses to elevate their sales process.
Affordable: In comparison to other LinkedIn automation tools, Salesflow is a cost-effective option.
Drawbacks of Salesflow:
Feature Limitation: Salesflow may not offer as many features as some of its competitors in the LinkedIn automation realm.
No Free Trial: Unfortunately, Salesflow lacks a free trial option, requiring users to commit to a paid plan without prior trial usage.
Potential Overwhelm: Beginners may find Salesflow a bit overwhelming due to its wealth of features, necessitating a learning curve.
Overall, Salesflow proves valuable for businesses seeking to enhance their LinkedIn lead generation and sales process. Its affordability, user-friendly interface, and comprehensive features contribute to its appeal. However, it's important to acknowledge that some other LinkedIn automation tools may offer more extensive feature sets, and the platform might be overwhelming for newcomers.
Is Salesflow the Right Fit for You?
The worth of Salesflow hinges on your individual needs and budget. For those seeking a straightforward and affordable tool to bolster LinkedIn lead generation, Salesflow serves as an ideal choice. However, if you require a more powerful tool with a broader feature range, you may want to explore alternative options.
Here are some factors to consider when determining the worth of Salesflow for you:
Budget Consideration: Salesflow is indeed a cost-effective tool compared to other LinkedIn automation platforms. However, if you have budget constraints, it may be beneficial to explore other options.
Specific Needs: If you seek a user-friendly and uncomplicated tool for LinkedIn lead generation, Salesflow is a suitable match. On the other hand, if you desire more robust features, alternative options may be more appropriate.
Experience Level: Beginners in LinkedIn automation may find Salesflow initially overwhelming. However, if you possess prior experience in the field, you can quickly adapt to the platform's capabilities.
Ultimately, whether or not Salesflow proves worth it is a personal decision. Evaluate your requirements, budget, and expertise level before arriving at a conclusion.
03 Salesflow Pricing: Is Salesflow Free?
Although Salesflow is not available for free, it does provide a 14-day free trial. During this trial period, you can use Salesflow without incurring any charges. However, after the free trial expires, you will need to subscribe to one of Salesflow's paid plans.
The pricing for Salesflow starts at $56 per month. The plans differ based on the number of tasks you can perform per month, the number of users with access to the platform, and the level of customer support provided.
Here is a breakdown of Salesflow's pricing plans:
| Plan | Monthly Fee | Monthly Tasks | Monthly Users | Support Level |
| --- | --- | --- | --- | --- |
| Basic | $56 | 500 | 1 | Basic |
| Standard | $99 | 1,000 | 3 | Standard |
| Professional | $199 | 2,000 | 5 | Professional |
| Enterprise | $399 | 5,000 | Unlimited | Enterprise |
If you are on a tight budget, the Basic plan is a suitable choice. However, if you require more advanced features or additional user access, you may want to consider one of the other plans.
04 Salesflow Tutorial: How to Use Salesflow for Lead Generation?
Certainly, I can assist you with that. Below are the steps on how to utilize Salesflow for lead generation effectively:
Create a Salesflow account: You can achieve this by visiting the Salesflow website and clicking on the "Sign Up" button.
Select a pricing plan: Salesflow offers four pricing plans: Basic, Standard, Professional, and Enterprise. Choose the plan that best aligns with your requirements.
Connect your LinkedIn account: For Salesflow to function, it needs access to your LinkedIn account. You can connect your account by clicking on the "Connect with LinkedIn" button.
Set up a lead generation campaign: A lead generation campaign comprises tasks that Salesflow will execute on LinkedIn. To get started, click on the "Create Campaign" button.
Define your targeting criteria: Salesflow allows you to target specific LinkedIn users based on their job title, industry, location, and other factors.
Craft your personalized messages: Salesflow enables you to send tailored messages to your targeted LinkedIn users. You can use Salesflow's templates or create your own messages.
Schedule your campaign: You have the flexibility to schedule your campaign to run at a specific time and date. Alternatively, you can choose to run your campaign continuously.
Track and analyze your results: Salesflow will track the performance of your campaign and provide detailed reports. Utilize these insights to assess the effectiveness of your campaign and make necessary adjustments.
Here are some additional tips to enhance your lead generation efforts using Salesflow:
Use relevant keywords in targeting: Incorporating relevant keywords in your targeting criteria will help you reach the right audience with your messages.
Personalize your messages: By crafting personalized messages, you can increase the likelihood of receiving responses from your prospects.
Include a call to action: Including a clear call to action in your messages will prompt recipients to take specific actions, such as visiting your website or scheduling a call.
Continuously track and optimize: Regularly monitor your campaign's results and make necessary adjustments to optimize its performance and achieve better outcomes.
By following these steps and tips, you can effectively leverage Salesflow for successful lead generation on LinkedIn.
05 Salesflow Alternatives: Which is your Best LinkedIn Automation Tool?
ProspectIn
ProspectIn is a comprehensive LinkedIn automation tool that is designed to streamline your lead generation efforts. It offers a wide range of features, including personalized messaging, email outreach, and social media automation. With ProspectIn, you can efficiently manage and engage with your LinkedIn connections to nurture meaningful relationships.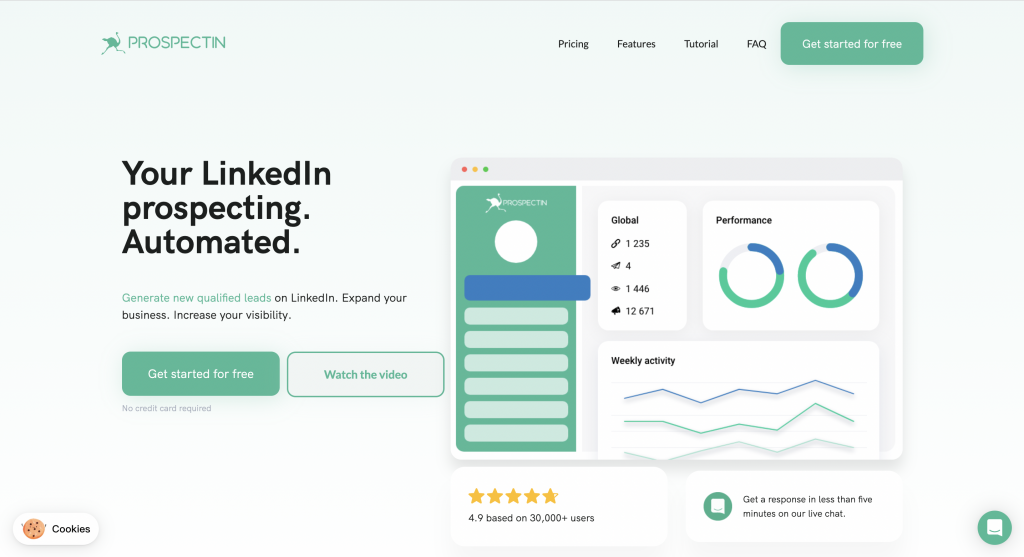 LinkedIn Sales Navigator
LinkedIn Sales Navigator is a premium tool that provides a plethora of features to help you find and connect with potential leads on LinkedIn. With advanced search filters and lead recommendations, LinkedIn Sales Navigator enables you to target your ideal prospects and build a strong network of valuable contacts.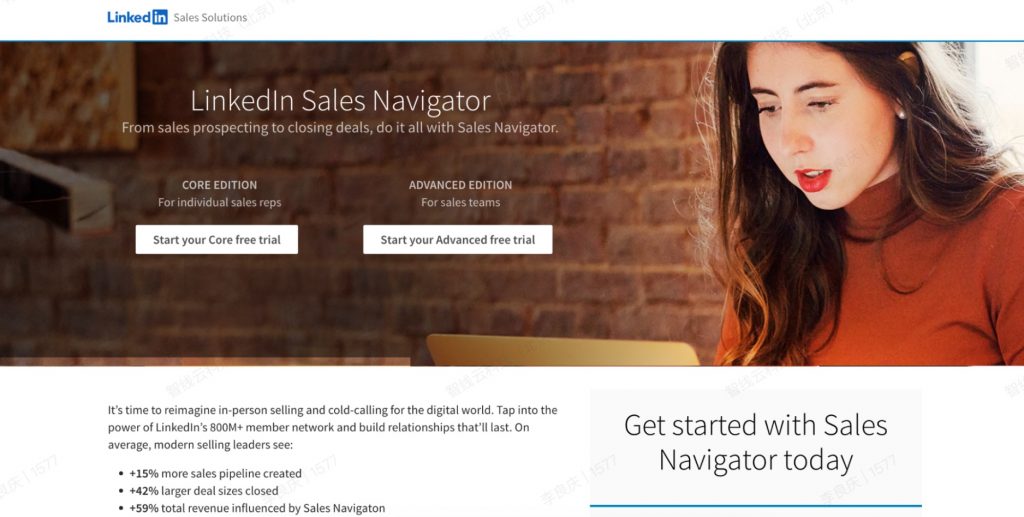 Octopus CRM
Octopus CRM is a powerful automation tool that simplifies your LinkedIn marketing activities. It allows you to automate personalized message campaigns, connection requests, and follow-ups, helping you maintain a consistent and effective outreach strategy on the platform.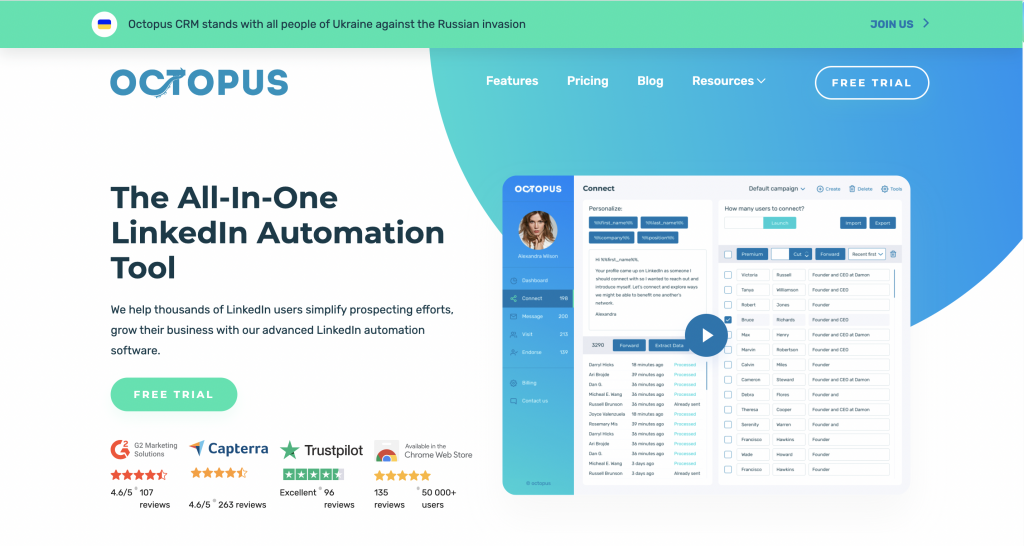 Dux-Soup
Dux-Soup is a versatile LinkedIn automation tool that enables you to automate various tasks, such as profile visits, connection requests, and messaging. It offers a seamless way to engage with your LinkedIn audience and expand your network effortlessly.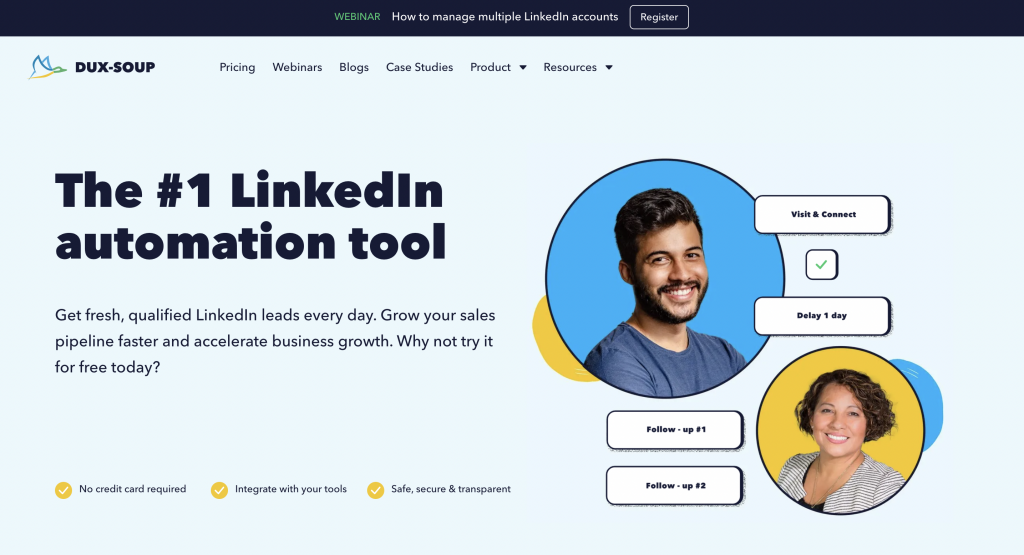 Expandi
Expandi is an innovative LinkedIn automation tool that offers automated personalized outreach campaigns, connection requests, and messaging. It helps you maximize your LinkedIn presence and engage with your target audience on a large scale, driving valuable connections and opportunities.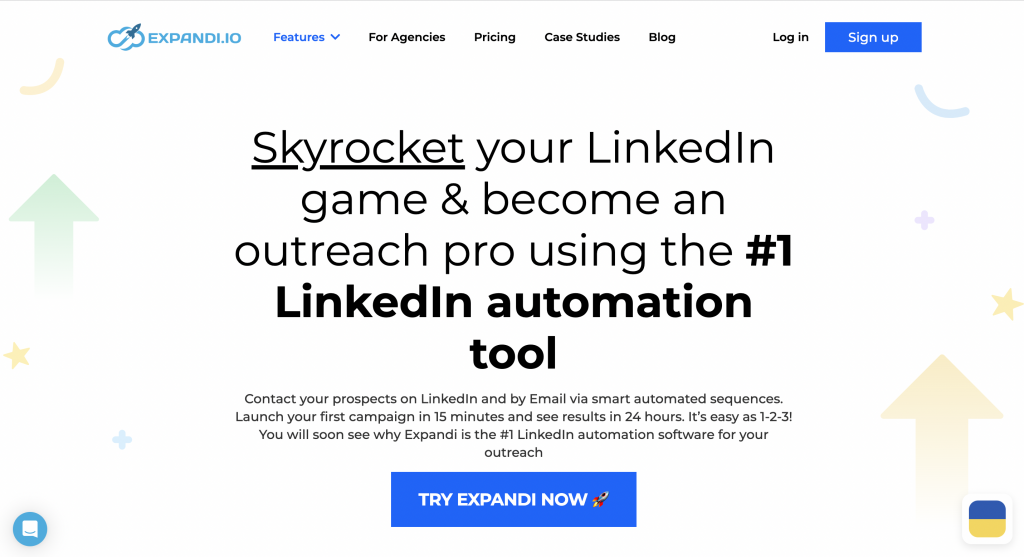 Waalaxy
Waalaxy is a feature-rich LinkedIn automation tool that simplifies your prospecting efforts. With automated personalized messaging, connection requests, and profile visits, Waalaxy helps you efficiently reach out to potential leads and build strong connections within your industry.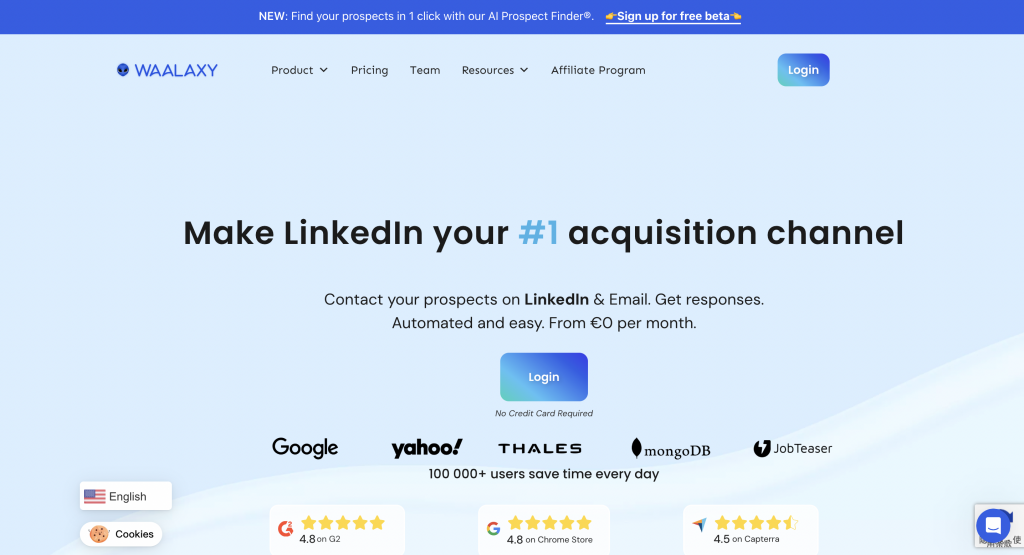 Dripify
Dripify is an innovative LinkedIn automation tool that focuses on nurturing relationships with your connections. With automated personalized messaging, connection requests, and follow-ups, Dripify helps you maintain a consistent and engaging presence on LinkedIn, building trust and rapport with your network.
Connect with your prospects on LinkedIn. Receive responses effortlessly through LinkedRadar🚀
Mimic Human Behaviour
Reduce account risk by mimicking human behavior. Including random delays between actions, and gradually increasing daily limits.
Smart Limits
Allowing our users to send up to 100 invites and 100 messages in one day.
Templates
LinkedIn's specialists meticulously craft high-conversion templates, designed to augment the efficacy of your automated LinkedIn messaging outreach.
Stable Country-based IP
LinkedRadar provides each user with a stable country-based IP so that the user's account is not under suspicion.
Boost your LinkedIn sales outreach by 10x!
The safest lead generation for LinkedIn
START FOR FREE