Octopus CRM VS LinkedRadar: Which is the Best LinkedIn Marketing Tool?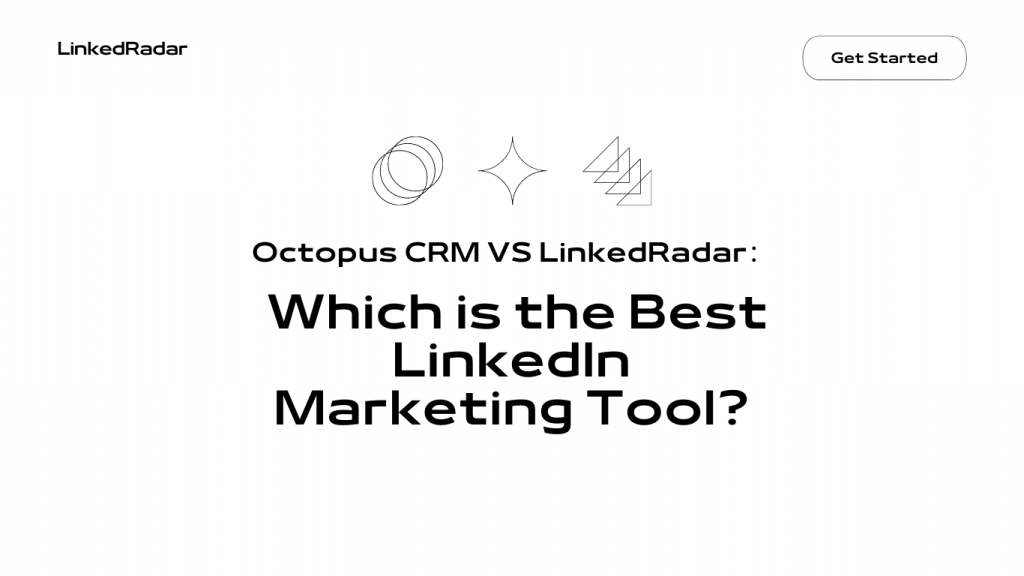 Founded in 2003, LinkedIn is headquartered in Silicon Valley, California, with offices in more than 30 cities around the world. LinkedIn is dedicated to connecting people in the global workplace and helping them do more with less and do it better. As the world's leading social platform for the workplace, LinkedIn has more than 610 million users, covers more than 200 countries and regions, and has executives at every Fortune 500 company.
LinkedIn is the social platform every business person can't afford to miss. It has the world's most comprehensive collection of professional contacts, and every user is able to find their business opportunity or job posting here.
In response to growing demand, a number of LinkedIn marketing tools have emerged to serve the Link platform, designed to help Link users increase efficiency, find leads and automate messaging.
Octopus CRM Overview: What is Octopus CRM and how does it work?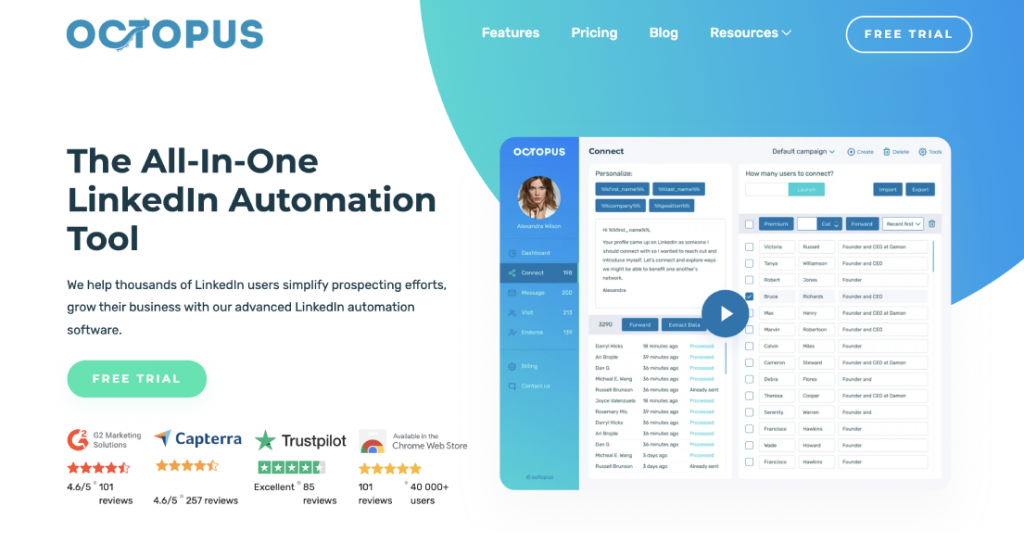 Octopus CRM is a complete LinkedIn Marketing Tool that you can use to increase your reach on the platform. You can use it to build connections, generate leads and nurture those leads.
It functions:
Find your target audience: Find your target audience on LinkedIn by filtering profiles in LinkedIn search or preparing CSV files with LinkedIn profile URLs.
Add leads to campaigns: Add these leads to your Contact, Messaging, Visit or Endorsement campaigns, depending on the action you want to perform on them. "or "Endorsement" campaigns.
Launch your campaign: Launch a campaign to start performing automated actions on these leads.
Of course, each product has its own advantages and disadvantages. Here are the advantages and disadvantages of Capterra's official summary based on user reviews:
Pros
"Very easy to set up and get going. Love that I can reach tons of people at a time; saves TONS of time, and you have the ability to customize messages with certain keys."
"Also my prospects love personalized connection messages, they love that we are visiting them, endorsing them, and then sending them follow-up messages to connect with our business too."
"Octopus made my life very easy I can do 8hrs tasks within 30minutes now. Thanks, this is an amazing CRM/software and highly recommended to all colleagues and friends."
"It is helping us to prospect faster and also with higher quality and monitoring, through the automation of the process and its better control."
Cons
"Anyone that says you cannot generate sales on LinkedIn is wrong. The reason "they" are wrong is because "they" don't have a connection, awareness, engagement, conversion system in place."
"There is a limit to the number of users you can pull into a single list, not sure if this is a software problem or LinkedIn."
"First off they charged me for a yearly plan instead of a monthly plan. When I emailed them about it they refused to respond."
"Sometimes I get a bit lost on managing contact when considering also e0mail and other communication means."
It Pricing:
It has a free trial but is generally a paid version.
| | | | |
| --- | --- | --- | --- |
| Starter | PRO | Advanced | Unlimited |
| $9.99 per month | $14.99 per month | $21.99 per month | $39.99 per month |
Octopus CRM has a good rating at Capterra, but there are still some bad reviews mentioning that their after-sales service is not perfect.
LinkedRadar Overview: What is LinkedRadar and how does it work?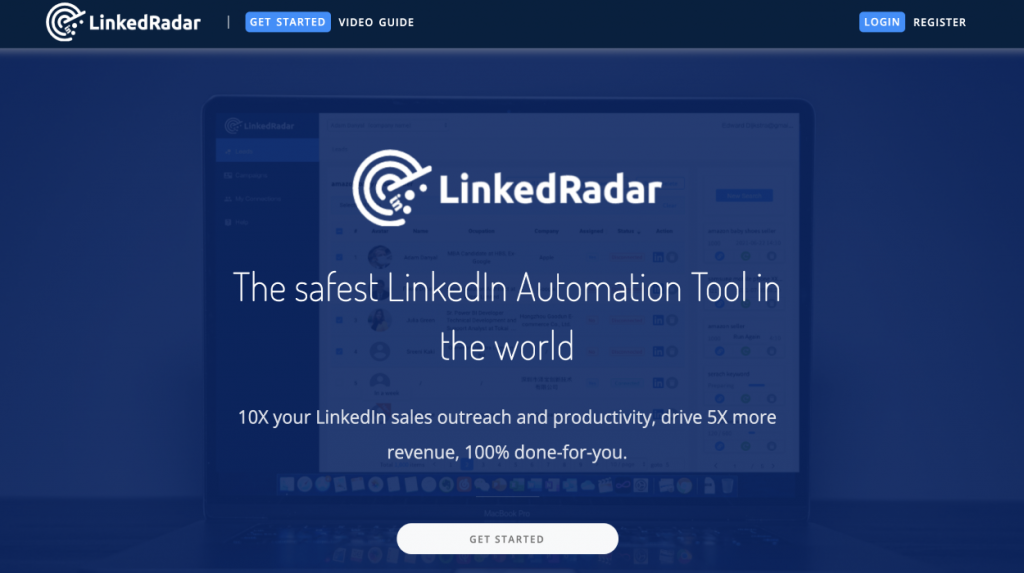 What did People say?
"LinkedRadar help me get leads from LinkedIn over 800 totally. Easy to use, great interface, and a time saver sent from above."
"In all honesty, I've already found new customers that generated more than $18,000 in revenues in the first month. "
"This tool is awesome! It makes social media marketing so much easier. The support team responds fast and is super helpful."
It functions:
Build Powerful multi-step campaigns
Schedule unlimited follow-up messages
Hyper personalize your messages
Multiple accounts support
Replicate human behavior
Smart & instant inbox
As it is still in the development stage, LinkedRadar officially welcomes feedback from users and will improve it according to the feedback. In addition, LinkedRadar will continue to introduce new features, hoping to help users to use a full-featured CRM tool on a free basis.
It Pricing:
It is free and all features are available for free.
Comparison of Octopus CRM and LinkedRadar
| | | |
| --- | --- | --- |
| Function | Octopus CRM | LinkedRadar |
| Contact Database | ✔ | ✔ |
| Customer Segmentation | ✔ | ✔ |
| User orientation tutorial | ✕ | ✔ |
| Lead Database Integration | ✔ | ✔ |
| Extension Services | ✔ | ✕ |
| Automated Publishing | ✔ | ✔ |
| Campaign Management | ✔ | ✔ |
| A/B Testing | ✔ | ✕ |
| Replicating human behavior | ✕ | ✔ |
| Free use | ✕ | ✔ |
1.LinkedRadar offers a beginner's guide service.
Newcomers to the LinkedIn CRM tool who are worried that it will be difficult to get started can rest assured that LinkedRadar offers hands-on instruction to every first-time user.
It will lead you to step by step on the road to marketing success.
2. Various features can be used free of charge.
LinkedRadar is a LinkedIn CRM tool with personalized message settings, lead generation, bulk management of customer lists, and more for every user who wants to find business opportunities in LinkedIn. Offering a free service allows users to greatly reduce the budgetary burden and not worry about indiscriminate charges for subscribing to the service.
3. Human behavior simulation technology under automation
The automated message processing system alone is already one of the most common features on the market, and the mechanization of sending a large number of messages can easily be detected as abnormal by the platform and can easily result in risks such as being blocked and banned.
LinkedRadar uses human behavior simulation technology to send messages, which will send messages under different time difference conditions, avoiding the bot detection of the LinkedIn platform and providing users with a more intelligent bulk message sending service.