LeadLeaper Review: Is It the Best LinkedIn Lead Generation Tool?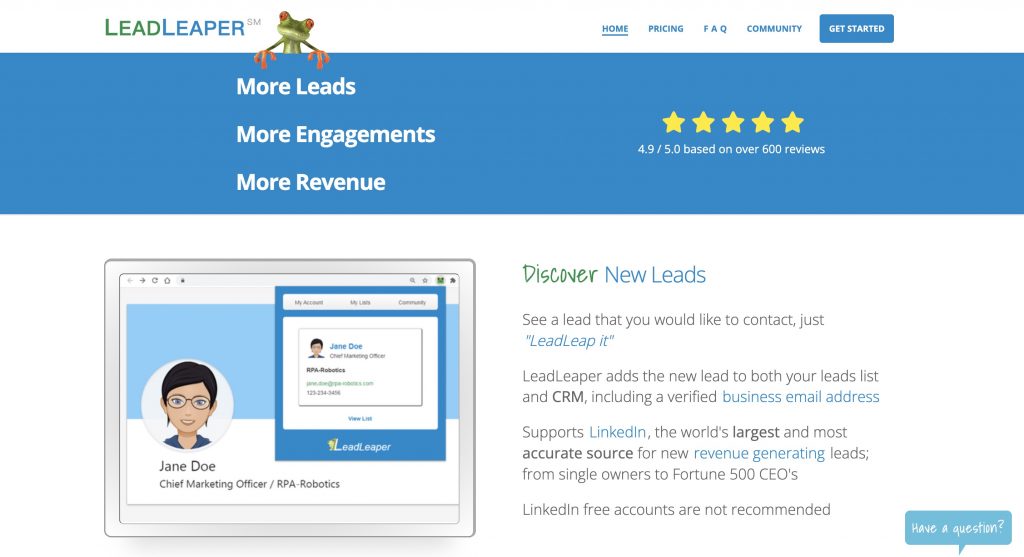 01 What is LeadLeaper?
LeadLeaper is an effective sales enablement software designed to assist businesses in managing outreach campaigns by capturing contact information from LinkedIn leads. It offers valuable features to facilitate business growth:
Email finder: Locate potential leads' email addresses on LinkedIn with LeadLeaper's email finder.
Contact information verification: Verify lead contact details to ensure accuracy.
Lead scoring: Score leads based on their potential value to the business.
Campaign management: Streamline outreach campaigns with email sending, open and click tracking, and result measurement. Reporting: Access detailed reports on lead activity and campaign performance.
LeadLeaper operates on the cloud, offering convenient access from anywhere. With multiple pricing plans available, it caters to businesses of all sizes.
The benefits of using LeadLeaper include:
Expanded sales pipeline: Effortlessly find and qualify leads, leading to increased sales opportunities.
Enhanced lead conversion: Identify the most promising leads and tailor effective outreach campaigns.
Time efficiency: Streamline lead generation and outreach with LeadLeaper's automation capabilities.
Customer satisfaction: Deliver personalized and timely experiences to customers through optimized lead management.
For businesses seeking an impactful sales enablement software to drive growth, LeadLeaper proves to be a formidable choice, enabling efficient lead discovery, qualification, and conversion.
02 LeadLeaper Reviews: Is it worth It?
LeadLeaper is a versatile cloud-based software accessible from anywhere, offering a range of pricing plans to suit businesses of all sizes.
Here are some of the pros and cons of using LeadLeaper:
Pros of LeadLeaper:
User-friendly: LeadLeaper is very easy to use, making it accessible even for businesses with no prior experience in sales enablement.
Affordable: LeadLeaper is highly cost-effective, particularly for small businesses. Its free plan is perfect for those just starting out.
Effectiveness: LeadLeaper can be highly effective in helping businesses discover and qualify leads, with its email finder feature being particularly useful for reaching out to leads on LinkedIn.
Customer support: LeadLeaper offers excellent customer support, always available to answer questions and assist businesses in optimizing their use of the platform.
Cons of LeadLeaper:
Accuracy: The email finder feature of LeadLeaper may not always be accurate, occasionally providing invalid email addresses.
Spammy: If not used carefully, LeadLeaper can result in somewhat spammy outreach, potentially sending emails to uninterested leads.
Expensive: For businesses on a tight budget, the paid plans of LeadLeaper can be costly.
Overall, LeadLeaper is a good choice for businesses seeking a sales enablement software that is user-friendly, affordable, and effective. However, businesses should be mindful of the email finder's accuracy and potential for spam before committing to LeadLeaper.
Is LeadLeaper worth it?
Determining if LeadLeaper is worth it for your business depends on your specific needs and budget. For small businesses with limited funds, LeadLeaper can be a suitable option, especially given its free plan. The paid plans are also reasonably priced.
However, larger businesses with more substantial budgets might consider exploring alternative sales enablement software solutions. Other platforms may offer additional features and functionalities beyond LeadLeaper.
Ultimately, the decision of whether or not LeadLeaper is worth it for your business lies with you. I recommend trying out the free plan to assess its suitability before considering a paid plan.
03 LeadLeaper Pricing: Is LeadLeaper Free?
Yes, LeadLeaper provides a free plan that allows you to:
Discover up to 100 leads per month
Verify up to 100 leads per month
Send up to 100 emails per month
Track opens and clicks Access basic reports
The free plan is an excellent choice for businesses in their early stages with LeadLeaper. It enables you to evaluate the software and determine if it aligns with your needs before committing to a paid plan.
For businesses requiring more extensive features and functionality, LeadLeaper offers various paid plans. Starting at $29 per month, the paid plans grant you access to features such as:
Unlimited leads
Unlimited lead verification
Unlimited email sends
Advanced reporting
Customizable workflows
The paid plans are ideal for businesses seeking to discover and qualify more leads, send a higher volume of emails, and track additional data.
Here is a table summarizing the LeadLeaper pricing plans:
| Plan | Price | Features |
| --- | --- | --- |
| Free | $0 | Find up to 100 leads per month, verify up to 100 leads per month, send up to 100 emails per month, track opens and clicks, get basic reports |
| Sales Pro | $29 per month | Unlimited leads, unlimited lead verification, unlimited email sends, advanced reporting |
| Sales Team | $79 per month | Everything in Sales Pro plus, custom workflows, custom branding |
| Enterprise | Contact LeadLeaper for pricing | Everything in Sales Team plus, dedicated account manager, custom integrations |
04 LeadLeaper Tutorial: How to Use LeadLeaper for Lead Generation?
Here are the steps on how to utilize LeadLeaper for lead generation:
Create your LeadLeaper account: You can choose between a free account and a paid account. The free account allows you to discover up to 100 leads per month, verify up to 100 leads per month, send up to 100 emails per month, track opens and clicks, and access basic reports. The paid accounts offer more features, such as unlimited leads, unlimited lead verification, unlimited email sends, advanced reporting, and custom workflows.
Connect your LinkedIn account: LeadLeaper requires access to your LinkedIn account to find leads. Once you've connected your LinkedIn account, LeadLeaper will scan your network for leads that match your specified criteria.
Set up your lead filters: You can use LeadLeaper to set up filters that refine the search for leads. Filter leads by company name, job title, location, and other criteria. Discover leads: After configuring your lead filters, LeadLeaper will start discovering leads. You can view the leads in either a list or a map view.
Verify leads: LeadLeaper can verify the email addresses of the leads. It's essential to verify email addresses before initiating outreach.
Export leads: Export leads from LeadLeaper to a CSV file, allowing you to import them into your CRM or email marketing software.
Send emails to leads: LeadLeaper enables you to send personalized emails to leads. Utilize LeadLeaper's templates or craft your own emails.
Track your results: LeadLeaper tracks opens, clicks, and conversions, providing valuable insights to improve your lead generation campaigns.
Here are some additional tips for maximizing LeadLeaper's lead generation capabilities:
Use specific keywords: Employ specific keywords to discover highly relevant leads that match your target audience more precisely.
Utilize multiple lead sources: Don't solely rely on LinkedIn; explore other sources like company websites and job boards for additional lead opportunities.
Set up custom lead criteria: Customize lead criteria within LeadLeaper to pinpoint leads that are most likely interested in your offerings.
Verify leads: Prioritize lead verification to avoid wasting time on leads with invalid email addresses.
Consistent follow-up: Maintain regular contact with leads to foster engagement and build stronger relationships.
Utilize LeadLeaper's tracking: Make use of LeadLeaper's tracking features to analyze opens, clicks, and campaign performance, allowing for continual improvement of lead generation efforts.
05 LeadLeaper Alternatives: Which is your Best LinkedIn Lead Generation Tool?
LinkedIn Sales Navigator
LinkedIn Sales Navigator is a premium tool that provides a plethora of features to help you find and connect with potential leads on LinkedIn. With advanced search filters and lead recommendations, LinkedIn Sales Navigator enables you to target your ideal prospects and build a strong network of valuable contacts.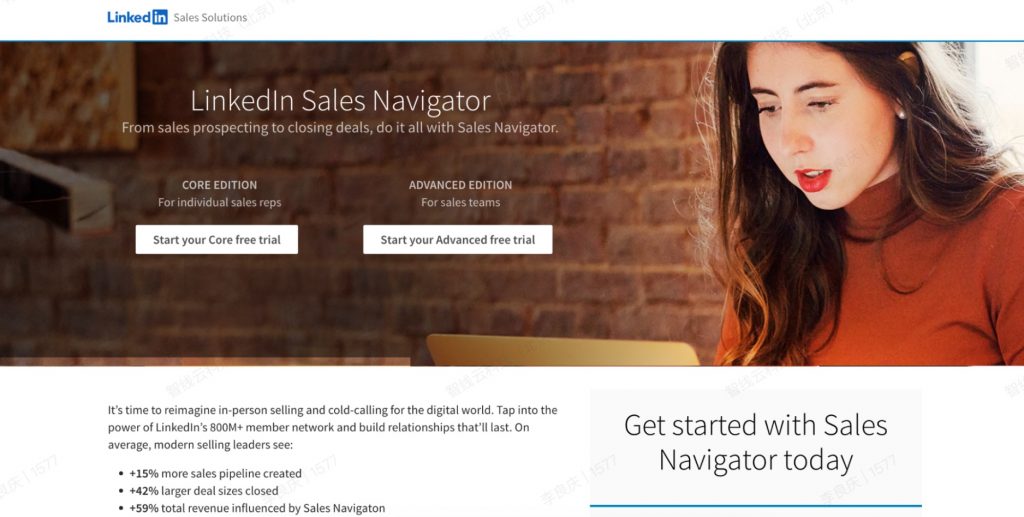 Waalaxy
Waalaxy is a feature-rich LinkedIn automation tool that simplifies your prospecting efforts. With automated personalized messaging, connection requests, and profile visits, Waalaxy helps you efficiently reach out to potential leads and build strong connections within your industry.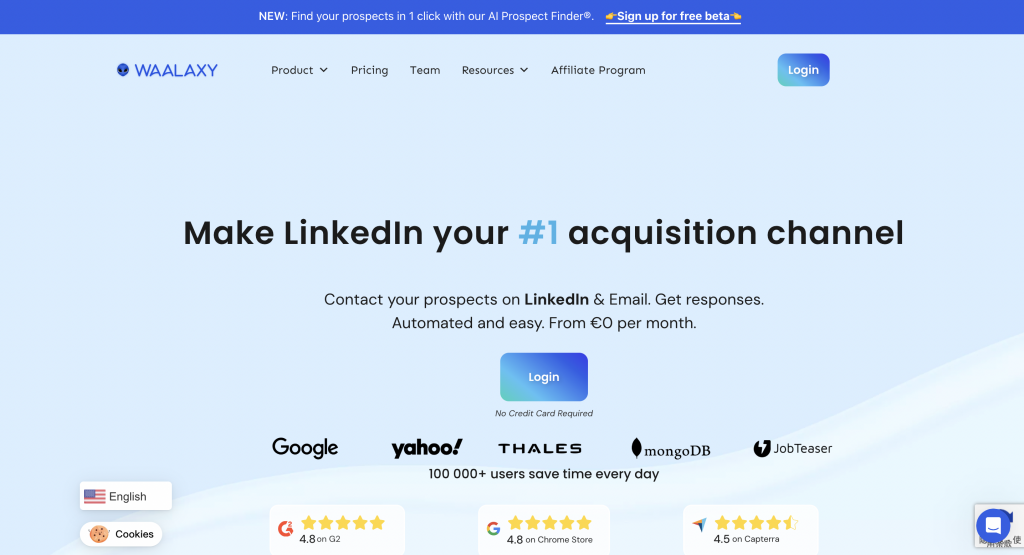 Octopus CRM
Octopus CRM is a powerful automation tool that simplifies your LinkedIn marketing activities. It allows you to automate personalized message campaigns, connection requests, and follow-ups, helping you maintain a consistent and effective outreach strategy on the platform.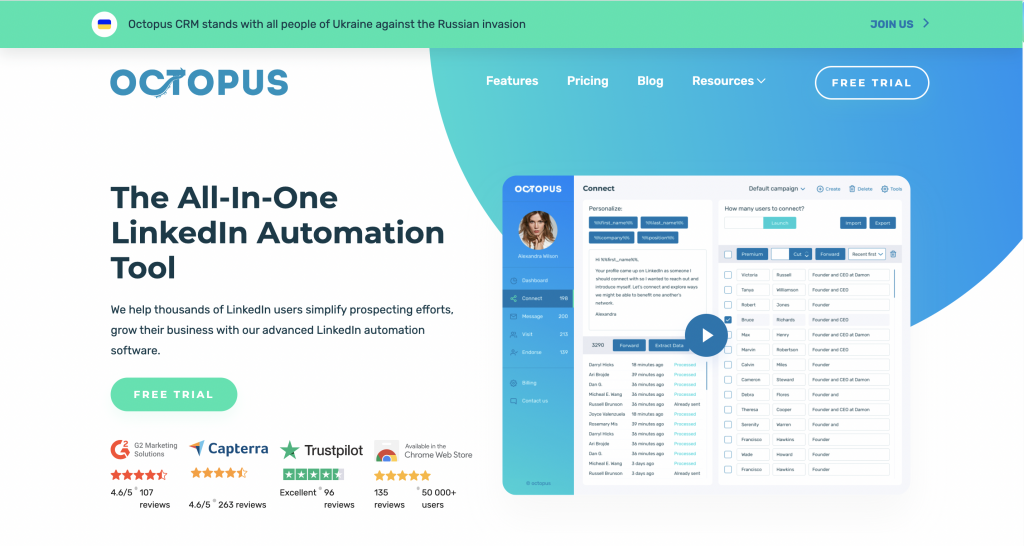 Dux-Soup
Dux-Soup is a versatile LinkedIn automation tool that enables you to automate various tasks, such as profile visits, connection requests, and messaging. It offers a seamless way to engage with your LinkedIn audience and expand your network effortlessly.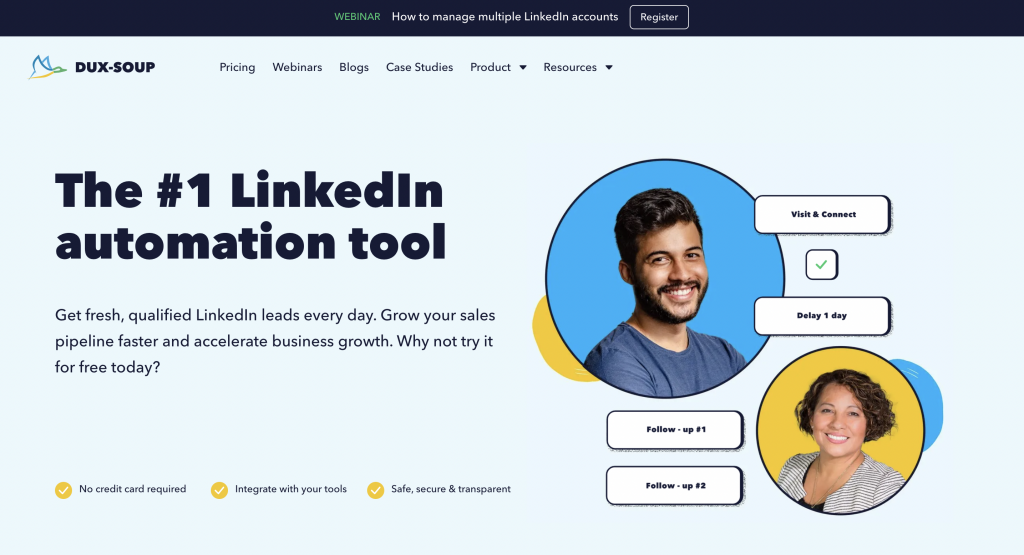 Dripify
Dripify is an innovative LinkedIn automation tool that focuses on nurturing relationships with your connections. With automated personalized messaging, connection requests, and follow-ups, Dripify helps you maintain a consistent and engaging presence on LinkedIn, building trust and rapport with your network.
Expandi
Expandi is an innovative LinkedIn automation tool that offers automated personalized outreach campaigns, connection requests, and messaging. It helps you maximize your LinkedIn presence and engage with your target audience on a large scale, driving valuable connections and opportunities.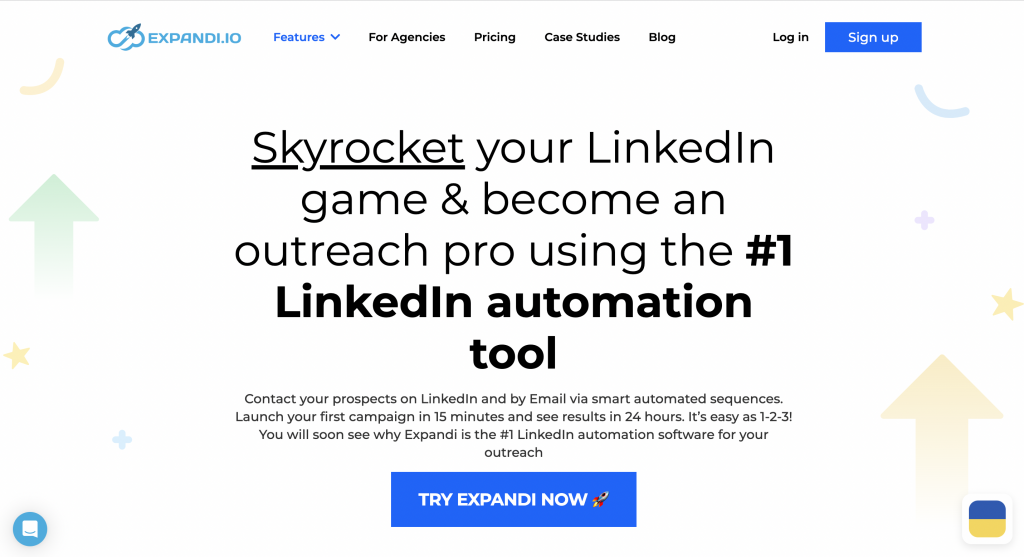 Connect with your prospects on LinkedIn. Receive responses effortlessly through LinkedRadar🚀
Mimic Human Behaviour
Reduce account risk by mimicking human behavior. Including random delays between actions, and gradually increasing daily limits.
Smart Limits
Allowing our users to send up to 100 invites and 100 messages in one day.
Templates
LinkedIn's specialists meticulously craft high-conversion templates, designed to augment the efficacy of your automated LinkedIn messaging outreach.
Stable Country-based IP
LinkedRadar provides each user with a stable country-based IP so that the user's account is not under suspicion.
Boost your LinkedIn sales outreach by 10x!
The safest lead generation for LinkedIn
START FOR FREE