Dux-Soup VS LinkedRadar: How to Choose LinkedIn Automation Tools?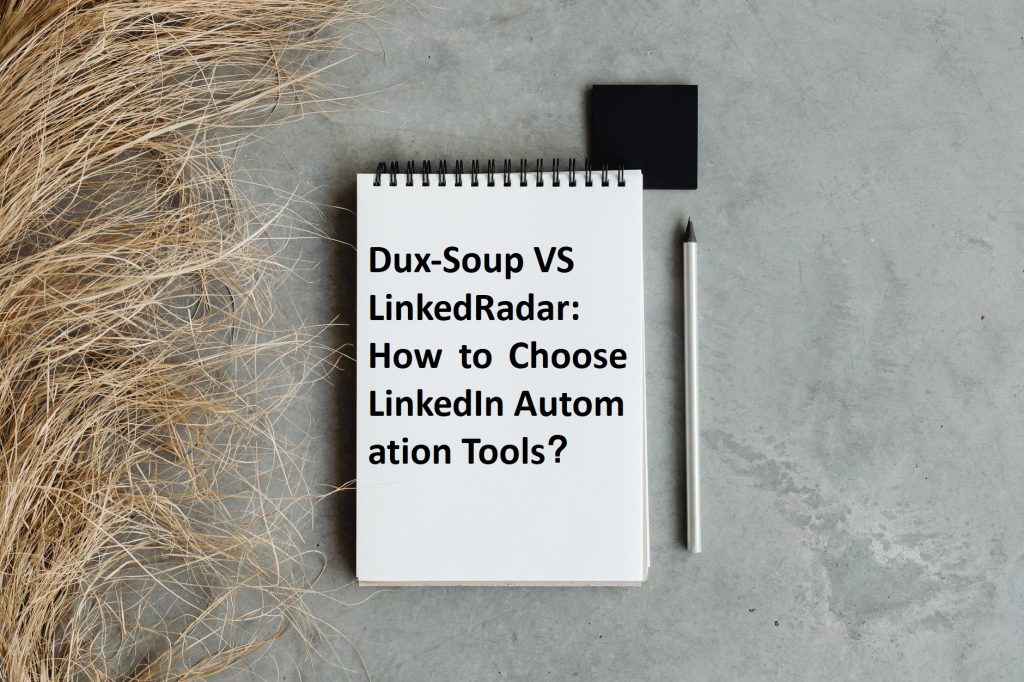 'Automation tools' is not a new term for digital marketing. On the contrary, it is becoming a trend. Because both individuals and brands can really benefit from automation tools. And in the LinkedIn marketing industry, a variety of automated tools (such as Dux-Soup, LinkedRadar) are helping people analyze data and connect with leads faster and cheaper. This is especially true for people like B2B marketers, salesperson, and job recruiters.
If you are new to the industry, this article will be perfect for you. I'll talk about how to choose a LinkedIn automation tool by giving examples.
What is Automation on LinkedIn?
As the name implies, the most immediate benefit is to avoid unnecessary time wastage. Therefore, LinkedIn automation tools are all software (including browser extension) designed to replace manual actions. For example, they support automatically sending connection requests, creating messages, sending messages, viewing messages, and clicking on followers.
But LinkedIn doesn't want LinkedIn to be a community full of bots. So, LinkedIn automation tools need to mimic the behavior of real users as closely as possible, while giving users advanced customization features. These features can help users convert cold prospects into warm leads.
As mentioned earlier, automation is already a well-known business helper. LinkedIn automation tools are improving, LinkedIn automation extensions are obsolete, and cloud-based automation tools have become mainstream. They can offer more advanced features.
Dux-Soup is the former, and LinkedRadar is the strong latecomer. Let's take a closer look.
Dux-Soup VS LinkedRadar
Dux-Soup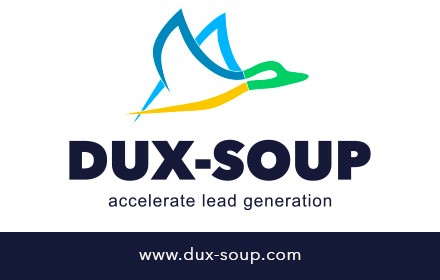 What is Dux-Soup?
Dux-Soup is a lead generation tool, which is one of the typical LinkedIn automation tools. It solves the most common automation problems. With Dux-Soup, users are able to connect with potential leads automatically.
Features
Dux-Soup supports finding new potential leads. These leads may be overlooked when you look for them manually.
Dux-Soup supports automatic message sending. And it supports custom messages of up to 300 characters.
Dux-Soup supports designing customized campaigns and sending personalized messages. In addition, you can control the start or end time.
Dux-Soup supports accessing and grabbing LinkedIn users' profiles. With it, you don't have to click on each person's profile and then copy and paste each piece of information.
Pros and Cons
Many LinkedIn connection requests can be sent effortlessly. And these actions offer plenty of customization to simplify your operations.
With Dux-Soup enabled, the repetitive task of copying and pasting LinkedIn profile information in a spreadsheet will go from days to hours or even minutes.
Since Dux-Soup is a Google Chrome extension, it can easily be identified and banned by LinkedIn. It did get listed on LinkedIn's banned list before.
Using Dux-Soup may slow down your LinkedIn browsing. When you open a new page, it may cause a delay of at least 5 to 10 seconds as Dux-Soup is loading information or something else. During this time, you will not be able to click on any content.
LinkedIn has a limit on the number of invitations per week, so if you reach your automatic invitation limit on the first day, you may not be able to use Dux-Soup for the entire week.
How to Use Dux-soup?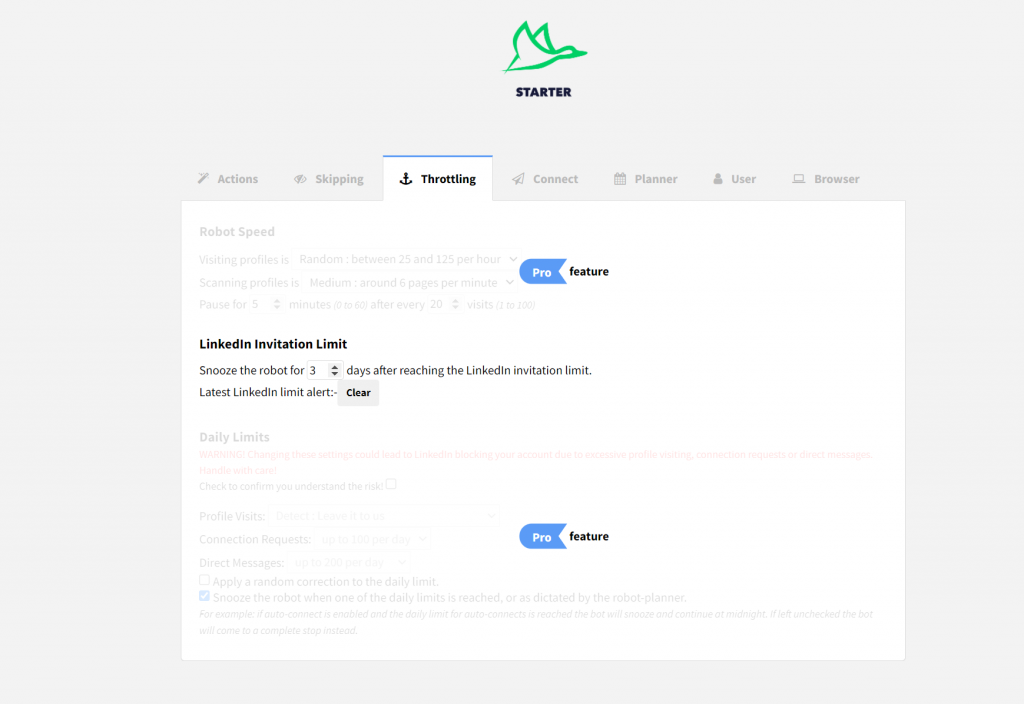 Step1: Download and install the Dux-soup Chrome extension and bundle it with your Google email
Step2: Write your setup template, including:
Skipping: Filter or exclude specific users, such as skipping users with blank profile pictures ()
Throttling: Set the number of daily invitations. (Pro feature)
Planner: select when the visiting robot should be working and when it's time for a test. (Pro feature)
Step3: After completing the setup, select the person you want to contact and set the appropriate application action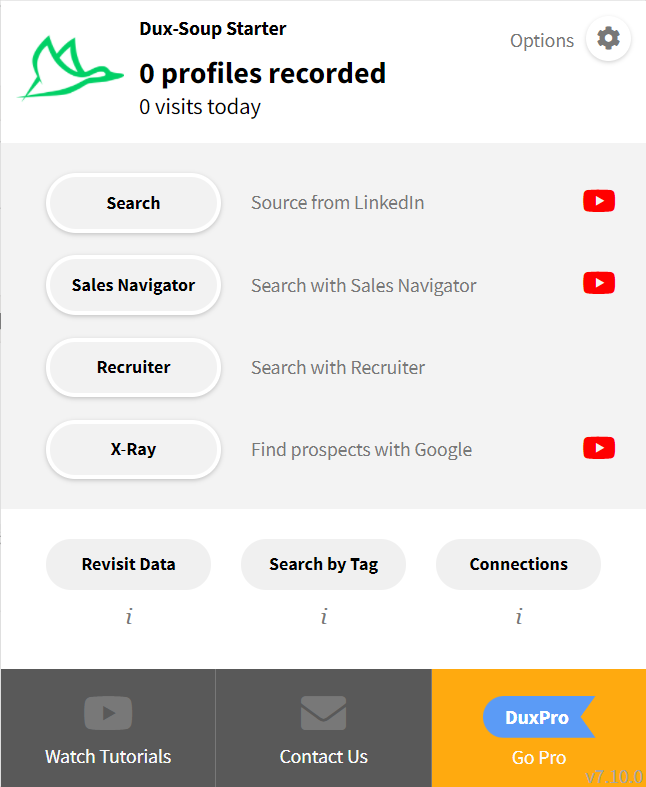 LinkedRadar
What is LinkedRadar?
LinkedRadar is also a LinkedIn automation tool and provides a built-in CRM system. It differs from Dux-Soup in that it is cloud-based, which will be more secure.
Features
Instead of repeating the basic automation features, here is a list of the more advanced features.
Cloud-based: There is no need for you to open LinkedIn, or even to have to open your computer. LinkedRadar runs campaigns for you in the cloud 24/7 (or at specific times, depending on your settings).
Stable country-based IP: A new proxy IP address is assigned to each account and our algorithm mimics human behavior.
The delay between actions: Randomized delays between actions, to replicate human behavior.
Smart Limits: Allowing you to send up to 100 invites and 100 messages in one day. We also withdraw your pending invites on autopilot.
Auto-warm-up feature: This will ensure that your daily campaign limits will gradually increase every day to mimic human behavior even better.
Multiple LinkedIn accounts: LinkedIn allows you to manage all your accounts from a single interface and has a security measure that prevents you from contacting the same prospect several times with your different accounts. It is suitable for agencies, teams of sales representatives, or/and business developers.
How to Use LinkedRadar?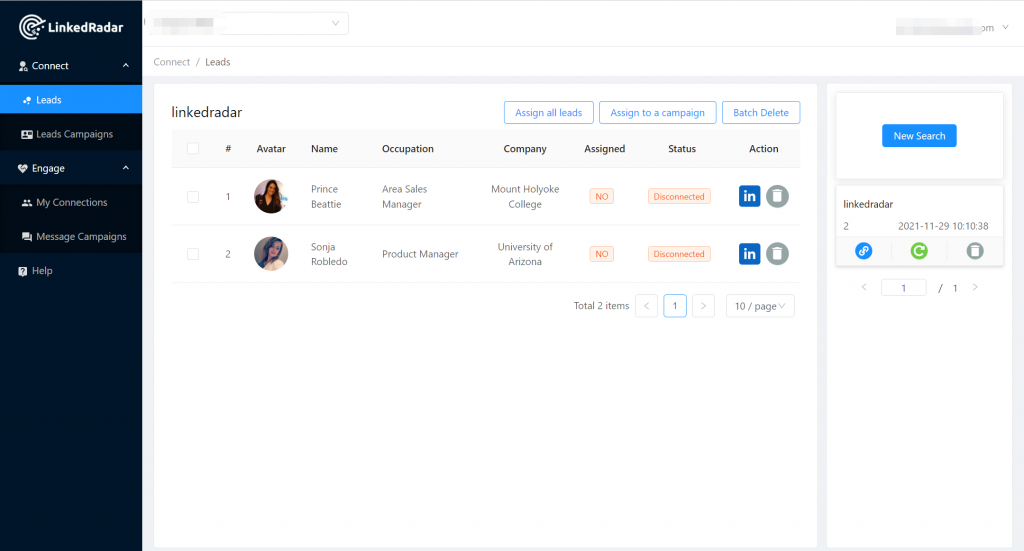 Step1: Login and connect LinkedIn credential
Step2: Set Global settings, including country, zone, and daily LinkedIn leads limit
Step3: Search leads, assign leads to a leads campaign, and let it run automatically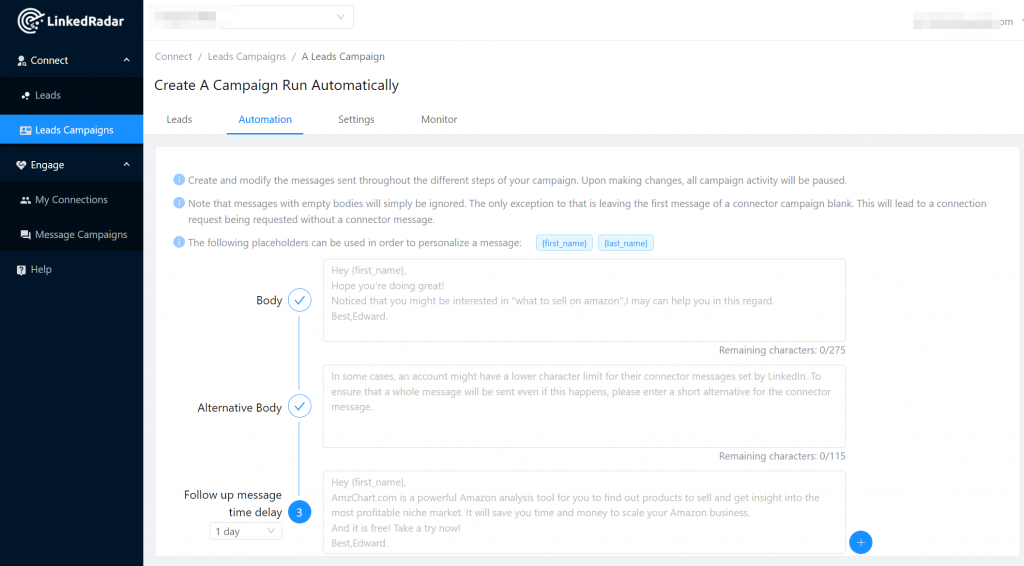 Of course, this is just the beginning. LinkedRadar will work hard to bring more useful features to everyone.
Conclusion
From the comparison above, you can see that we need to focus on the following issues when picking a LinkedIn automation tool.
Does LinkedIn allow the automation tool?
Is its technology safe enough?
Does it really follow LinkedIn's rules while providing user-friendly features?
Does it have the features to meet your main needs?
Can it be priced in a range you can afford? (By the way, if you want to start using Dux-Soup, you'll be looking at a price tag of $41.25 per month at least. Meanwhile, LinkedRadar is free!)
At the same time, you should also realize that automation tools can help us save time in finding potential leads. But enhancing trust is a long-term job. You must craft your automated message and make multiple contacts to achieve ultimate success. In practice, it can go like this.
First message: Thank the prospect and want to stay in touch
Second message: Share a link to a quality resource
Third message: Ask for a phone or face-to-face meeting
fourth message: Follow up again
Final Words
As 2022 approaches, LinkedIn will remain a social network that marketers can't afford to ignore. Because LinkedIn already covers 200 countries and its 750 million users are professionals from all walks of life, LinkedIn's automation tools can definitely be an effective helper for your business! Of course, we would be very happy if our LinkedRadar could be your first LinkedIn automation tool. Please feel free to contact us if you have any usage problems during the registration or use process.