The Best Alternative to Lempod – LinkedRadar

Obtaining effective customers is a necessary method for every company to increase revenue. Therefore, LinkedIn, as the mainstream recruitment tool, has become the best tool to increase sales. However, LinkedIn has no way to mass messaging, and it does not implement grouping functions for user management. This has caused great difficulties in acquiring potential customers. So there are a lot of LinkedIn automation tools on the market, they can help you quickly communicate with more people and get more effective customers.
Lempod is a very popular LinkedIn automated marketing tool on the market. Similarweb shows that Lempod's visits reached 80K in August 2021, which is a very good data. More and more people have obtained effective leads through LinkedIn.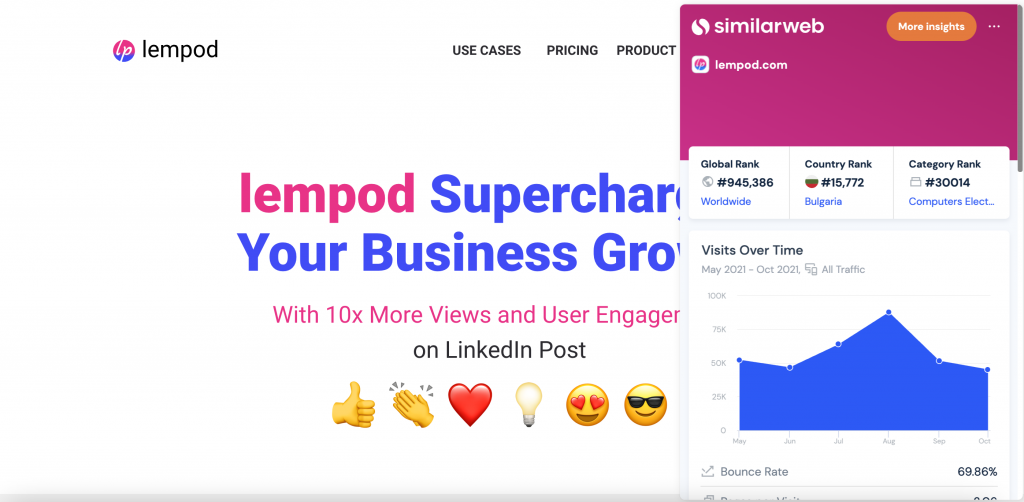 Lempod is a popular LinkedIn automation tool, but they stopped development some time ago and concentrated on other industries. LinkedRadar is a new LinkedIn automation tool, and they will all be leaders in the LinkedIn industry. Next is their comparison.
Lempod VS LinkedRadar
Lempod is a LinkedIn automation tool. By using Lempod, you can increase the page views of LinkedIn posts and your popularity. At the same time, using Lempod can help you find more target audiences, and you can quickly get in touch with your content through automated tools.
| | | |
| --- | --- | --- |
| FEATURES | LinkedRadar | Lempod |
| Build Powerful multi-step campaigns | √ | × |
| Schedule unlimited follow-up messages | √ | √ |
| Random comment posting order | × | √ |
| Hyper personalize your messages | √ | × |
| Replicate human behavior | √ | × |
| Monitoring and statistics | √ | √ |
| Smart comment suggestions | √ | √ |
| Personalized audience | √ | × |
| Pricing | FREE | Payment by number of pods |
Why LinkedRadar is The Best Alternative to Lempod?
LinkedRadar is a completely free automation tool
LinkedRadar is a completely free LinkedIn automation tool! Compared with the high cost of Lempod, LinkedRadar is more suitable for entry-level LinkedIn users, and can develop automated programs for such users to automatically find audiences and send the messages you want to send.
Custom audience filter
Using our custom audience filter, you will get more relevant engagement. You can easily filter the people who interact with your content based on location, industry, and number of connections to ensure that the right people connect with each other like never before!
LinkedRadar is a completely free LinkedIn automation tool, but it can meet the needs of 99% of LinkedIn users, especially its message automation function. And LinkedRadar is still in the state of function research and development, and the automation of user cluster functions will continue to be developed in the future. LinkedRadar is your best choice to find automation tools on LinkedIn!