How to download linkedIn video With An Extension – LinkedIn Video Downloader
This article will introduce how to use the LinkedIn Video Downloader Extension step by step. But now, we need to know why we need to download LinkedIn videos.
Why do we need to download LinkedIn video?
LinkedIn Video is the popular post format, it can get more likes and comments. Public statistics show that video posts can get 15% more likes or comments. So a good LinkedIn Video can help you be more successful in LinkedIn user growth or business. Let's see how popular the LinkedIn video is.
Details on LinkedIn users' side:
● 90% of people say product videos help make decisions.
● 65% of people will visit a website after watching a video, and 39% would contact a supplier.
● 79% of people now agree that video is the easiest way to get to know a brand online.
● 74% of people can draw a direct connection between watching a video on social media and their purchasing decision-making process, and more than 46% of people said that they've purchased as a result of watching a brand video on social media, while another 32% consider doing.
On the brands' side, some studies show more and more brands use LinkedIn videos to increase their traffic directly.
● 78% of brands have increased their website traffic due to the use of video.
● 71% of brands say the average time spent on a website has increased due to video content.
● 69% of brands have boosted sales leads with the help of video content.
● 54% of brands saw sales growth.
On LinkedIn social, the users share videos more often than pictures or words. On average, LinkedIn users spend 3x times longer watching LinkedIn videos.
And, is it necessary to build a professional video maker team? I don't think so. The best way is to find a good one and reuse it. When we find a good LinkedIn video, LinkedIn Video Downloader Extension can help you download a LinkedIn video in one click. In the next, we will show how to download LinkedIn videos by using LinkedIn Video Downloader.
How To Download Video From LinkedIn?
If you want to download the video from LinkedIn, LinkedIn Video Downloader is a convenient extension. Now let's use this downloader step by step.

Step2: Open or Refresh LinkedIn Home Page: linkedin.com
LinkedIn Video Downloader extension adds a small download button on all video elements on LinkedIn pages. That button allows you to download the video file in one click.
Step3: Click the LinkedIn video download button, when you find a good video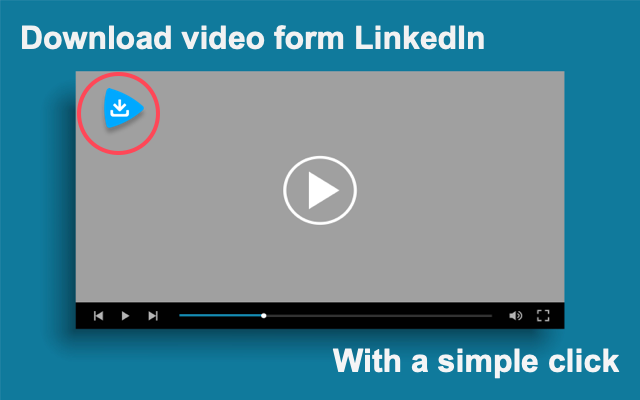 So, with the help of the LinkedIn Video Downloader extension, downloading the LinkedIn video is only a trifle with one click. It will make your work efficient and save a lot of your time.