LinkedRadar: Best Alternative to Phantombuster for Scraping LinkedIn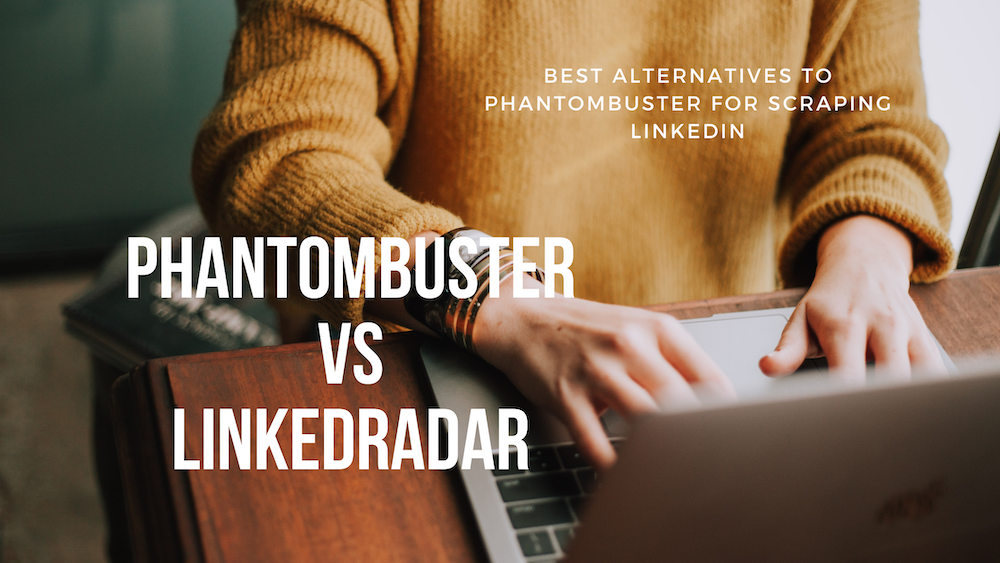 As we all know, LinkedIn allows people looking for jobs to post their CVs and companies to post their jobs. As a result, LinkedIn is home to executive CEOs, decision-makers and entrepreneurs from a wide range of industries. They are not independent. They form a vast network of relationships with their colleagues and friends with distinct tags.
Many marketers and salespeople, try to scrape their customers on LinkedIn. In fact, just as you need a net to catch fish, you need to use a professional LinkedIn scraping tool to scrape customers on LinkedIn, which will allow you to acquire your target more efficiently.
Phantombuster is one of the LinkedIn scraping tools. Although Phantombuster has a large number of users, there are still many people who do not like it, and you may be one of them.
If you are considering Phantombuster or looking for an alternative to Phantombuster, then you have come to the right place. In this article, you will get an unbiased review of Phantombuster and an introduction to Phantombuster alternatives.
What Phantombuster offers?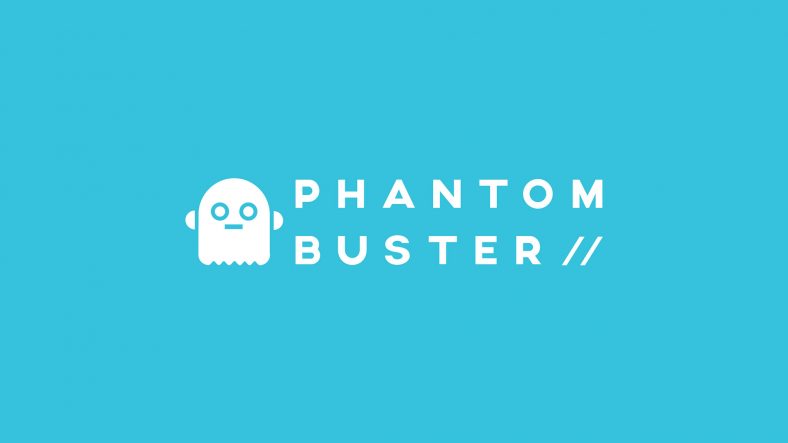 Phantombuster is an automated tool that will help you extract data from almost all social platforms. Yes, that's right, all social platforms. These platforms include LinkedIn, Sales Navigator, Instagram, Twitter, Facebook, Quora, etc. Phantombuster has automation features customized for each platform. Among them, for the LinkedIn platform, Phantombuster has the following features:
LinkedIn search export: After you search, scrape and batch export the search results to a table.
LinkedIn profile scraper: Scrape and export all public profiles.
Booster your network: After you search, export a list of LinkedIn users, auto-connect and keep track of who accepts your invitation.
LinkedIn contracts extractor: You can export the profiles of all your LinkedIn contacts.
Message sender: You can use this tool to automatically send messages to your contacts, making the process of communicating with your contacts much easier.
LinkedIn company info: After you search, scrape and export all the company.
Phantombuster pricing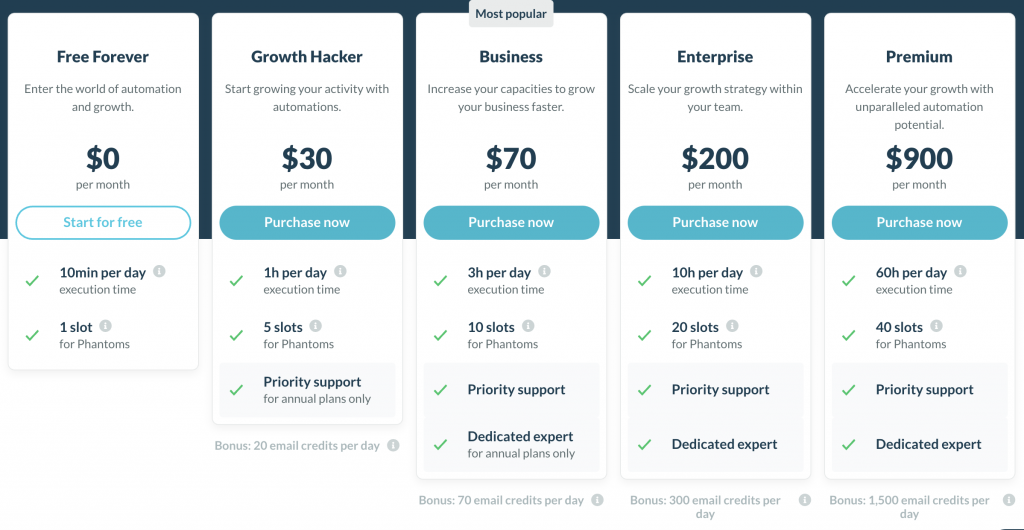 First of all, Phantombuster supports a free trial, you have 14 days to try and experience all the features of the product.
After 14 days, you can still use this tool for free. But you can only use it for 10 minutes per day and only 1 social platform automation feature.
If you need to operate multiple social platforms and your team has the need to use this tool, then you need to consider the four premium paid packages. These four premium packages are priced from $30-$900. The more you need to use this type of automation tool, the more you will need to pay.
Therefore, individuals, small businesses, and users with a single need will be very cost-effective with Phantombuster. However, your time of use is still limited.
Phantombuster reviews
Although Phantombuster has automation features covering multiple platforms and different packages customized for users with different needs. But you still need to know what Phantombuster's users have to say about it. We have summarized some user reviews of Phantombuster for your reference.
Pros
"Powerful automation saves time and is perfect for growth hacking"
"With almost all social platforms covered, Phantombuster will greatly improve your efficiency if you need to find new opportunities across multiple social platforms."
"Free use allowed"
Cons
"Very difficult to use and not very novice-friendly"
"Pricing is quite high, pay by the hour, if you need to use more time and try more social platforms, you have to pay higher fees"
"Customer service is pretty bad"
"Daily usage limit, this tool does not allow you to accumulate and retain if you are not using it."
Best Alternatives to Phantombuster for Scraping LinkedIn - LinkedRadar
Unlike Phantombuster, which covers almost all social platforms, LinkedRadar is a CRM tool focused on LinkedIn automation.
We developed this tool because we wanted to bring users a more professional and economical CRM tool, unlike Phantombuster, which covers almost all social platforms, LinkedRadar is a CRM tool focused on LinkedIn automation.
The biggest advantage of Phantombuster is that it has an automation tool that covers all social platforms, but it is not user-friendly for users who only have a single need.
If you only need to scrape LinkedIn and LinkedIn automation, you can use Phantombuster's free package. But unfortunately, you can only use it for 10 minutes per day. If you wish to use it for longer, you will need to spend $30 on the premium package. As mentioned before the $30 premium package includes automation tools for 5 social platforms. If you don't have the need, then this is a waste.
You can see the comparison between Phantombuster and LinkedRadar in terms of LinkedIn automation features and services.
What LinkedRadar offers?Phantombuster VS LinkedRadar
| | | |
| --- | --- | --- |
| Features & Services | Phantombuster | LinkedRadar |
| Customized connection requests | ✔ | ✔ |
| Batch send customized messages | ✔ | ✔ |
| Personal Information Follow and Visit | ✔ | ✔ |
| Smart Limits | ✕ | ✔ |
| Auto-warm up feature | ✕ | ✔ |
| Skill recommendation | ✔ | ✕ |
| Email retrieval | ✔ | ✕ |
| Step-by-step guide to the process of use | ✕ | ✔ |
| Message Templates | ✕ | ✔ |
| Is it free? | Yes, but it is limited | ✔ |
LinkedRadar is simpler to use compared to Phantombuster. If you are a newbie, you can follow the step-by-step guide to complete your first Scraping. LinkedRadar provides a very detailed linear guide.
LinkedRadar will mimic human behavior as much as possible to avoid risks to your account. In addition to this, LinkedRadar invites experts to provide templates for your messages in order to improve the efficiency of your contact. Best of all, LinkedRadar is currently completely free and your use is not limited by time.
How can LinkedRadar help your LinkedIn automation?
LinkedRadar's entire automation process will include automatic retrieval of target people, automatic connection of target people, and automatic sending of messages to target people. To increase the conversion rate of contacts, LinkedRadar provides you with message templates. In addition to this, data return and sharing is quite essential. This LinkedIn automation tool will help you with LinkedIn scraping, which will greatly save your time and cost.
Automatic acquisition of target groups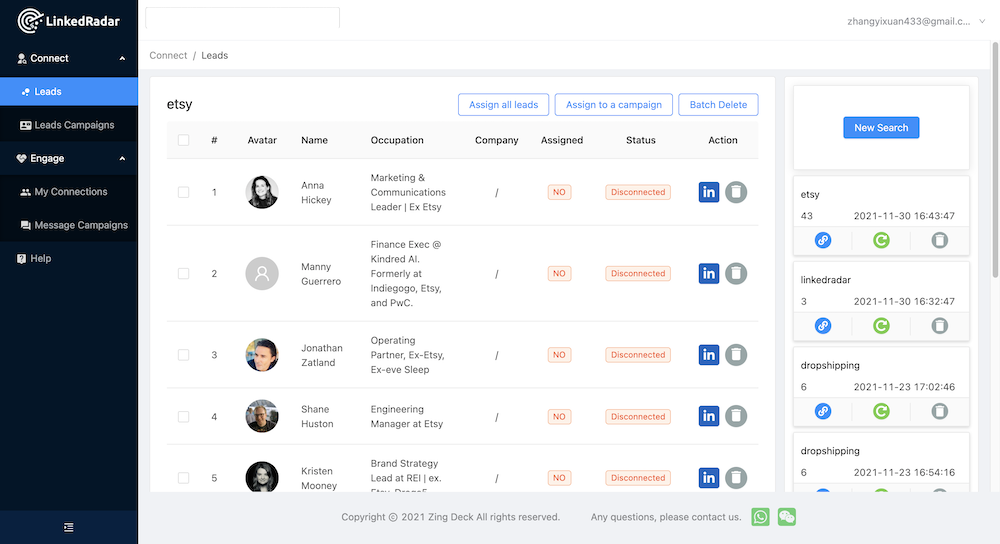 Once you have registered your account, click "Get Started" to start using it. Rest assured that for each new user, LinkedRadar provides a very detailed guide that you can follow to get a list of your target audience.
In the list, you can view the basic information of all your contacts, including Avatar, name, occupation and company. If you need more detailed information, you can click the LinkedIn icon to directly access the profile.
Automatic connection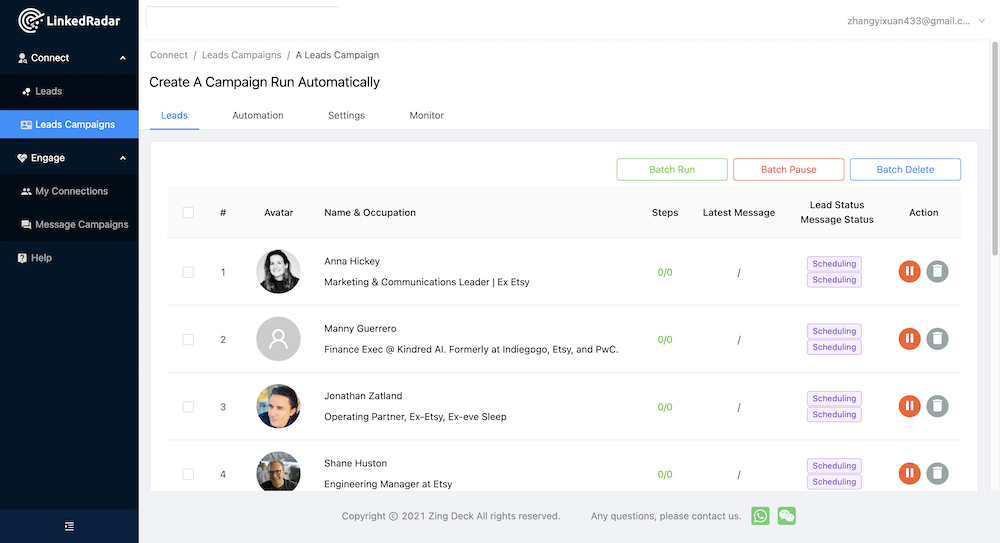 Add all people who meet the criteria to your contact list with one click. And you're ready to start getting in touch with them!
Automatically send messages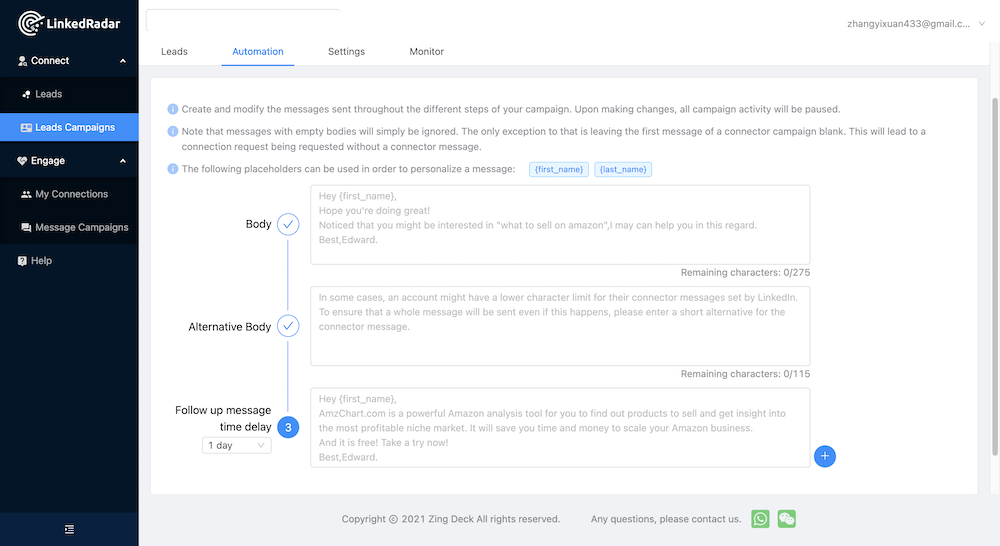 Click on "Automatic" and you can start editing the messages sent to your contacts. Please note that to ensure that your contact receives your message, be sure to prepare an alternative to the Body section of the message.
LinkedRadar has already prepared a message delivery template for you, which can significantly increase the conversion rate. In addition, LinkedRadar will provide you with quick reply phrases.
Customize Your Marketing Campaigns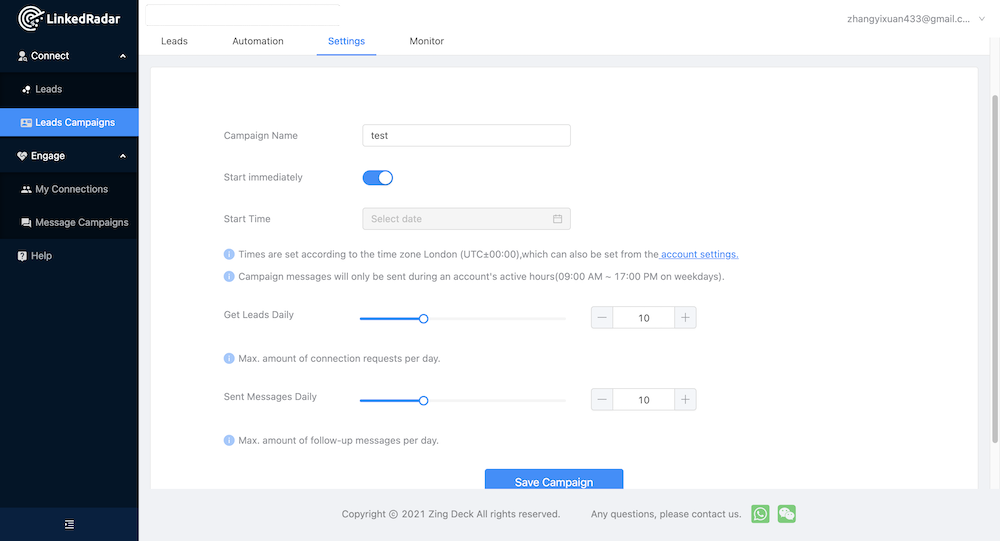 LinkedRadar allows you to customize your marketing campaigns. In the "Settings" you can set your "Start Date" and the number of contacts and messages to get per day. This allows the whole automation process to be close to human behavior.
Data monitoring and replay
You may be wondering how to know the results of a bulk marketing campaign?LinkedRadar provides you with real-time data monitoring, including the number of people who replied, the number of people awaiting replied, and the number of people who requested.
Conclusion
If your need is singular, i.e. marketing campaigns on LinkedIn, then LinkedRadar is easier to use and cheaper compared to Phantombuster. You don't have to worry about the time of use or frequency of use, and of course, you don't have to worry about money.
Sign up now and try the best alternatives to Phantombuster for Scraping LinkedIn - LinkedRadar!