LinkedRadar VS Expandi, How Does LinkedIn Get Customers Efficiently?
As of November 2021, LinkedIn has 700 million registered users worldwide. This world-renowned workplace social platform dedicated to creating a "one-stop career development platform" has helped many professionals create unlimited opportunities, including social networking , Marketing, recruitment and other methods. But many people who use LinkedIn often encounter some difficult problems: low efficiency and long time. If you use an automated way to operate LinkedIn, it may be a good choice. You can quickly target the audience you want to find, and get in touch with them.
Expandi is cloud-based, as is LinkedRadar. They all allow you to log in from any device connected to the Internet and manage your activities instantly. The main difference lies in support and customer service. LinkedRadar can enable users to find their own target users in a short time, establish and expandi their own e-commerce sales activities and tasks. Many e-commerce practitioners don't know that LinkedIn is actually a way to acquire customers. In terms of function, LinkedRadar can send the informations which is you want to send. LinkedRadar can enter keywords to help marketers get accurate users, including product companies and entrepreneurs.
LinkedIn will throw some mail into the trash can and restrict its use. Are you still only focusing on large-scale outreach through LinkedIn? Salespeople from leading companies are using LinkedRadar in order to gain maximum visibility on LinkedIn and always stand in front of their potential customers.
LinkedRadar VS Expandi
| | | |
| --- | --- | --- |
| Features | LinkedRadar | Expandi |
| Cloud based software | Yes | Yes |
| Max LinkedIn Profiles / computer | Unlimited | Yes |
| API & Integrations | API and Zapier | API and Zapier |
| LinkedIn Safety Limits | Yes | Unknown |
| Free InMail Messages | Yes | Yes |
| Sequence Messages | Yes | Yes |
| Auto scale up | Yes | Yes |
| Randomize Invites Number Within A Specified Range (mimics natural behaviour) | Yes | No, risk of getting ban ned |
| Compatible with Linkedin Sales Navigator & Recruiter | Yes | No, risk of getting banned |
| Ease of Use (1-5) | 4.3 | 4.4 |
What features of LinkedRadar are worth using?
LinkedRadar and Expani have proprietary tools fully integrated, allowing you to fully automate LinkedIn outreach without relying on a single device or internet connection. LinkedRadar enables you to generate better potential customers at a lower price. Enter LinkedIn, enter the keyword of the person you want to search, such as "Amazon", select "people", enter the URL to LinkedRadar "lead", you can get potential users, we can enter his LinkedIn homepage, you can also get to know his information, and assigned to "LeadsCampaigns" can be performed step by step.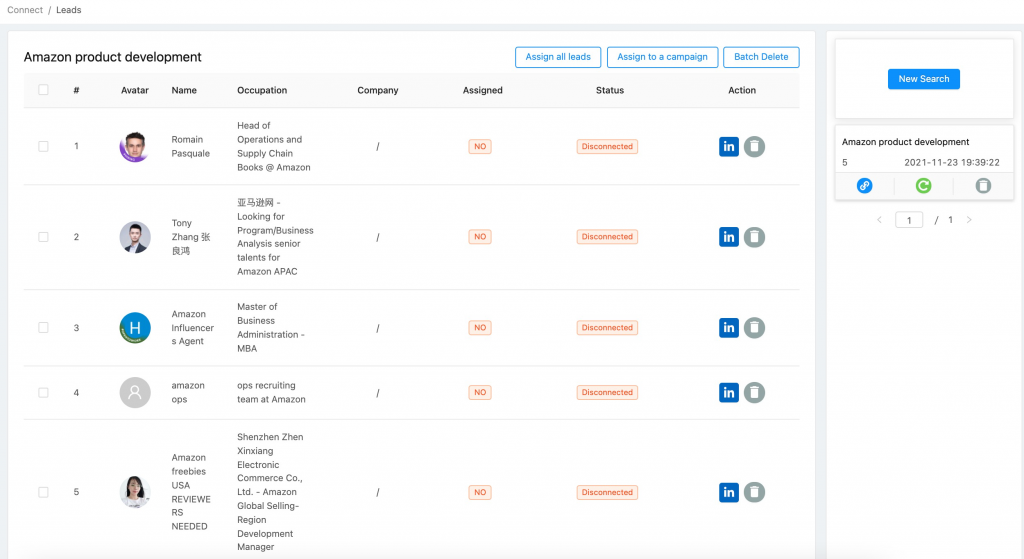 What is the biggest effect of this tool for users?
1、Help marketers acquire new customers
There is no transaction without a customer, and finding a matching seller or buyer is crucial. LinkedRadar will automatically generate potential customers and arrange them in order. It makes the work of marketers easier and more convenient.
2、Mass notification information and marketing article content
Sending content manually is not an easy task and takes time. Assign the LinkedIn connection to the message activity and set the global options to let the activity run automatically.
With LinkedRadar, you can ensure that you are fully compliant with the latest GDPR regulations, while still being able to find precise sales targets on a large scale. Use LinkedRadar to integrate your favorite CRM system to synchronize your connection and keep your contact information constantly updated.
LinkedRadar can assist LinkedIn users in gaining customers. By having unlimited one-to-one calls with your customer success manager, you can focus on developing a social sales strategy tailored to your business. In a unified platform, by finding accurate B2B potential customers to generate and accelerate sales targets.