Linked Helper VS LinkedRadar, Which Is Best LinkedIn Automation Tool?
Can LinkedIn really help us?
Whether you want to find customers, work, or promote your business—no matter what occupation or status you are in, having a LinkedIn profile has now become an indispensable requirement.
LinkedIn already has 600 million users worldwide, with branches in various countries, and is rapidly becoming the place of choice for global trade, finding new deals, establishing lifelong connections, and gaining followers.
However, LinkedIn has set requirements for accessing users. We often cannot get in touch with the other party and send information. Manual operation is time-consuming and laborious.
How can LinkedIn automation tools help us?
As a social software, LinkedIn can provide you with a steady stream of job opportunities and college friends.
LinkedIn also has amazing sales prospects and sales generation tools. Sellers used their LinkedIn community to book more meetings and complete more transactions.
The response rate for greetings on LinkedIn is 3 times that of regular emails. To be precise, its response rate is 10-25%, which is nearly 300% higher than email. But finding the customer's contact information is difficult, but LinkedIn automated tools guarantee the results and save you a lot of time because the manual connection process takes a long time. In addition, there is nothing wrong with getting help to achieve your cold outreach goals.
There is a difference between LinkedIn automation and spam, which is exactly what LinkedRadar exists. If you send spam to too many people, LinkedIn will eventually suspend or even ban your account.
Let's take a look at the best LinkedIn automation tools.
1. LinkedRadar (The safest LinkedIn Automation Tool in the world)
LinkedRadar is a LinkedIn scraping tool, 0X your LinkedIn sales outreach and productivity, drive 5X more revenue, 100% done-for-you, it can promote business-related sales by allowing you to find, attract and interact with potential customers And recruitment.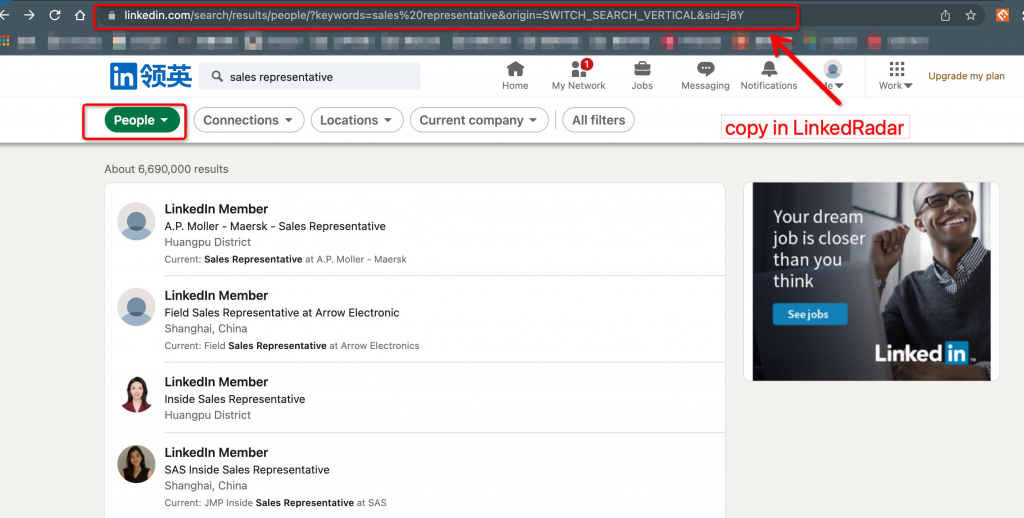 Enter keywords on LinkedIn and copy the URL corresponding to "people".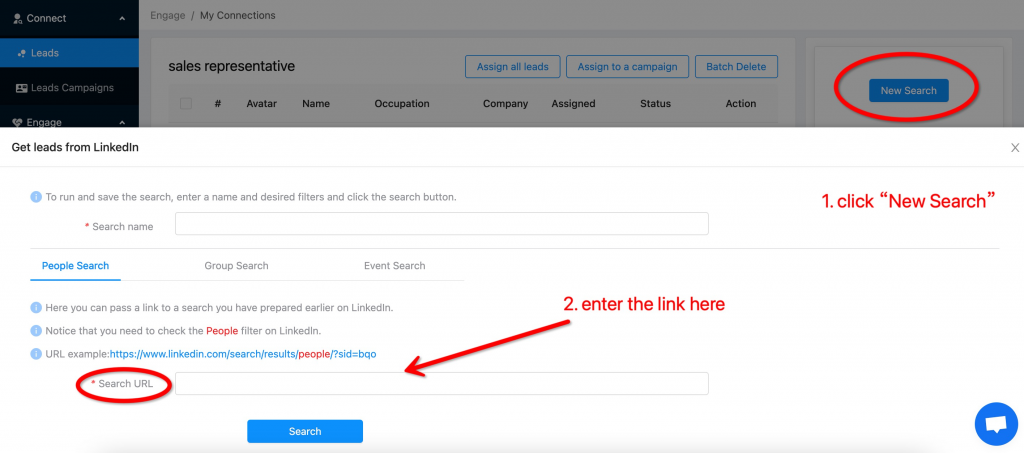 Click on"Assign all leads", set the email content, sending time and user in "Leads Campaigns".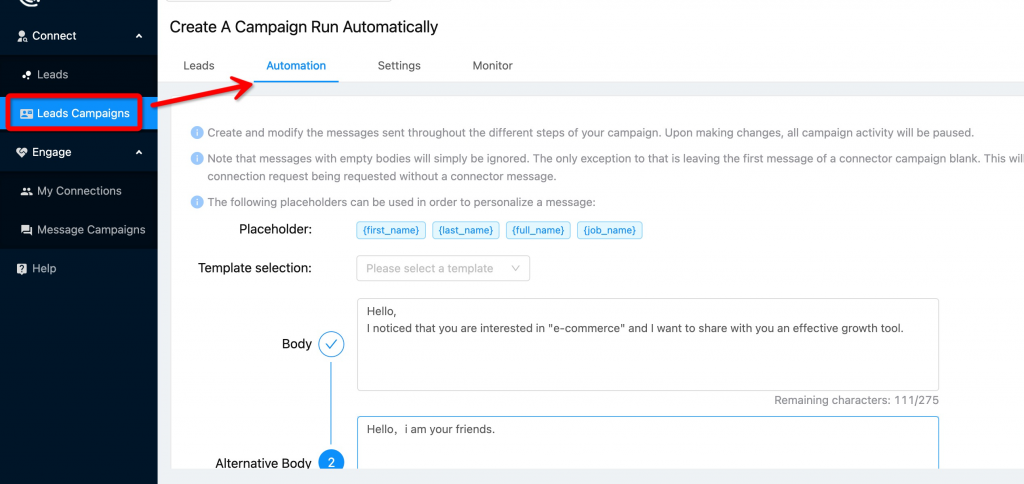 After that, you can want users to send emails regularly.
Moreover, it is free, although the function is single, the Automating LinkedIn tool is very powerful.
LinkedRadar is suitable for finding and establishing relationships with B2B decision-makers to sell your products or services and supports sending regular emails to users, guaranteeing at least 30 emails a day.
2. Linked Helper
Linked Helper is also an excellent automation tool. It is a Google Chrome plug-in that can automatically perform many Linkedin functions, such as connection invitations, sending messages to the first connection, creating automatic reply messages for 2 or 3-degree connections, and Inviting a 1-degree connection to join the group. It can really increase your conversion rate very well.
It is most suitable for personal representatives and founders, and can provide you with features: This includes saving email activities, automatically following profiles, and adding personalized signatures to email senders.
His basic price starts at $15 per month, and the longer the subscription period, the lower the price. This is relatively expensive compared to LinkedRadar, after all, LinkedRadar is free.
How to use Linked Helper? Create a campaign.
Now create a new campaign by clicking the Create new button in the Campaign section on the left panel.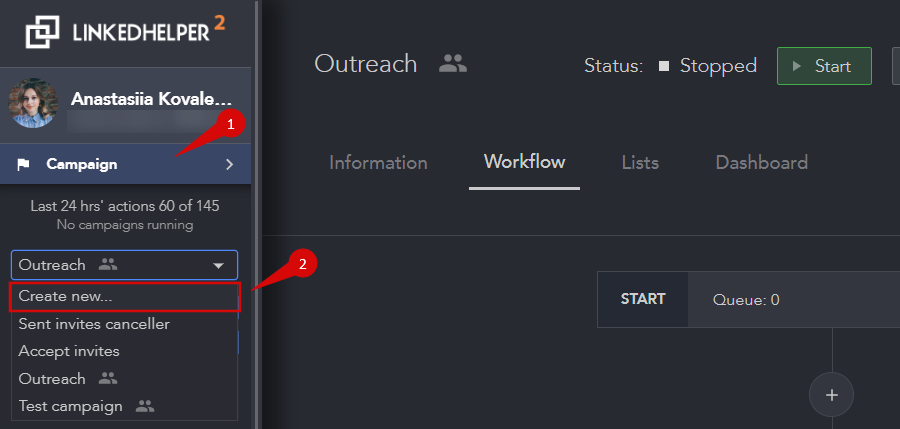 Fill in the campaign name, choose the People option, and select the Visit & Extract Profiles template.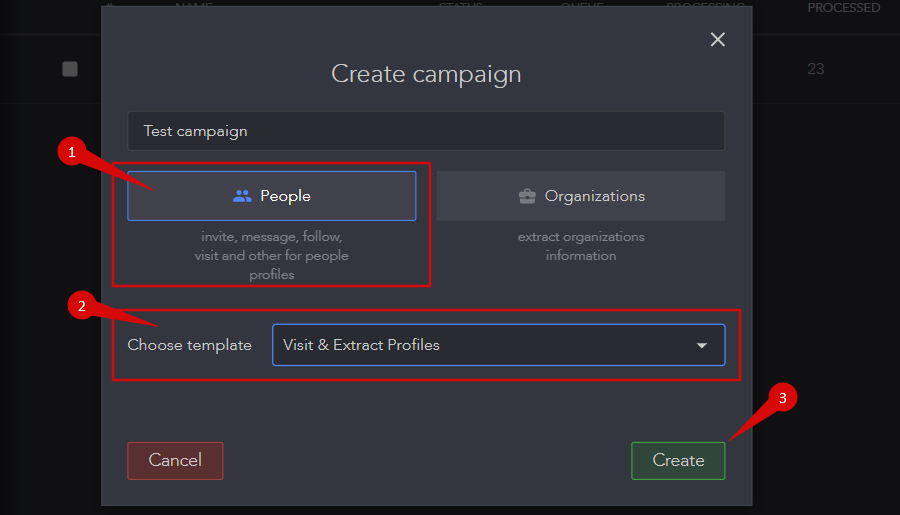 Please note that Snov.io works with the abovementioned settings only.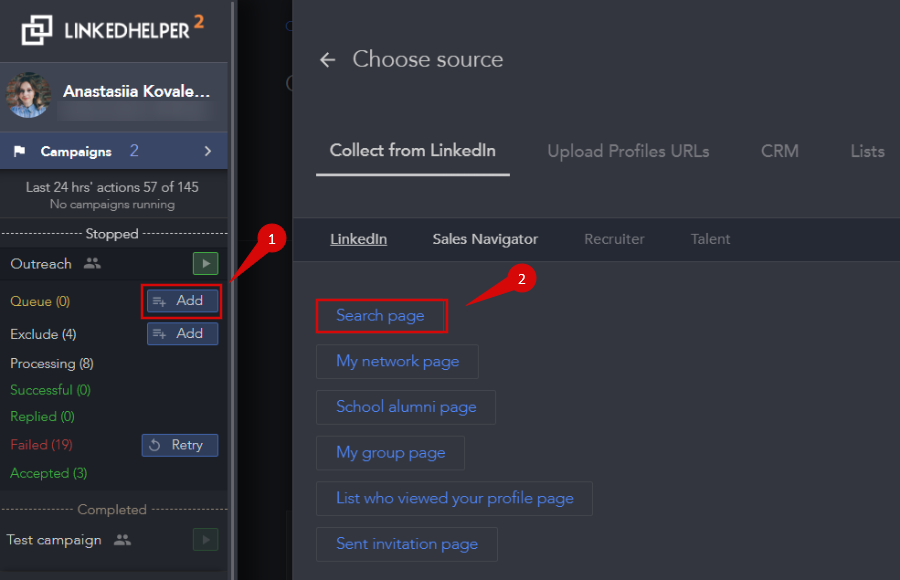 Now you are ready to perform a search. Click Add on the left panel and choose the source you want to collect profiles from in the drop-down menu. You can extract emails from LinkedIn, Sales Navigator, Recruiter, etc. Let's find emails on the Search page.
Filter your search by the position, company name, location, etc., and select the Collect from the current page option near the campaign Queue.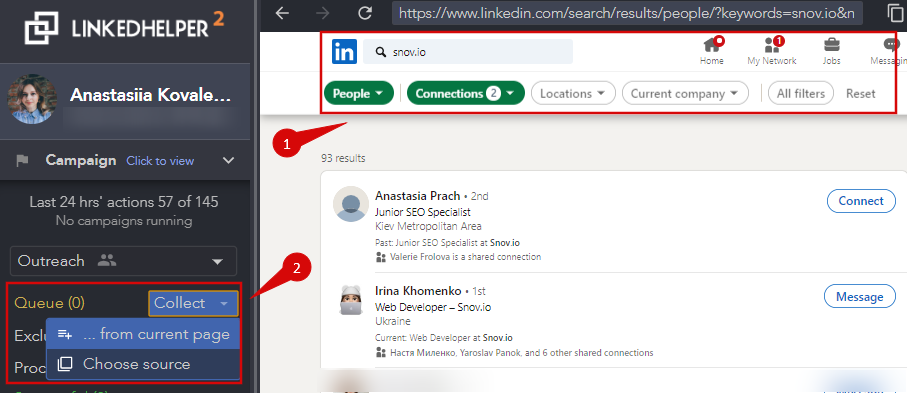 Emails will be collected from the current page, then the search will go on to the following pages until you click the Start campaign button.
After the event is launched, Linked Helper 2 will collect LinkedIn personal information by visiting the page and imitating human behavior.
LinkedRadar VS Linked Helper
| | | |
| --- | --- | --- |
| Features | LinkedRadar | Linked Helper |
| Cloud based software | Yes | Yes |
| Max LinkedIn Profiles / computer | Yes | Yes |
| API & Integrations | API and Zapier | API and Zapier |
| LinkedIn Recruiter | No | yes |
| Free InMail Messages | Yes | Yes |
| Sequence Messages | Yes | Yes |
| Send mail regularly | Yes | No |
| Sales Navigator | No | Yes |
| Pricing | free | $15 per month |
Conclusion
What is LinkedIn? It is not a boring marketing platform. Its consistent and outstanding results in marketing make it the first choice for many users, sales, and businesses. Because it is definitely more convenient to use automated tools.
Comparing LinkedRadar and Linked Helper, LinkedIn automation tools are not only powerful but also user-friendly and efficient. They can help you save time when using LinkedIn and find accurate customers and applicants.
Eliminate nonsense from your LinkedIn marketing efforts, these tools will help you market your brand in the right way while building social identity. The quality leads provided by these tools can be used to drive sales and create more visibility for you and your company.