AuthoredUp Review: Is It the Best Linkedin Content Tool?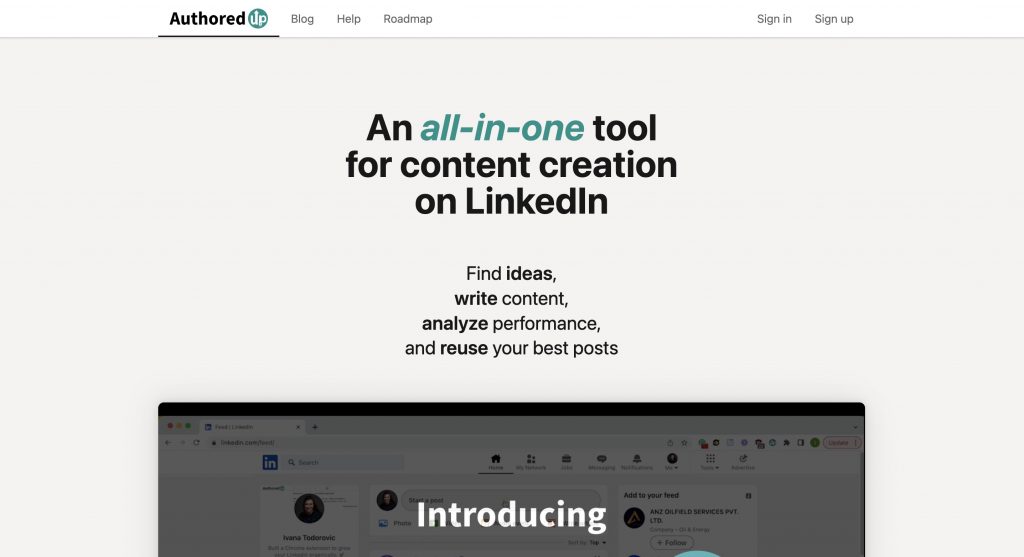 01 What is AuthoredUp?
AuthoredUp stands as an impactful LinkedIn productivity companion, geared towards refining your LinkedIn posts through writing, editing, and insightful analysis. This versatile tool equips you to:
Aggregate your posted content, dissecting engagement metrics like click-through rates, likes, and comments. Elevate engagement by optimizing post titles and hooks, thereby fostering higher interaction rates.
Propose pertinent keywords and hashtags, enhancing the relevance of your posts.
Offer a preview of your LinkedIn posts pre-publishing.
Schedule posts for future publication.
Track the ongoing performance of your posts.
Facilitate collaborative efforts on posts.
AuthoredUp proves invaluable for individuals aspiring to amplify their LinkedIn presence and amplify their outreach. It holds particular significance for marketers, entrepreneurs, and business professionals keen on leveraging LinkedIn to bolster their business ventures.
Highlighted are several merits of integrating AuthoredUp into your LinkedIn strategy:
Heightened engagement: AuthoredUp fine-tunes your posts for maximum engagement, translating into increased views, likes, comments, and shares.
Expanded reach: AuthoredUp broadens your posts' reach by suggesting fitting keywords and hashtags.
Enhanced insights: AuthoredUp delivers comprehensive insights into post performance, empowering you to identify effective strategies.
Time savings: AuthoredUp streamlines the writing, editing, and scheduling tasks through automation.
Collaborative potential: AuthoredUp streamlines collaborative efforts, fostering feedback and content enhancement.
For those seeking to enhance their LinkedIn presence, AuthoredUp presents an excellent avenue for exploration. With its user-friendly interface, cost-effectiveness, and feature-rich offerings, AuthoredUp provides a well-rounded solution to help you achieve your objectives.
02 AuthoredUp Reviews: Is it worth It?
AuthoredUp garners a generally positive reception within its user community. On Trustpilot, it boasts an impressive rating of 4.5 out of 5 stars, based on an extensive compilation of over 200 user reviews. Enthusiastic users commend AuthoredUp for its user-friendly nature, valuable features, and cost-effective pricing structure.
Here's a breakdown of AuthoredUp's advantages and drawbacks, as drawn from user feedback:
Advantages of AuthoredUp:
User-Friendly: AuthoredUp stands out for its straightforward usability, catering even to individuals less acquainted with the intricacies of LinkedIn. Its interface boasts a clean, intuitive design, and its features are readily accessible and easy to employ.
Valuable Features: AuthoredUp encompasses an array of useful attributes that facilitate the enhancement of LinkedIn posts. Features like keyword recommendations, post previews, and scheduling contribute to an enriched posting experience.
Affordability: AuthoredUp's pricing proves budget-friendly, particularly given the comprehensive suite of features it offers. While a free plan allows up to 10 monthly posts, the paid plans are competitively priced.
Drawbacks of AuthoredUp:
Limited Free Plan Features: The free AuthoredUp plan omits certain features available in its paid counterparts. For instance, functionalities such as post scheduling and collaborative capabilities are reserved for the paid versions.
Potential Customer Support Delays: Some users have reported instances of delayed customer support responses. Nevertheless, the AuthoredUp development team acknowledges this concern and is actively working to enhance customer support responsiveness.
Overall, AuthoredUp presents itself as a valuable asset for those striving to bolster their LinkedIn presence. Its user-friendliness, affordability, and feature-rich composition make it an enticing choice for individuals aiming to accomplish their LinkedIn objectives. If harnessing LinkedIn for business growth or career advancement is your intention, investing in AuthoredUp is a prudent choice.
Is AuthoredUp the Right Fit for You?
Define Your Objectives: Assess your aspirations with AuthoredUp. If your focus is on enhancing engagement within LinkedIn, AuthoredUp emerges as a viable solution. However, if generating leads or driving sales is your priority, a more comprehensive tool may be necessary.
Budget Considerations: AuthoredUp falls within a reasonable price range among LinkedIn productivity tools. While not the most expensive, it's worth comparing its cost-effectiveness to other alternatives or your budgetary constraints.
Time Allocation: AuthoredUp streamlines various tasks, yet evaluating your willingness to invest time in writing, editing, and scheduling LinkedIn posts can guide your decision.
Ultimately, the value proposition of AuthoredUp in your specific context is a personalized determination. Weigh your goals, financial considerations, and time availability when making your choice.
03 AuthoredUp Pricing: Is AuthoredUp Free?
Certainly, AuthoredUp provides a complimentary plan that empowers you to:
Compose and revise posts
Preview posts on LinkedIn before they go live
Monitor the efficacy of your posts
This free tier extends to encompass a quota of 10 posts monthly. Should your posting needs surpass this threshold, the option to upgrade to AuthoredUp's premium tiers becomes available.
AuthoredUp's premium plans encompass the following:
Individual Plan: Priced at $14.95 per month, this plan confers unlimited posting, post scheduling, and collaborative capabilities.
Team Plan: At $11.95 per month per seat, this tier is tailored for teams comprising three or more members. It encompasses all features of the individual plan, with added functionalities such as team member management and customized reporting.
AuthoredUp extends a 14-day complimentary trial period for you to explore its offerings. Following the trial interval, opting for a premium plan is requisite to continue harnessing the service.
The following table provides a concise overview of AuthoredUp's pricing structure:
| Plan | Price | Features |
| --- | --- | --- |
| Free | $0 | Write and edit posts, preview posts on LinkedIn before you publish them, track the performance of your posts |
| Individual | $14.95 per month | Unlimited posts, schedule posts, collaborate with others |
| Team | $11.95 per month per seat | Unlimited posts, schedule posts, collaborate with others, manage team members, create custom reports |
04 AuthoredUp Tutorial: How to Use AuthoredUp for Content Generation?
AuthoredUp proves to be an exceptional resource for crafting compelling LinkedIn content. It equips you to:
Develop captivating and enlightening posts
Discover pertinent keywords and hashtags
Schedule posts for future publication
Monitor post performance
Here is a comprehensive guide on utilizing AuthoredUp for content creation:
Register on AuthoredUp. The free signup process allows you to establish an account and initiate your usage of AuthoredUp.
Select a Template. AuthoredUp offers an array of templates, aiding you in formulating engaging and informative posts guaranteed to capture attention.
Incorporate Your Content. Upon template selection, begin integrating your content – encompassing text, images, videos, and external links.
Optimize Your Posts. AuthoredUp facilitates the optimization of your posts for enhanced engagement. Incorporate pertinent keywords and hashtags to amplify visibility.
Schedule Posts. Leverage the scheduling feature to publish posts at optimal timings, ensuring maximum exposure.
Evaluate Post Performance. AuthoredUp offers post-performance tracking, enabling insights into effective strategies and areas for improvement, thereby refining future posts.
Here are supplementary pointers for harnessing AuthoredUp for content creation:
Employ keywords and hashtags that resonate with your target audience.
Craft compelling, informative posts that command attention.
Utilize visual aids like images and videos to enhance post appeal.
Time your post scheduling for periods when your target audience is most active.
Scrutinize post performance data to inform and elevate your future content strategy.
05 AuthoredUp Alternatives: Which is your Best LinkedIn Content Tool?
ChatGPT For Linkedin
ChatGPT For Linkedin is the solution you've been looking for. Advanced AI-generated replies are optimized for maximum engagement and designed to drive more interactions on your posts. With ChatGPT For Linkedin, you can achieve 10x growth in your engagement and transform your LinkedIn strategy.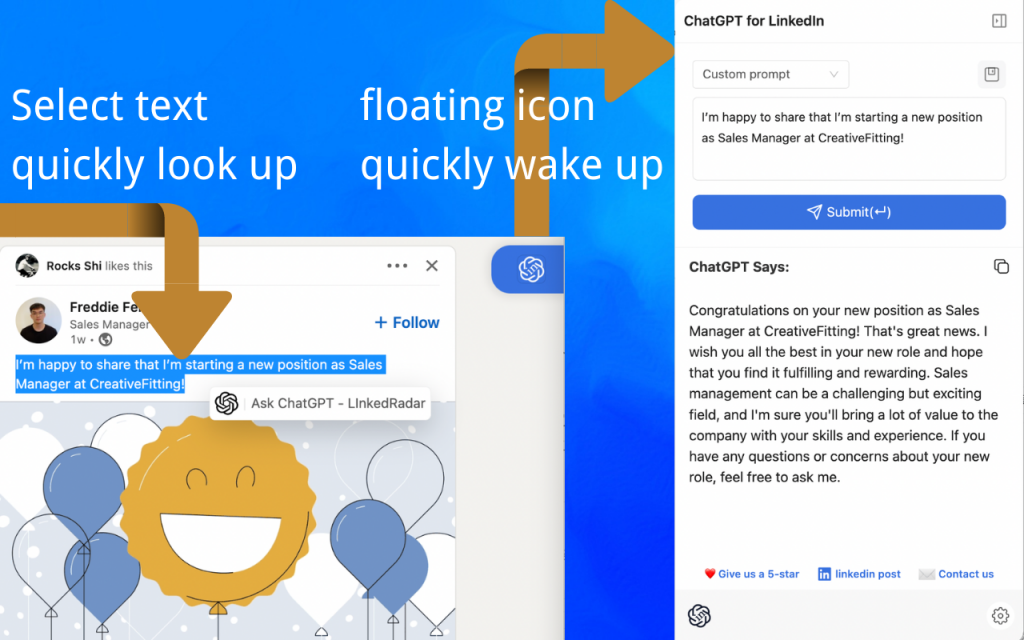 Engage AI is an innovative AI-driven solution that assists businesses in enhancing customer engagement and communication through personalized interactions.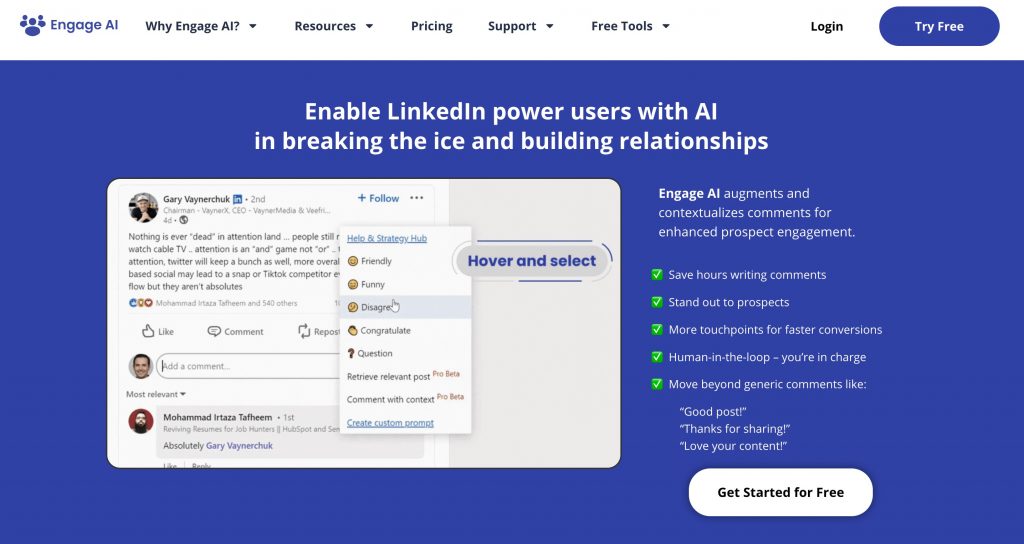 SocialPilot
SocialPilot is a comprehensive social media management platform that empowers users to efficiently schedule, publish, and analyze content across multiple social channels.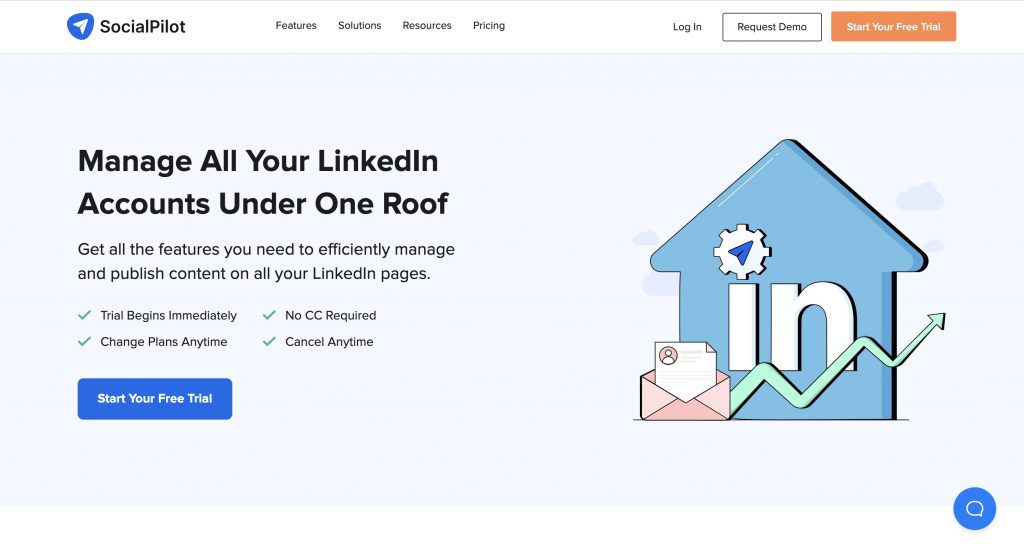 Taplio
Taplio is an AI-powered content creation tool that streamlines the process of generating engaging and relevant content for LinkedIn and other platforms.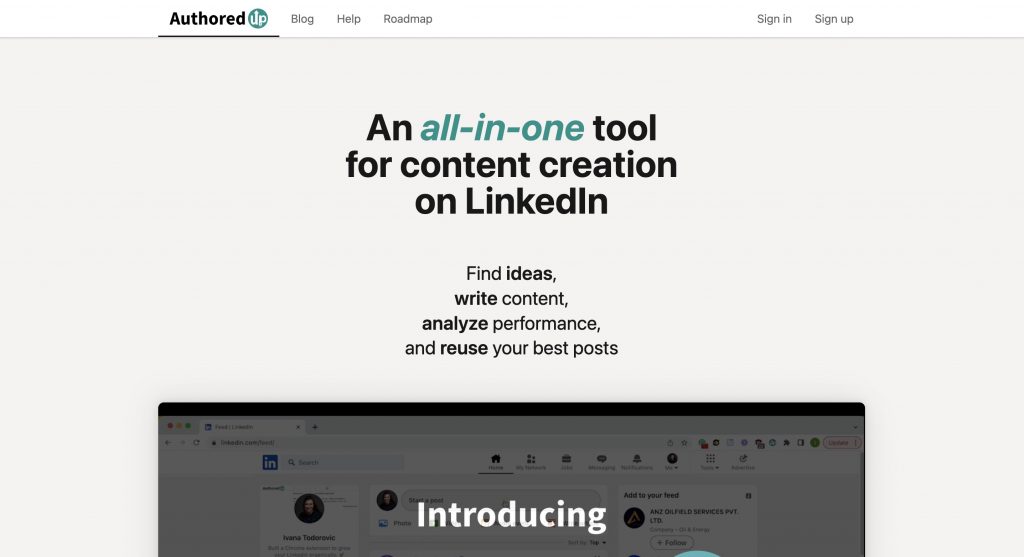 Connect with your prospects on LinkedIn. Receive responses effortlessly through LinkedRadar🚀
Mimic Human Behaviour
Reduce account risk by mimicking human behavior. Including random delays between actions, and gradually increasing daily limits.
Smart Limits
Allowing our users to send up to 100 invites and 100 messages in one day.
Templates
LinkedIn's specialists meticulously craft high-conversion templates, designed to augment the efficacy of your automated LinkedIn messaging outreach.
Stable Country-based IP
LinkedRadar provides each user with a stable country-based IP so that the user's account is not under suspicion.
Boost your LinkedIn sales outreach by 10x!
The safest prospecting tool for LinkedIn
START FOR FREE