Engage AI Review: Is It the Best Linkedin Content Tool?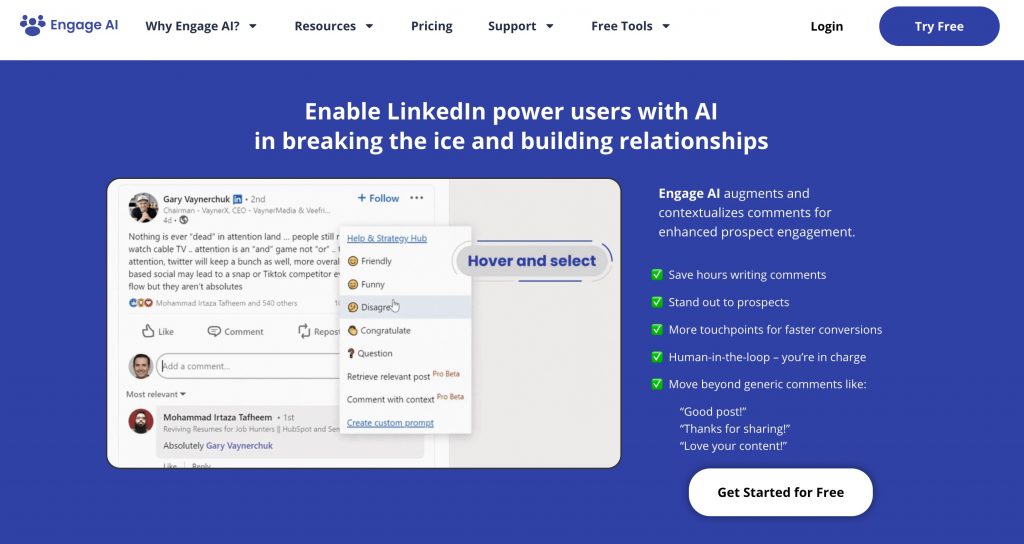 01 What is Engage AI?
Engage AI revolutionizes business prospect engagement on LinkedIn through the power of AI. Harnessing ChatGPT, an advanced language model by OpenAI, Engage AI crafts insightful and pertinent comments tailored to each prospect's interests, enabling businesses to forge meaningful connections and stand out in a competitive landscape.
The user-friendly interface of Engage AI simplifies the process. By linking your LinkedIn account and selecting desired profiles, Engage AI generates comments for your posts. These comments, customizable and reviewable, seamlessly blend your personal touch with AI-generated content.
Engage AI is a time-saving solution, well-suited for businesses of all scales. From burgeoning startups to established enterprises, its benefits are far-reaching:
Efficiency: Engage AI crafts comments swiftly, liberating you from the laborious task of manual composition.
Enhanced Engagement: With Engage AI's insightful comments, you capture attention and provoke meaningful interactions that set you apart.
Lead Generation: Initiate conversations and cultivate connections, leveraging Engage AI's comments to foster valuable leads.
Profile Enhancement: Showcase your active presence on LinkedIn with Engage AI's comments, enhancing your profile's credibility.
For those seeking to optimize their LinkedIn engagement, save time, and amplify lead generation, Engage AI offers a compelling solution.
Additional insights about Engage AI include:
SaaS Platform: Engage AI operates as a Software as a Service platform.
Pricing Plans: Choose from free or paid plans, with the free plan allowing up to 100 comments per month.
Paid Options: Paid plans start at $29 monthly, offering expanded capabilities like increased comment generation, diverse language models, and scheduled comment posting.
02 Engage AI Reviews: Is it worth It?
Engage AI has garnered enthusiastic acclaim from both users and industry experts alike. With over 100 reviews on Capterra, it boasts an impressive 4.9 out of 5-star rating. Users have lauded Engage AI for its time-saving prowess, adeptness in generating pertinent comments, and its capacity to elevate LinkedIn engagement.
Here's an overview of Engage AI's advantages and considerations:
Pros of Engage AI:
Time Efficiency: Engage AI swiftly generates comments, sparing you the arduous task of manual composition.
Enhanced Engagement: The relevance and insights in Engage AI's comments distinguish you from competitors and attract greater prospect attention.
Lead Generation: Leveraging Engage AI's comments, you can initiate valuable conversations and foster lead generation.
Profile Enhancement: By showcasing your active engagement on LinkedIn, Engage AI's comments elevate your profile's credibility.
Cons of Engage AI:
Potential Cost: Engage AI's paid plans might present a financial challenge for certain businesses.
Repetitive Comments: Repetition of keywords or phrases may lead to Engage AI's comments sounding redundant.
Work in Progress: As Engage AI continues development, occasional inaccuracies or irrelevant comments may arise.
Overall, Engage AI serves as an invaluable asset for businesses seeking to streamline operations, elevate LinkedIn engagement, and bolster lead generation. However, it's prudent to carefully evaluate the pros and cons before making the decision to invest.
03 Engage AI Pricing: Is Engage AI Free?
Indeed, Engage AI provides a complimentary plan enabling you to craft up to 100 comments per month. This option is particularly beneficial for fledgling businesses or those aiming to explore Engage AI's capabilities before opting for a premium plan.
Engage AI's paid packages commence at $29 per month, unlocking a plethora of additional features. These encompass the capacity to generate a higher volume of comments, the flexibility to employ diverse language models, and the convenience of scheduling comments for future posting.
Outlined below is a breakdown of Engage AI's pricing tiers:
| Plan | Price | Features |
| --- | --- | --- |
| Free | $0 | 100 comments per month |
| Starter | $29/month | 1,000 comments per month, 1 language model, 1 user |
| Pro | $99/month | 10,000 comments per month, 3 language models, 3 users |
| Enterprise | Contact Engage AI | Custom pricing, unlimited comments, unlimited language models, unlimited users |
04 Engage AI Tutorial: How to Use Engage AI for Content Generation?
Certainly, here's a step-by-step guide on effectively harnessing the potential of Engage AI for content generation:
Create Your Engage AI Account: Begin by signing up for an Engage AI account. This straightforward process can be initiated directly through the Engage AI website.
LinkedIn Account Integration: After successfully registering, proceed to link your Engage AI account with your LinkedIn profile. This connection empowers Engage AI to tap into your profile and network for enhanced engagement.
Select Your Engagement Targets: With your LinkedIn account integrated, you can now pinpoint the accounts you wish to engage with. This can be accomplished by either conducting searches for specific names or importing a pre-existing list of contacts.
Generate Thoughtful Comments: Once your engagement targets are identified, Engage AI steps in to generate thoughtful comments. These comments are thoughtfully tailored to align with the prospect's interests, designed to capture their attention effectively.
Personalize and Post: Before posting, you have the opportunity to review and personalize the generated comments. This personal touch enhances authenticity and helps you establish meaningful connections.
Monitor and Assess Results: Engage AI also tracks your engagement outcomes. Valuable insights, including comment count, likes, shares, and new connections, are made accessible for your assessment.
Enhance your utilization of Engage AI with these extra pointers for content generation:
Opt for keywords and phrases resonating with your prospect's interests.
Embed value within your comments, being specific and meaningful.
Cultivate a conversational tone to foster genuine interactions.
Infuse your unique personality into comments, adding a personal touch.
Regularly monitor outcomes and adapt your strategy accordingly.
05 Engage AI Alternatives: Which is your Best LinkedIn Content Tool?
ChatGPT For Linkedin
ChatGPT For Linkedin is the solution you've been looking for. Advanced AI-generated replies are optimized for maximum engagement and designed to drive more interactions on your posts. With ChatGPT For Linkedin, you can achieve 10x growth in your engagement and transform your LinkedIn strategy.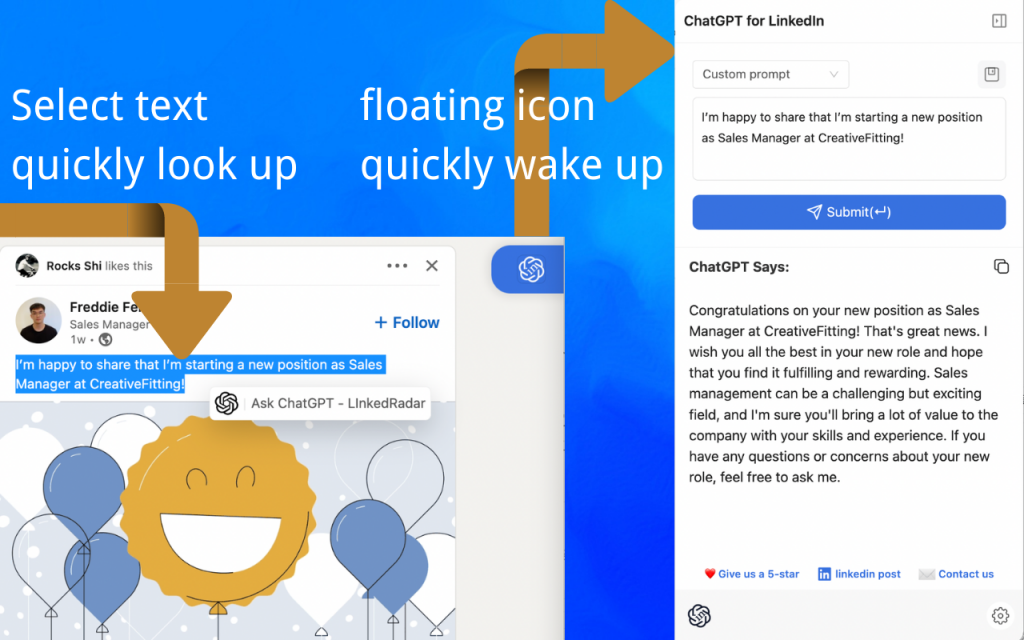 Taplio
Taplio is an AI-powered content creation tool that streamlines the process of generating engaging and relevant content for LinkedIn and other platforms.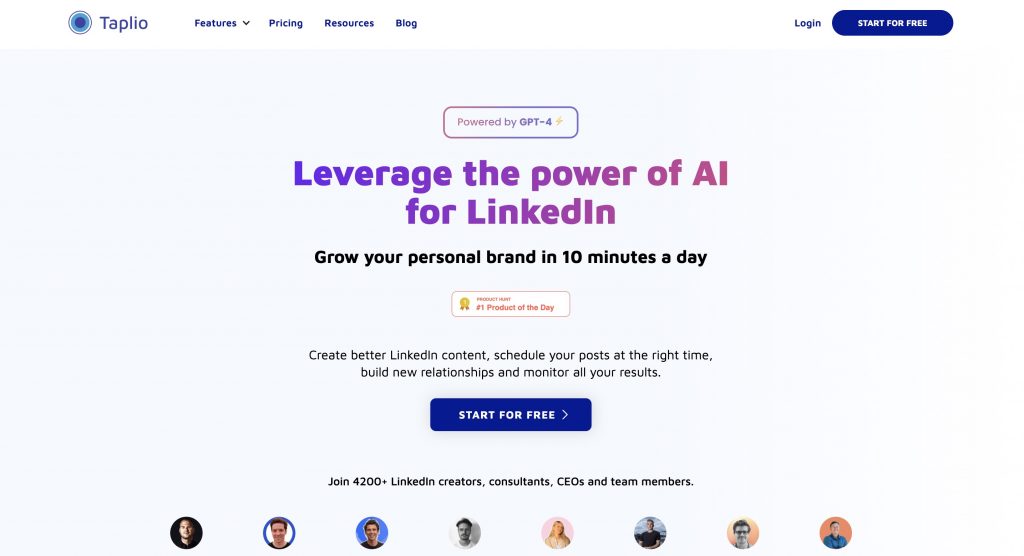 SocialPilot
SocialPilot is a comprehensive social media management platform that empowers users to efficiently schedule, publish, and analyze content across multiple social channels.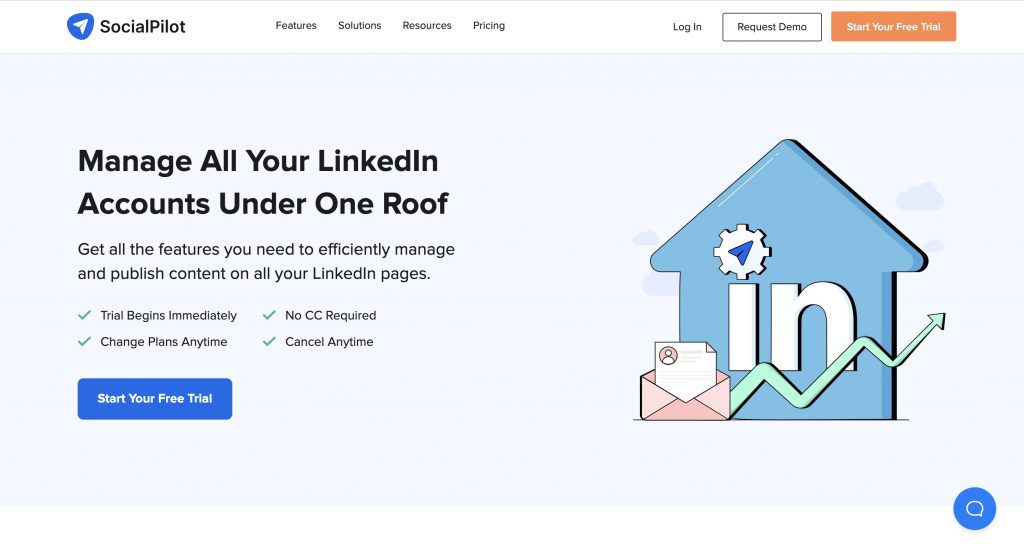 AuthoredUp
AuthoredUp is a cutting-edge platform that leverages AI to create high-quality written content, helping businesses streamline their content creation process and engage their audience effectively.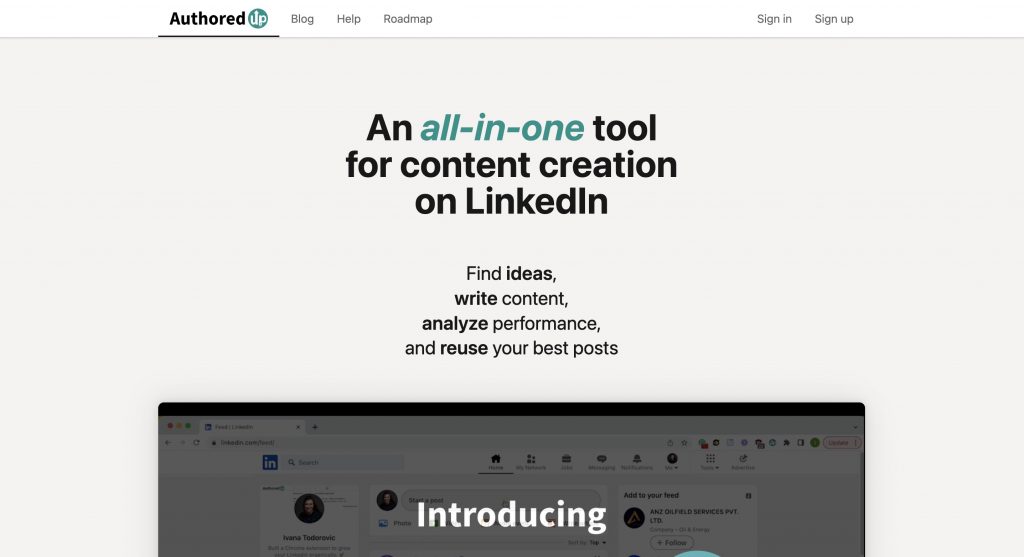 Connect with your prospects on LinkedIn. Receive responses effortlessly through LinkedRadar🚀
Mimic Human Behaviour
Reduce account risk by mimicking human behavior. Including random delays between actions, and gradually increasing daily limits.
Smart Limits
Allowing our users to send up to 100 invites and 100 messages in one day.
Templates
LinkedIn's specialists meticulously craft high-conversion templates, designed to augment the efficacy of your automated LinkedIn messaging outreach.
Stable Country-based IP
LinkedRadar provides each user with a stable country-based IP so that the user's account is not under suspicion.
Boost your LinkedIn sales outreach by 10x!
The safest prospecting tool for LinkedIn
START FOR FREE