Skrapp Review: Is It the Best Linkedin Prospecting Tool?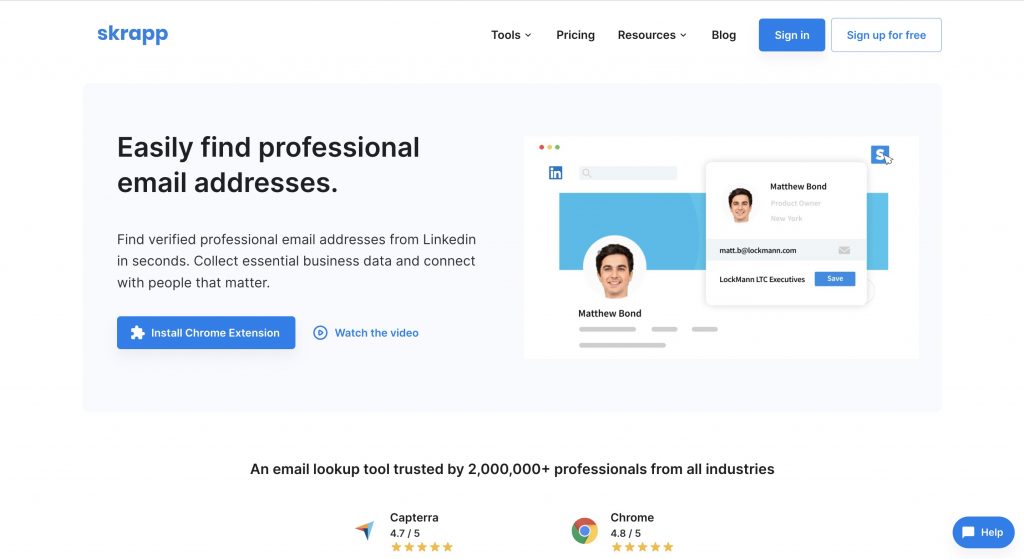 01 What is Skrapp?
Skrapp presents itself as a specialized email discovery tool crafted with B2B sales and marketing professionals in mind. Its primary function revolves around helping you pinpoint verified B2B email addresses of professionals through adeptly sourcing contact information from the web. Beyond this, Skrapp goes a step further by extending a comprehensive business data enrichment solution, enabling the creation of meticulous and dependable business profiles.
Outlined below are some key attributes that define Skrapp:
Verified B2B email discovery: Skrapp employs a diverse array of techniques, encompassing web scraping, meticulous examination of social media profiles, and harnessing the resources of public databases, all aimed at ensuring the authenticity of identified B2B email addresses.
Enriched business profiles: Skrapp's business data enrichment feature provides users the capability to construct detailed and validated business profiles. These profiles encompass crucial information such as company name, website, phone number, and email address.
User-friendly experience: Skrapp prides itself on its intuitive and user-centric interface, facilitating a straightforward process of inputting either a company name or domain to promptly extract pertinent email addresses.
Budget-conscious options: Skrapp offers a range of competitively priced plans, ensuring suitability across a variety of budget considerations.
For those in search of a dependable, cost-effective email discovery tool, Skrapp stands as an exceptional choice. Noted for its user-friendliness, diverse feature set, and the trust it has garnered from numerous businesses worldwide, Skrapp stands as a recommended and reliable solution.
02 Skrapp Reviews: Is it worth It?
Skrapp emerges as an exceptional email discovery tool that warrants serious consideration if your aim is to drive lead generation for your business. It boasts accuracy, user-friendliness, affordability, and robust customer support.
Outlined below are the merits and potential considerations when utilizing Skrapp:
Advantages of Skrapp:
Precision in email addresses: Skrapp leverages a comprehensive array of techniques, including web scraping, thorough examination of social media profiles, and the utilization of public databases. This ensures that the email addresses procured are precise and up-to-date.
User-friendly interface: Skrapp takes pride in its intuitive interface, allowing users to effortlessly input a company name or domain for streamlined email address identification.
Budget-friendliness: Skrapp offers a range of competitive pricing plans, catering to varying budget requirements.
Customer support excellence: Skrapp boasts a commendable reputation for its responsive customer support. In case of any tool-related challenges, their support team is readily available to provide assistance.
Feature diversity: Skrapp presents a diverse array of features to bolster lead generation endeavors, including email verification, lead scoring, and contact enrichment.
Trial period: Skrapp extends a free trial period, allowing users to experience its functionalities before committing to a paid plan.
Considerations of Skrapp :
Potential delay for email discovery in large companies: In instances where email addresses need to be sourced for sizable corporations, Skrapp's results might exhibit a slower turnaround. This is attributed to the extensive data crawling required to extract email addresses.
Potential for inaccuracies in email addresses: While Skrapp employs varied methods to identify email addresses, it's possible that some results may not be entirely accurate due to outdated or erroneous data sources.
Feature availability in free version: The free iteration of Skrapp comes with limitations on available features. Full access to Skrapp's array of functionalities necessitates opting for a paid plan.
All in all, Skrapp shines as an exceptional email discovery tool, ideal for businesses seeking effective lead generation. With its precision, user-friendly design, affordability, and commendable customer support, Skrapp presents a compelling choice. For those considering budget constraints, the free version offers an excellent opportunity to explore the tool's capabilities prior to committing to a paid plan.
03 Skrapp Pricing: Is Skrapp Free?
Skrapp does indeed present a complimentary plan; however, it comes with certain feature limitations. Within the bounds of the free plan, you are restricted to unearthing a maximum of 150 email addresses per month. Regrettably, the advanced attributes, including email verification and lead scoring, remain inaccessible.
For a comprehensive experience encompassing Skrapp's full suite of capabilities, subscribing to a paid plan is imperative. The paid alternatives kick off at $49 monthly for a provision of 1,000 email credits. It's noteworthy that the acquisition of additional email credits corresponds to a reduction in the cost per credit.
Outlined below is a tabular depiction of the available Skrapp pricing arrangements:
| Plan | Price | Email Credits | Advanced Features |
| --- | --- | --- | --- |
| Starter | $49/month | 1,000 | Email verification, lead scoring, contact enrichment |
| Seeker | $99/month | 5,000 | All of the features in the Starter plan, plus contact scoring, contact deduplication, and contact export |
| Enterprise | $199/month | 8,000 | All of the features in the Seeker plan, plus custom contact lists, custom domains, and dedicated account management |
| Global | $299/month | 50,000 | All of the features in the Enterprise plan, plus unlimited contact credits, and priority support |
Should fiscal considerations be a primary determinant, the free plan stands as a prudent avenue for acquainting oneself with Skrapp's functionalities prior to committing to a paid subscription. However, for those earnestly dedicated to cultivating leads for their enterprise, enrolling in a paid plan is my recommendation to fully harness the complete spectrum of Skrapp's offerings.
04 Skrapp Tutorial: How to Use Skrapp for Lead Generation?
Below are the outlined steps detailing how to effectively utilize Skrapp for generating leads:
Create Your Skrapp Account: Initiate your lead generation journey by signing up for a Skrapp account. You have the option to choose between a free account or a paid subscription.
Select a Pricing Plan: Depending on your budget and requirements, you can opt for the free plan to initially acquaint yourself with Skrapp's capabilities. However, if your aim is to harness the full potential of lead generation, I recommend opting for a paid plan that grants access to all of Skrapp's features.
Discover Email Addresses: Leverage Skrapp's intuitive search bar to unearth email addresses. Simply input a company name or domain into the search bar, and Skrapp will diligently scour its expansive database to yield a comprehensive list of located email addresses.
Validate Email Addresses: After compiling your list of email addresses, utilize Skrapp's email verification tool. This instrumental feature ensures the accuracy and currency of the email addresses, bolstering the reliability of your outreach efforts.
Enhance Contact Information: Elevate your lead engagement by employing Skrapp's contact enrichment tool. This empowers you to supplement your contact records with pertinent details such as job titles, company names, and phone numbers, augmenting your outreach strategy.
Export Your Leads: Having successfully identified and verified your leads, proceed to export them into a CSV file format. This facilitates seamless integration into your chosen CRM or marketing automation platform, streamlining your lead management process.
In addition, consider these valuable strategies when utilizing Skrapp for lead generation:
Utilize the Skrapp search bar to pinpoint email addresses associated with specific companies or industries.
Refine your search outcomes through the application of Skrapp's filtering options.
Capitalize on Skrapp's advanced search functionalities to pinpoint email addresses linked to specific job titles or functions.
Harness the potential of Skrapp's email verification tool to authenticate your acquired email addresses.
Employ Skrapp's contact enrichment tool to enhance the depth of your contact information.
Efficiently incorporate your lead data by exporting them to a CSV file, seamlessly integrating them into your chosen CRM or marketing automation platform.
05 Skrapp Alternatives: Which is your Best LinkedIn Prospecting Tool?
LinkedIn Sales Navigator
LinkedIn Sales Navigator is a premium tool that provides a plethora of features to help you find and connect with potential leads on LinkedIn. With advanced search filters and lead recommendations, LinkedIn Sales Navigator enables you to target your ideal prospects and build a strong network of valuable contacts.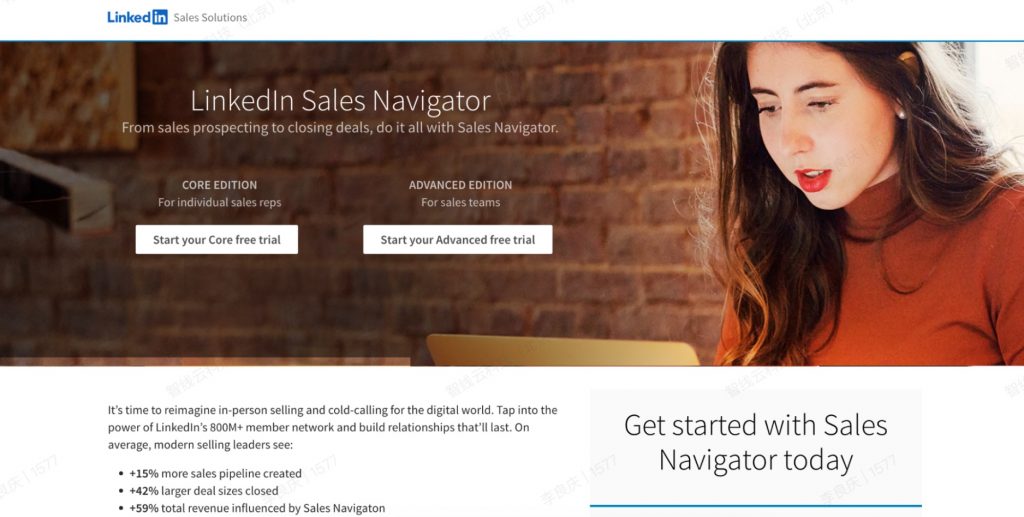 Waalaxy
Waalaxy is a feature-rich LinkedIn automation tool that simplifies your prospecting efforts. With automated personalized messaging, connection requests, and profile visits, Waalaxy helps you efficiently reach out to potential leads and build strong connections within your industry.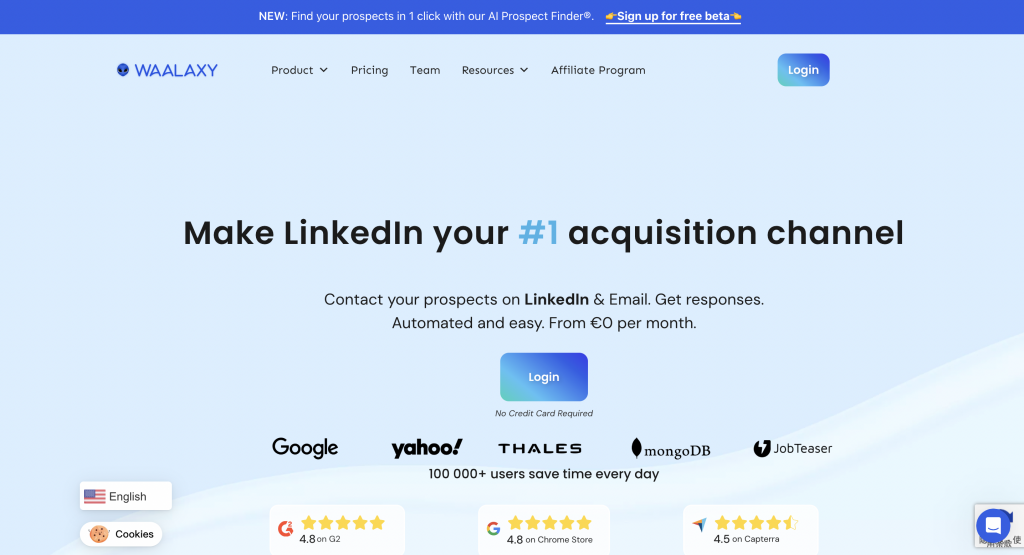 Octopus CRM
Octopus CRM is a powerful automation tool that simplifies your LinkedIn marketing activities. It allows you to automate personalized message campaigns, connection requests, and follow-ups, helping you maintain a consistent and effective outreach strategy on the platform.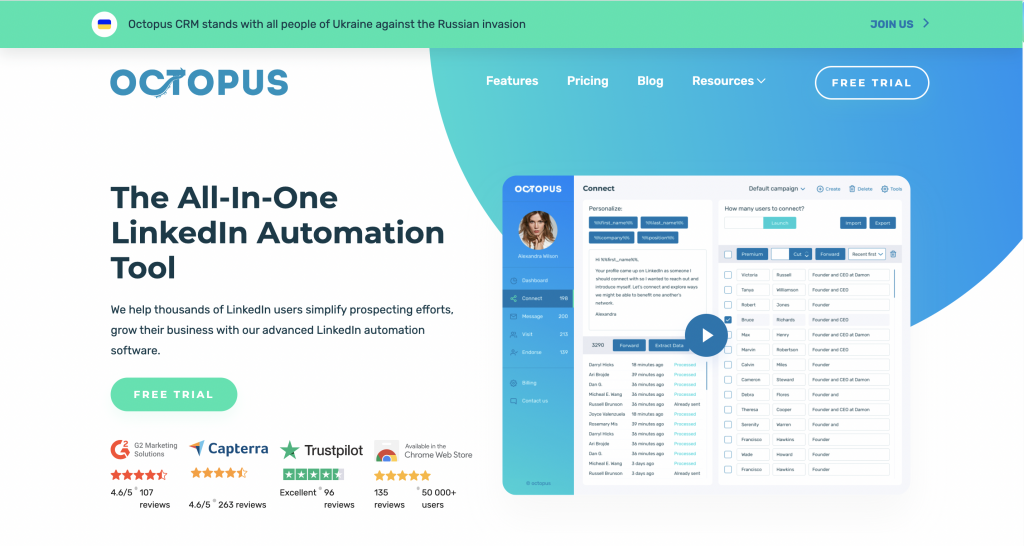 Dux-Soup
Dux-Soup is a versatile LinkedIn automation tool that enables you to automate various tasks, such as profile visits, connection requests, and messaging. It offers a seamless way to engage with your LinkedIn audience and expand your network effortlessly.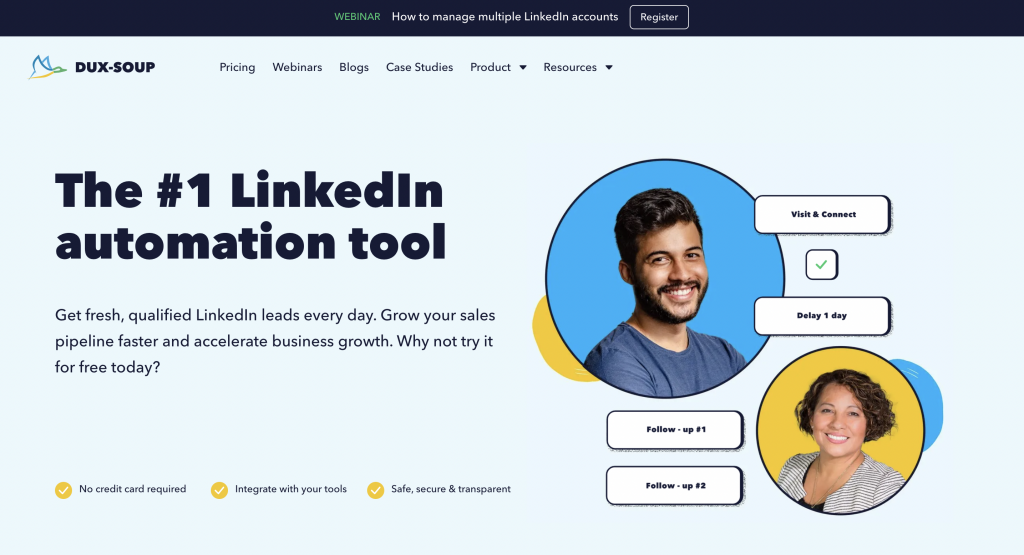 Dripify
Dripify is an innovative LinkedIn automation tool that focuses on nurturing relationships with your connections. With automated personalized messaging, connection requests, and follow-ups, Dripify helps you maintain a consistent and engaging presence on LinkedIn, building trust and rapport with your network.
Expandi
Expandi is an innovative LinkedIn automation tool that offers automated personalized outreach campaigns, connection requests, and messaging. It helps you maximize your LinkedIn presence and engage with your target audience on a large scale, driving valuable connections and opportunities.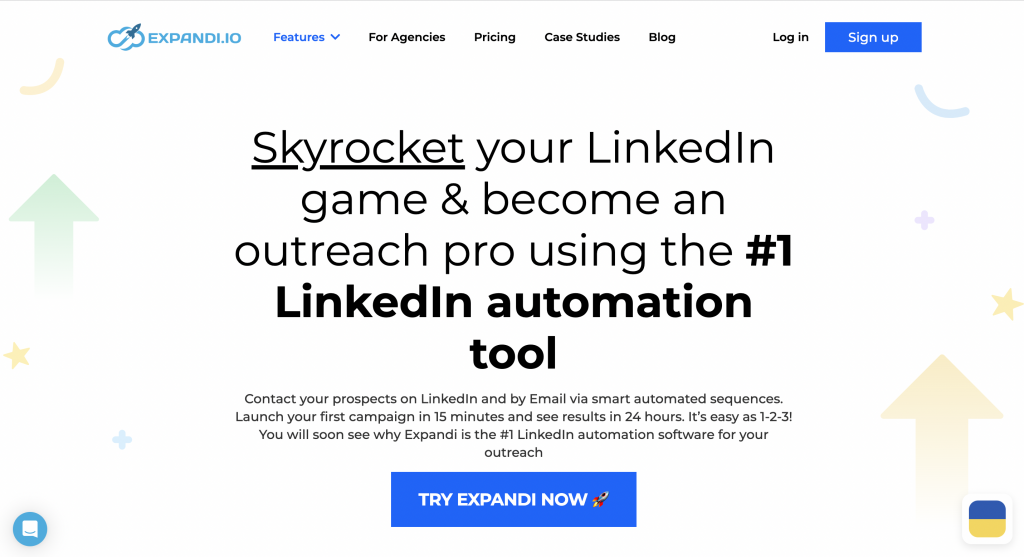 Connect with your prospects on LinkedIn. Receive responses effortlessly through LinkedRadar🚀
Mimic Human Behaviour
Reduce account risk by mimicking human behavior. Including random delays between actions, and gradually increasing daily limits.
Smart Limits
Allowing our users to send up to 100 invites and 100 messages in one day.
Templates
LinkedIn's specialists meticulously craft high-conversion templates, designed to augment the efficacy of your automated LinkedIn messaging outreach.
Stable Country-based IP
LinkedRadar provides each user with a stable country-based IP so that the user's account is not under suspicion.
Boost your LinkedIn sales outreach by 10x!
The safest prospecting tool for LinkedIn
START FOR FREE