Surfe Review: Is It the Best Linkedin Prospecting Tool?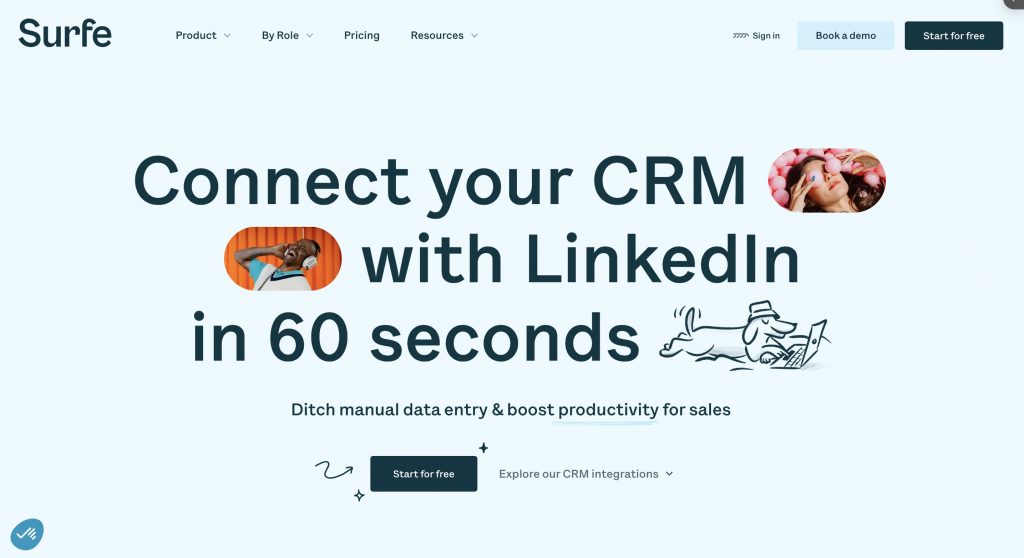 01 What is Surfe?
Surfe stands as a dynamic sales productivity platform tailored to empower revenue teams in their engagement with prospects and clients on LinkedIn. Seamlessly integrating with LinkedIn, Surfe extends its capabilities to furnish sales teams with comprehensive access to contact details, company insights, and social media profiles. In addition, Surfe boasts a suite of features meticulously crafted to facilitate prospecting, deal closure, and meticulous pipeline tracking.
Highlighted below are some pivotal features offered by Surfe:
LinkedIn Integration: Surfe seamlessly syncs with LinkedIn, granting sales teams unparalleled access to vital contact information, company particulars, and social media profiles. This seamless integration streamlines lead identification, assessment, and ensures real-time updates on prospect and customer activities.
Lead Enrichment: Surfe's lead enrichment tool is designed to equip sales teams in uncovering and evaluating leads. By harnessing the potency of LinkedIn, this tool extracts pivotal contact data, company insights, and social media profiles. This treasure trove of information aids in gauging lead potential and devising effective outreach strategies.
Deal Management: Surfe's deal management functionality offers a centralized hub for sales teams to meticulously track their pipeline and manage ongoing deals. By aggregating essential data such as contact particulars, company details, and social media profiles, this feature enables comprehensive deal progress monitoring and aids in identifying potential hurdles.
Sales Analytics: Surfe's sales analytics feature empowers sales teams to quantify their performance and pinpoint avenues for enhancement. Through comprehensive reports encompassing lead generation, sales velocity, and deal closure rates, sales teams gain invaluable insights to guide strategic improvements.
Surfe emerges as an optimal solution for sales and revenue teams in pursuit of a robust platform to foster meaningful connections with prospects and clients on LinkedIn. Its repertoire of capabilities extends to encompass efficient prospecting, streamlined deal closure, and meticulous pipeline oversight. Moreover, Surfe offers an accessible, budget-friendly, and user-friendly option for sales teams seeking a comprehensive sales productivity solution.
02 Surfe Reviews: Is it worth It?
Surfe stands as a dynamic sales productivity platform aimed at facilitating seamless interactions between revenue teams and their LinkedIn prospects and clients. Seamlessly integrated with LinkedIn, Surfe extends a comprehensive suite of tools, granting sales teams access to critical contact details, company insights, and social media profiles. In addition to fostering connections, Surfe encompasses an array of features dedicated to prospecting, deal closure, and meticulous pipeline management.
Outlined below are some of the advantages and drawbacks associated with utilizing Surfe:
Pros of Surfe:
User-Friendly Interface: Surfe offers an intuitive and user-friendly experience, ensuring smooth navigation and swift adoption.
Cost-Effective: Surfe presents an affordable option, making it accessible to a wide range of businesses, including those with budget constraints.
LinkedIn Integration: Surfe's seamless integration with LinkedIn provides sales teams direct access to invaluable contact information, company data, and social media profiles.
Comprehensive Feature Set: Surfe equips sales teams with an array of tools to effectively prospect, close deals, and monitor their pipeline's progress.
Responsive Customer Support: Surfe's customer support team is known for its responsiveness and assistance, ensuring that users receive timely help when needed.
Cons of Surfe:
Feature Scope: Compared to some other CRM platforms, Surfe may not offer the same level of feature richness.
Potential Bugs: Some users have reported encountering occasional bugs within the platform, which could impact the user experience.
Lead Enrichment Tool Performance: The lead enrichment tool within Surfe has been noted to experience occasional sluggishness, potentially affecting efficiency.
In summation, Surfe emerges as a valuable option for sales and revenue teams seeking a means to effectively engage with LinkedIn prospects and customers, while streamlining their prospecting, deal closure, and pipeline tracking endeavors. Particularly appealing to those prioritizing affordability and ease of use, Surfe presents a user-friendly solution.
Is Surfe the Right Fit for You?
Determining whether Surfe aligns with your business needs hinges on your unique requirements. If your priority lies in a robust CRM platform brimming with features, Surfe may not fully satisfy those demands. However, for those seeking a budget-friendly and straightforward platform to connect with LinkedIn contacts, Surfe remains a compelling choice.
03 Surfe Pricing: Is Surfe Free?
While Surfe itself comes with a cost, it does extend the opportunity for users to explore its functionalities through a complimentary trial. The trial spans a duration of 14 days, allowing you to delve into the platform's offerings without the commitment of payment. Following this trial period, you have the option to proceed by opting for one of Surfe's paid subscription plans.
Outlined below are the details of the three distinct Surfe pricing plans:
Starter: Priced at $17 per month per user.
Growth: Available at a rate of $49 per month per user.
Pro: Presented at a cost of $99 per month per user.
To provide further clarity, here's a comparative analysis of the features and pricing associated with each of the Surfe plans:
| Plan | Features | Price |
| --- | --- | --- |
| Starter | Lead enrichment, deal management, sales analytics | $17/month per user |
| Growth | All of the features of the Starter plan, plus unlimited searches, unlimited leads, and customizable reports | $49/month per user |
| Pro | All of the features of the Growth plan, plus dedicated account manager, priority support, and advanced integrations | $99/month per user |
04 Surfe Tutorial: How to Use Surfe for Lead Generation?
Absolutely, I'd be delighted to guide you through the process of utilizing Surfe for effective lead generation. Below are the comprehensive steps to get you started:
Sign Up for a Surfe Account: Initiate your journey by registering for a Surfe account, which you can conveniently accomplish on the official Surfe website.
Select a Suitable Plan: Surfe offers a trio of plans: Starter, Growth, and Pro. Depending on the size and requirements of your sales team, you can choose the plan that best aligns with your needs. Opt for the Starter plan for small teams taking their initial steps, opt for the Growth plan for medium-sized teams seeking enhanced features, and go for the Pro plan if you're leading a large team necessitating comprehensive features and support.
Install the Surfe Chrome Extension: Access the prowess of Surfe on LinkedIn by installing the Surfe Chrome extension. This extension, readily available on the Chrome Web Store, facilitates your seamless integration with LinkedIn.
LinkedIn Login: After installing the Surfe Chrome extension, proceed to log in to your LinkedIn account through Surfe.
Initiate Lead Search: Leverage Surfe's capabilities to initiate your lead search. This can be achieved by exploring specific criteria such as company name, job title, or even keywords.
Enrichment: Once you've identified potential leads, employ Surfe to enrich your findings with additional information. This includes enriching your leads with crucial details like contact information, company insights, and social media profiles.
Export Leads: Post-enrichment, the next step involves exporting your leads. You can seamlessly export your enriched leads either to a CSV file or directly to your CRM system.
Monitor Progress: Stay informed about your progress in lead generation through Surfe's comprehensive sales analytics dashboard. This invaluable tool allows you to monitor the efficacy of your lead generation strategies, enabling you to discern what works best and where improvements are needed.
Here are a few bonus tips to maximize your experience with Surfe for lead generation:
Optimize Keywords: Employ specific and targeted keywords during your lead search for more precise results.
Utilize Advanced Filters: Surfe's advanced filters, encompassing industry, location, and company size, can be employed to further refine your search outcomes.
Enrichment for Enhanced Insights: Elevate your lead understanding by leveraging Surfe's enrichment tool to gather an array of additional information.
Progress Tracking: Utilize Surfe's sales analytics dashboard to maintain a real-time overview of your lead generation progress, facilitating data-driven decisions.
Embrace the versatility of Surfe as your ally in the lead generation landscape, empowering you with a streamlined and strategic approach to connecting with your prospects.
05 Surfe Alternatives: Which is your Best LinkedIn Prospecting Tool?
LinkedIn Sales Navigator
LinkedIn Sales Navigator is a premium tool that provides a plethora of features to help you find and connect with potential leads on LinkedIn. With advanced search filters and lead recommendations, LinkedIn Sales Navigator enables you to target your ideal prospects and build a strong network of valuable contacts.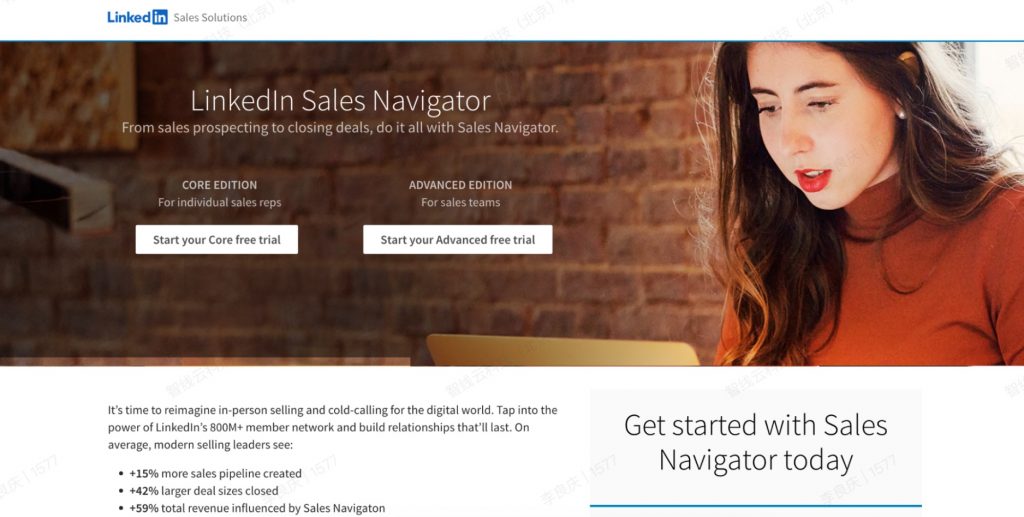 Waalaxy
Waalaxy is a feature-rich LinkedIn automation tool that simplifies your prospecting efforts. With automated personalized messaging, connection requests, and profile visits, Waalaxy helps you efficiently reach out to potential leads and build strong connections within your industry.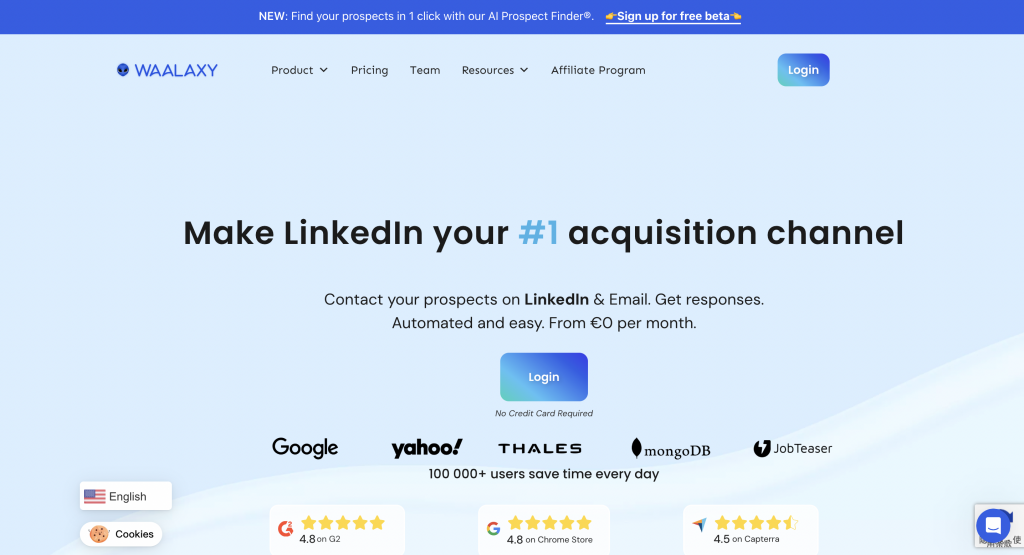 Octopus CRM
Octopus CRM is a powerful automation tool that simplifies your LinkedIn marketing activities. It allows you to automate personalized message campaigns, connection requests, and follow-ups, helping you maintain a consistent and effective outreach strategy on the platform.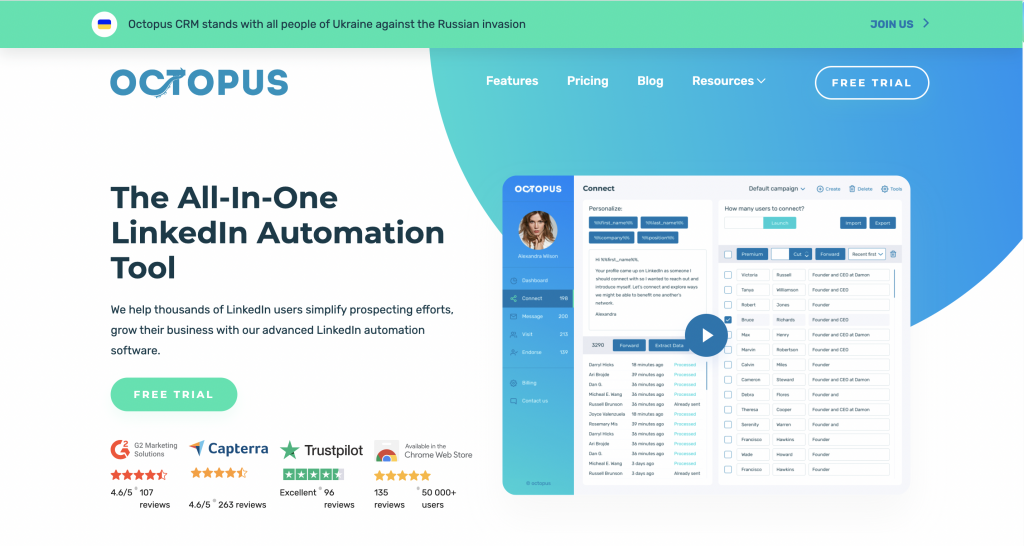 Dux-Soup
Dux-Soup is a versatile LinkedIn automation tool that enables you to automate various tasks, such as profile visits, connection requests, and messaging. It offers a seamless way to engage with your LinkedIn audience and expand your network effortlessly.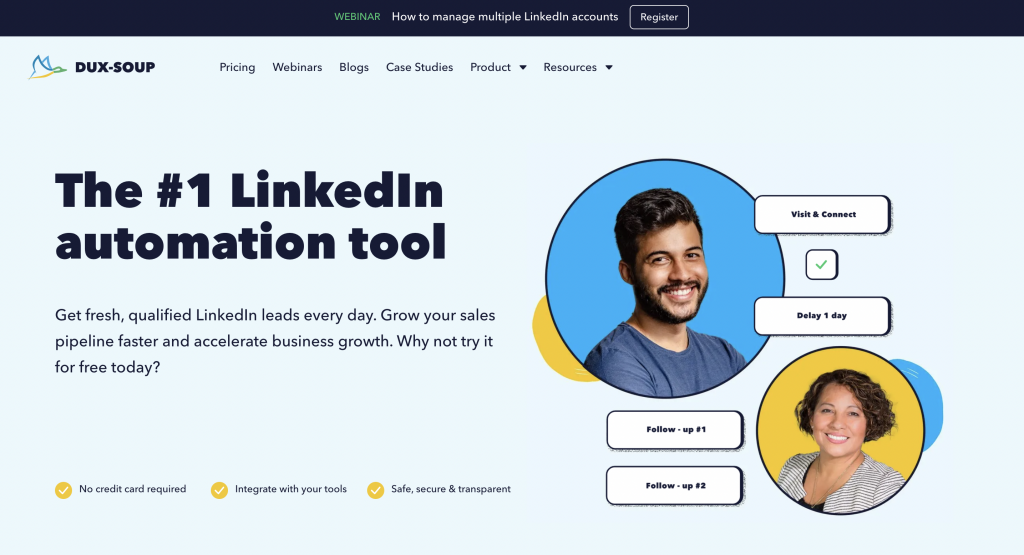 Dripify
Dripify is an innovative LinkedIn automation tool that focuses on nurturing relationships with your connections. With automated personalized messaging, connection requests, and follow-ups, Dripify helps you maintain a consistent and engaging presence on LinkedIn, building trust and rapport with your network.
Expandi
Expandi is an innovative LinkedIn automation tool that offers automated personalized outreach campaigns, connection requests, and messaging. It helps you maximize your LinkedIn presence and engage with your target audience on a large scale, driving valuable connections and opportunities.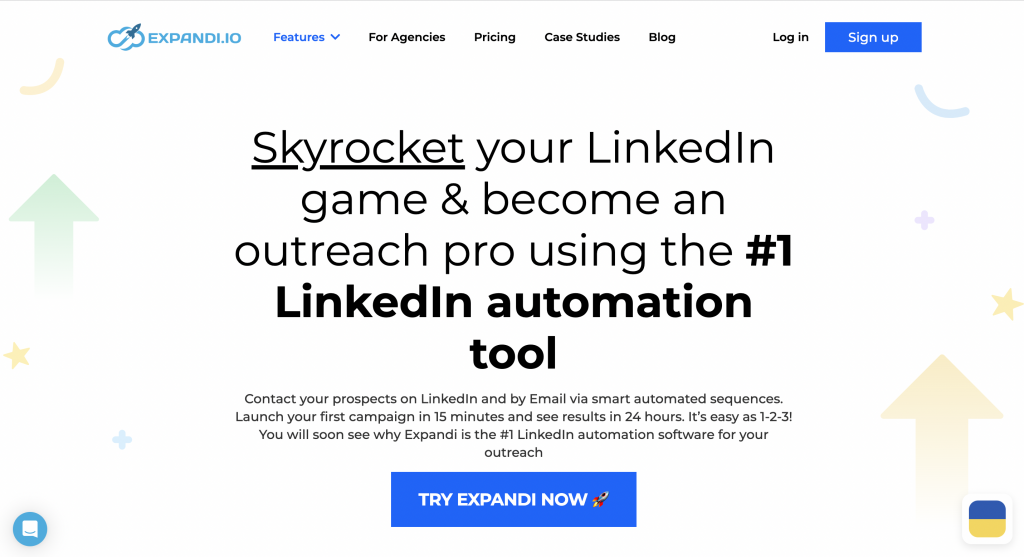 Connect with your prospects on LinkedIn. Receive responses effortlessly through LinkedRadar🚀
Mimic Human Behaviour
Reduce account risk by mimicking human behavior. Including random delays between actions, and gradually increasing daily limits.
Smart Limits
Allowing our users to send up to 100 invites and 100 messages in one day.
Templates
LinkedIn's specialists meticulously craft high-conversion templates, designed to augment the efficacy of your automated LinkedIn messaging outreach.
Stable Country-based IP
LinkedRadar provides each user with a stable country-based IP so that the user's account is not under suspicion.
Boost your LinkedIn sales outreach by 10x!
The safest prospecting tool for LinkedIn
START FOR FREE