Kendo Review: Is It the Best LinkedIn Lead Generation Tool?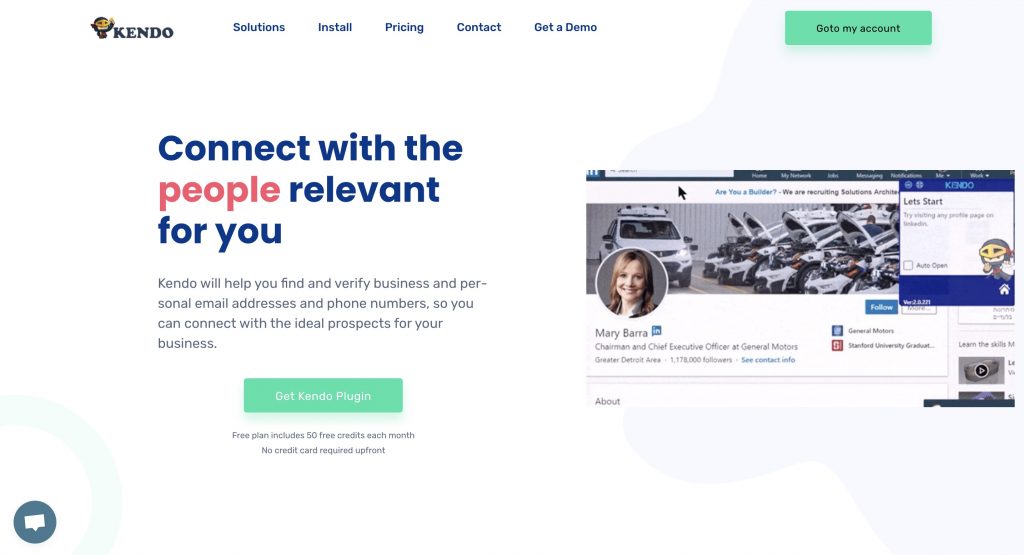 01 What is Kendo?
Kendo stands as an influential sales intelligence and email discovery platform, orchestrating seamless lead identification and engagement for businesses. Its multifaceted toolkit equips enterprises throughout their sales journey, encompassing:
Lead Insight: Kendo harnesses a vast database, encompassing over 500 million contacts with enriched details like contact information, job roles, company specifics, and social media profiles. This goldmine empowers precise lead identification, qualification, and the creation of tailored sales outreach initiatives.
Email Unveiling: Kendo's cutting-edge email finder tool unveils email addresses of potential leads, even when these details aren't publicly available, expanding your avenues for connection.
Email Validation: Ensuring precision, Kendo's email verification feature validates the accuracy of leads' email addresses, bolstering the effectiveness of your outreach.
Email Campaigns: Kendo's sophisticated email marketing tool offers a canvas to craft and dispatch personalized email campaigns, fostering direct and impactful communication with your leads.
Social Engagement: Capitalize on Kendo's social media marketing tool to forge connections and cultivate relationships with leads across various social platforms.
Phone Call Facilitation: Kendo's phone calls feature facilitates direct communication through phone calls, enabling you to refine lead qualification further.
A cloud-based solution adaptable for businesses of all sizes, Kendo resonates as a preferred choice for enterprises committed to elevating their sales processes and elevating deal closure.
Diving into the benefits of embracing Kendo:
Amplified Lead Generation: Kendo's lead intelligence prowess empowers businesses to uncover and evaluate an enhanced pool of potential leads.
Enhanced Sales Engagement: Through Kendo's arsenal of email discovery, verification, and marketing tools, businesses can elevate their engagement tactics, fostering meaningful interactions with leads.
Augmented Sales Efficiency: Kendo's tools for social media interaction and phone calls synergize to streamline and economize your sales endeavors.
Precision in Account-Based Marketing: Leverage Kendo's advanced features to precisely target your sales campaigns towards specific accounts, enhancing your account-based marketing initiatives.
Should you seek to enhance your sales journey with a robust sales intelligence and email discovery platform, Kendo emerges as an ideal solution.
02 Kendo Reviews: Is it worth It?
Kendo emerges as an exceptional sales intelligence and email discovery platform, empowering businesses to seamlessly pinpoint and engage with potential leads. While Kendo presents a myriad of advantages, it's crucial to meticulously assess its pros and cons before determining its suitability for your endeavors.
Advantages of Embracing Kendo:
Precise Lead Insight: Kendo boasts an extensive database comprising over 500 million contacts, featuring comprehensive details such as contact particulars, job designations, company insights, and social media profiles. This wealth of information, meticulously maintained and up-to-date, substantially enhances lead identification and qualification, amplifying businesses' efficacy.
User-Friendly Interface: Kendo's intuitive design ensures accessibility, catering even to businesses unfamiliar with sales intelligence or email discovery platforms. The platform thoughtfully provides comprehensive documentation and training resources, facilitating a smooth learning curve.
Budget-Friendly Options: Kendo's assortment of pricing plans is thoughtfully tailored to accommodate businesses of varying sizes. Furthermore, the scalability of these plans allows businesses to initiate with a modest plan and seamlessly upgrade as needs evolve.
Robust Customer Support: Kendo bolsters its offerings with a robust customer support team, dedicated to promptly addressing queries and assisting businesses in harnessing the platform's full potential.
Considerations in Utilizing Kendo:
Feature Availability: It's important to note that certain features, such as account-based marketing, are exclusively accessible within the higher-tier plans.
Setup Investment: While Kendo's benefits are substantial, it's prudent to acknowledge that the initial setup process can demand a significant time investment, especially for those unacquainted with sales intelligence or email discovery platforms. Nevertheless, the subsequent time and effort savings in the sales process can prove invaluable.
Continuous Refinement: While Kendo stands as an impressive platform, it's worth acknowledging that perfection isn't instantaneous. Some features, such as the lead intelligence database, might encounter occasional inaccuracies. However, Kendo demonstrates a commitment to ongoing enhancements, suggesting a trajectory towards refinement.
In its entirety, Kendo shines as an invaluable sales intelligence and email discovery platform, primed to empower businesses of all dimensions in lead identification, engagement, and deal closure. The trifecta of accuracy, user-friendliness, and affordability make Kendo an enticing proposition. However, your decision to adopt Kendo should be underpinned by careful deliberation of its merits and limitations.
Is Kendo the Right Fit for You?
Financial Alignment: Kendo's array of pricing plans ensures flexibility, yet it's essential to weigh the platform's cost against your budget. This assessment should encompass both the monetary investment and the time and resources required for setup and efficient utilization.
Tailored Requirements: Kendo's comprehensive offerings might align seamlessly with some businesses' aspirations, while others seeking simpler solutions may find better-suited alternatives.
Experience Level: While Kendo's user-friendly nature is advantageous, prior experience with sales intelligence or email discovery platforms can further enhance your engagement. If you're venturing into these realms for the first time, platforms with enhanced user support might be more appealing.
03 Kendo Pricing: Is Kendo Free?
Absolutely, Kendo does not come free of charge. It does provide a trial period, but beyond that, subscription to one of its plans is requisite. The pricing options are outlined below:
Lite Plan: Valued at $17 per month, offering 100 searches each month.
Pro Plan: Priced at $34 per month, delivering 300 searches per month.
Enterprise Plan: Available for $54 per month, granting access to 1000 searches per month.
Unlimited Plan: Obtainable at $129 per month, affording limitless searches.
The appeal further extends if you opt for an annual subscription, as it offers a discount on Kendo's pricing.
For your convenience, a table succinctly depicting the Kendo pricing plans is presented below:
| Plan | Price per user per month | Price per user per year | Features |
| --- | --- | --- | --- |
| Lite | $17 | $204 | Lead intelligence, email finder, email verification |
| Pro | $34 | $408 | All of the features of the Lite plan, plus email marketing, social media marketing, and phone calls |
| Enterprise | $54 | $648 | All of the features of the Pro plan, plus dedicated account manager, customized integrations, and white-label branding |
| Unlimited | $129 | $1548 | All of the features of the Enterprise plan, plus unlimited searches |
04 Kendo Tutorial: How to Use Kendo for Lead Generation?
Certainly, here is a comprehensive guide on utilizing Kendo for effective lead generation:
Sign Up for a Kendo Account: Initiate your journey by registering for a Kendo account via the Kendo website.
Select Your Ideal Pricing Plan: Kendo extends four distinct pricing plans: Lite, Pro, Enterprise, and Unlimited. Depending on your business's specific needs, you can choose the plan that aligns with your lead generation goals. The Lite plan caters to those commencing their lead generation efforts, while the Pro plan offers additional features and searches. For those seeking dedicated account management, customized integrations, and white-label branding, the Enterprise plan is recommended.
Integrate with Your CRM: Seamlessly connect Kendo with your preferred Customer Relationship Management (CRM) system, such as Salesforce, HubSpot, or Pipedrive. This integration facilitates the synchronization of your leads, enabling you to meticulously track progress and increase your deal-closing efficiency.
Embark on Lead Exploration: Leverage Kendo's robust lead intelligence engine to embark on a targeted lead search. Effortlessly filter leads based on parameters such as company, job title, and industry, employing Kendo's advanced filters for refined search results.
Qualify Leads with Precision: Upon identifying potential leads, employ Kendo's suite of tools to meticulously qualify them to ensure they align with your business objectives. Utilize contact details, company information, and social media profiles provided by Kendo to make informed decisions about lead suitability.
Initiate Engagement: Once your leads are qualified, initiate engagement strategies. Kendo offers a diverse array of tools encompassing email marketing, social media engagement, and phone calls to seamlessly connect with your leads.
Monitor and Enhance Campaigns: Employ Kendo's comprehensive analytics tools to continually monitor the performance of your lead generation campaigns. These insights empower you to refine and optimize your strategies over time for consistently improved results.
Further enhancing your lead generation efforts:
Leverage Advanced Filters: Capitalize on Kendo's advanced filters to efficiently narrow down your search results, honing in on the most promising and suitable leads.
Prioritize with Lead Scoring: Optimize your lead management by utilizing Kendo's lead scoring system. Allocate your resources to the most promising leads, enhancing your efficiency and effectiveness.
Employ Email and Social Media Marketing: Utilize Kendo's versatile email and social media marketing tools to establish meaningful connections with your leads. These strategies help you maintain a visible presence and increase your likelihood of successful deal closures.
Iterate and Improve: Continually assess your results and actively refine your campaigns. Kendo's analytics tools facilitate ongoing improvements, ensuring your lead generation efforts yield progressively better outcomes.
By following these steps and tips, you can harness the power of Kendo to significantly enhance your lead generation endeavors and drive tangible business growth.
05 Kendo Alternatives: Which is your Best LinkedIn Lead Generation Tool?
LinkedIn Sales Navigator
LinkedIn Sales Navigator is a premium tool that provides a plethora of features to help you find and connect with potential leads on LinkedIn. With advanced search filters and lead recommendations, LinkedIn Sales Navigator enables you to target your ideal prospects and build a strong network of valuable contacts.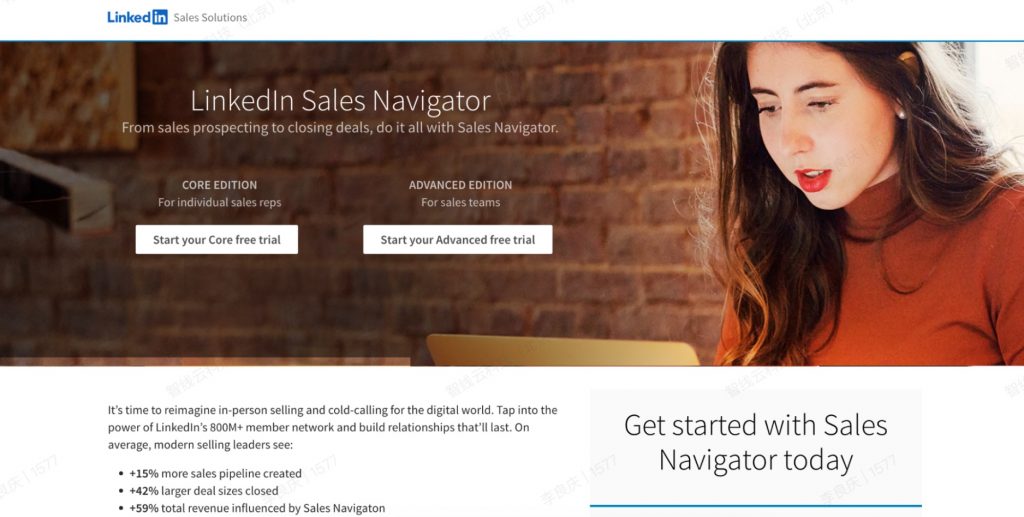 Waalaxy
Waalaxy is a feature-rich LinkedIn automation tool that simplifies your prospecting efforts. With automated personalized messaging, connection requests, and profile visits, Waalaxy helps you efficiently reach out to potential leads and build strong connections within your industry.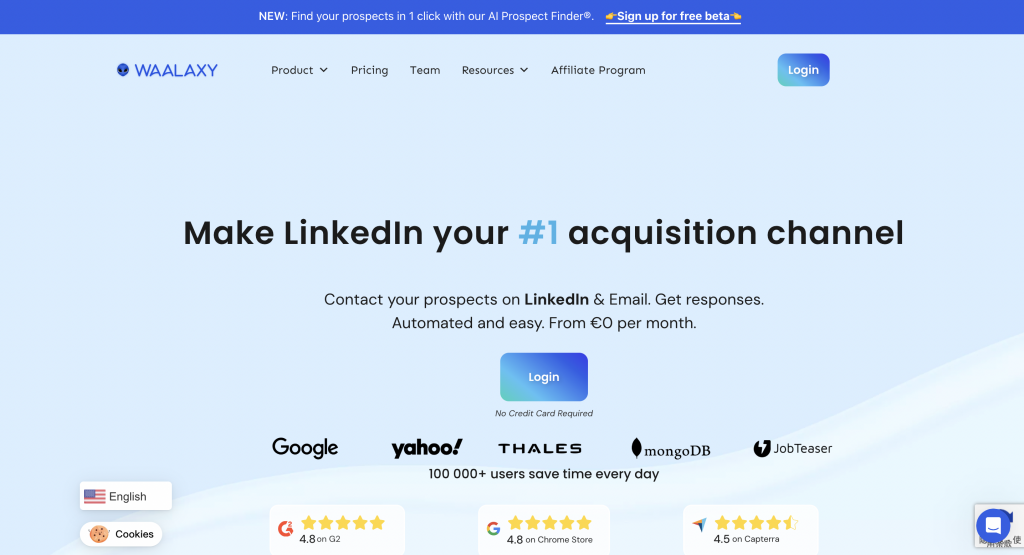 Octopus CRM
Octopus CRM is a powerful automation tool that simplifies your LinkedIn marketing activities. It allows you to automate personalized message campaigns, connection requests, and follow-ups, helping you maintain a consistent and effective outreach strategy on the platform.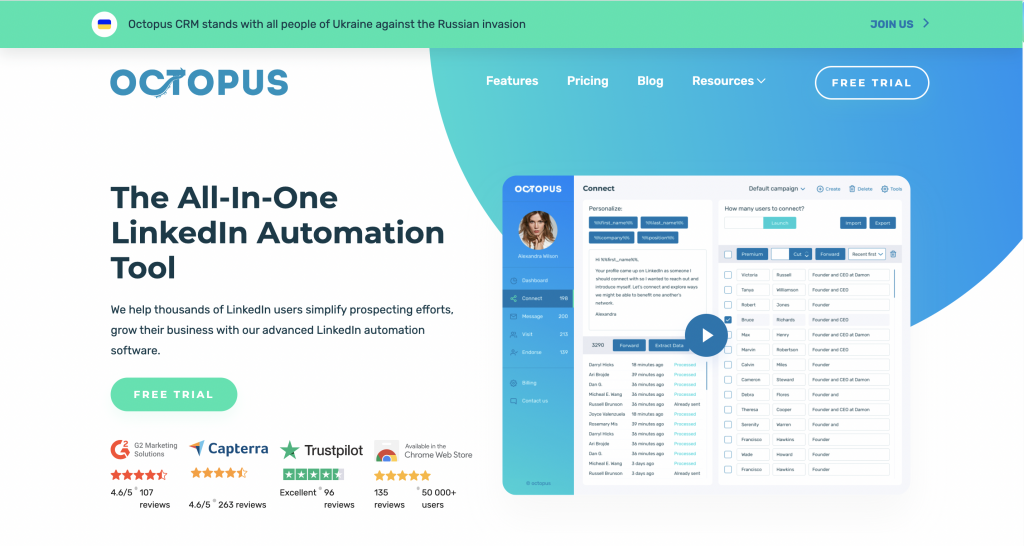 Dux-Soup
Dux-Soup is a versatile LinkedIn automation tool that enables you to automate various tasks, such as profile visits, connection requests, and messaging. It offers a seamless way to engage with your LinkedIn audience and expand your network effortlessly.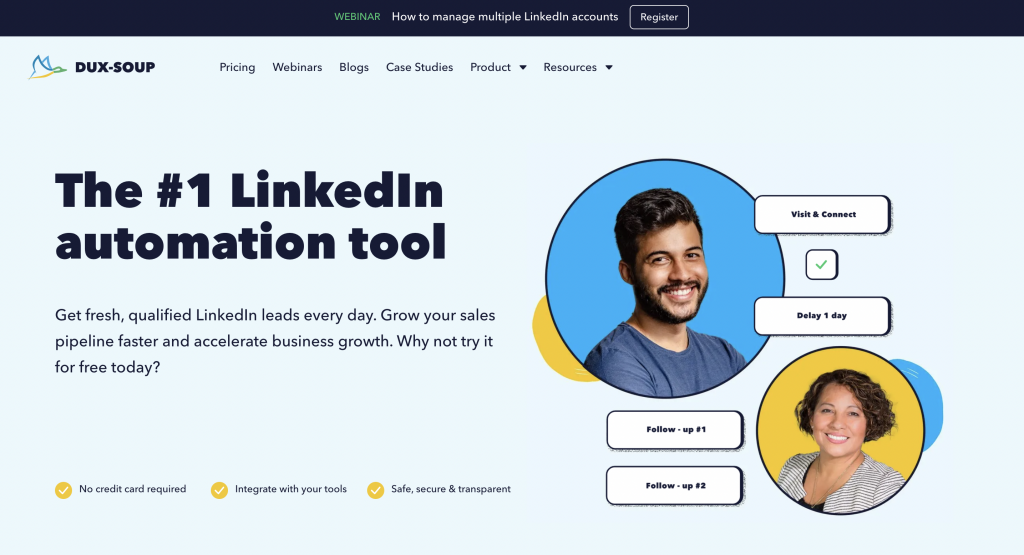 Dripify
Dripify is an innovative LinkedIn automation tool that focuses on nurturing relationships with your connections. With automated personalized messaging, connection requests, and follow-ups, Dripify helps you maintain a consistent and engaging presence on LinkedIn, building trust and rapport with your network.
Expandi
Expandi is an innovative LinkedIn automation tool that offers automated personalized outreach campaigns, connection requests, and messaging. It helps you maximize your LinkedIn presence and engage with your target audience on a large scale, driving valuable connections and opportunities.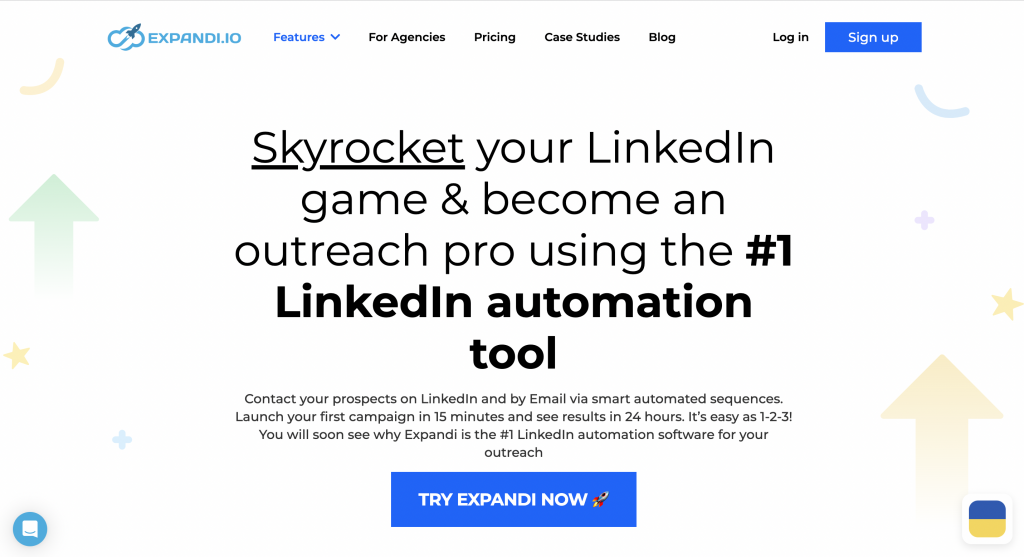 Connect with your prospects on LinkedIn. Receive responses effortlessly through LinkedRadar🚀
Mimic Human Behaviour
Reduce account risk by mimicking human behavior. Including random delays between actions, and gradually increasing daily limits.
Smart Limits
Allowing our users to send up to 100 invites and 100 messages in one day.
Templates
LinkedIn's specialists meticulously craft high-conversion templates, designed to augment the efficacy of your automated LinkedIn messaging outreach.
Stable Country-based IP
LinkedRadar provides each user with a stable country-based IP so that the user's account is not under suspicion.
Boost your LinkedIn sales outreach by 10x!
The safest lead generation for LinkedIn
START FOR FREE