Taplio Review: Is It the Best Linkedin Content Tool?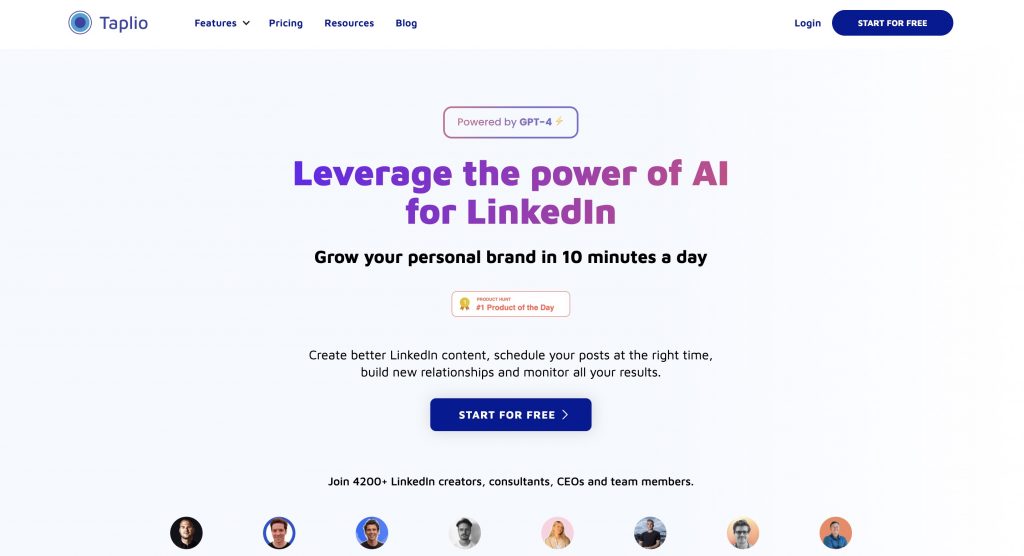 01 What is Taplio?
Taplio stands as an ingenious AI-powered solution designed to elevate your LinkedIn content to new heights of engagement and effectiveness. It serves as an invaluable companion for:
Stimulating post ideas
Crafting and refining posts
Efficiently scheduling posts
Monitoring post performance
Soliciting constructive post feedback
Taplio leverages a diverse range of AI techniques to aid in the creation of compelling content, encompassing:
Natural language processing, facilitating a profound grasp of your content's essence
Machine learning, identifying trends within victorious LinkedIn posts
Generative AI, producing fresh content aligned with past successful posts
Indispensable for enhancing your LinkedIn presence, Taplio streamlines your efforts, enhances engagement, and expands your network.
Highlighted below are key features that underscore Taplio's prowess:
AI-Generated Posts: Taplio generates post concepts tailored to your interests and objectives. It even crafts and refines posts, freeing you to focus on other tasks.
Post Composer: The integrated post composer simplifies the creation of captivating posts. Incorporating images, videos, and diverse content elements requires just a few clicks.
High-Fidelity Previews: Taplio provides a meticulous high-fidelity preview of your posts pre-publication. This enables you to fine-tune your posts' appearance before they reach your audience.
Queue System and Draft Management: You can effortlessly queue posts for future publication, streamlining your posting schedule. Drafts can also be preserved for subsequent refinement and completion.
Social Media Monitoring: Taplio vigilantly monitors post performance, offering insights into effective strategies. This data fuels content enhancements and boosts engagement.
Direct Customer Engagement: Taplio facilitates direct interaction with customers and followers within the platform. This includes addressing queries, responding to comments, and igniting conversations.
Brand Monitoring: Taplio diligently tracks brand mentions on LinkedIn, unearthing opportunities to connect with your audience and amplify brand recognition.
In essence, Taplio stands as a commanding resource for crafting dynamic LinkedIn content and expanding your network. For those committed to leveraging LinkedIn as a catalyst for business or career growth, Taplio is a strategic investment that promises substantial returns.
02 Taplio Reviews: Is it worth It?
Taplio emerges as an influential resource, wielding the capacity to amplify your LinkedIn content creation and network expansion endeavors. It stands as an option of significant merit, particularly for individuals deeply committed to harnessing LinkedIn's potential for business and career advancement.
Highlighted below are merits and considerations associated with Taplio:
Advantages of Taplio:
AI-Infused Content Generation: Taplio showcases prowess in generating post concepts, crafting and refining posts, and even imbuing existing content with enhanced uniqueness. This streamlines your efforts, saving time and bolstering the potential for content success.
Integrated Post Composer: Equipped with an integrated post composer, Taplio empowers effortless creation of captivating and dynamic posts. Incorporating diverse content elements like images and videos is just a few clicks away.
Precise High-Fidelity Previews: Before publication, Taplio provides meticulous high-fidelity previews of your posts. This feature ensures your posts align with your vision before they're shared with your audience.
Queue System and Draft Management: Effortlessly schedule posts for future publication, ensuring a steady stream of fresh content. Drafts can be conveniently preserved for subsequent refinement and completion.
Vigilant Social Media Monitoring: Taplio keenly tracks post performance, offering valuable insights into effective strategies. This feedback informs content enhancements and drives engagement.
Direct Customer Interaction: Taplio fosters direct engagement with your customers and followers directly from its platform. You can seamlessly address inquiries, respond to comments, and even initiate conversations.
Brand Mentions Tracking: Taplio diligently monitors your brand's mentions on LinkedIn, unveiling opportunities for audience engagement and brand visibility.
Considerations of Taplio:
Price: Taplio operates under a subscription model with plans commencing at $99 per month.
Learning Curve: Initially, Taplio might pose a slight learning curve. However, the platform boasts comprehensive documentation and abundant resources to facilitate a smooth onboarding process.
Ongoing Refinement: As Taplio remains in development, occasional bugs or glitches may arise. Nevertheless, the proactive development team consistently addresses these issues, ensuring swift resolutions.
All factors considered, Taplio stands as an impressive instrument, equipped to enhance your LinkedIn content creation and network expansion. While not without its imperfections, its value proposition remains compelling, particularly for individuals earnestly dedicated to leveraging LinkedIn for business and career growth.
03 Taplio Pricing: Is Taplio Free?
Taplio extends a free trial for 7 days, presenting a glimpse into its capabilities. Following this trial period, Taplio introduces three distinct pricing plans to cater to diverse needs:
Personal Plan: Valued at $39 per month, this tier encompasses:

Boundless AI-generated posts
Unrestricted post scheduling
Infinite post drafts
Comprehensive social media monitoring
Engaging customer interaction
Thorough brand tracking

Pro Plan: Priced at $55 monthly, the Pro Plan encompasses all attributes of the Personal Plan, in addition to:

Elevated AI-generated post thresholds
Enhanced post scheduling boundaries
Expanded post draft quotas
Sophisticated social media monitoring
Elevated customer engagement
Advanced brand tracking

Enterprise Plan: With a subscription fee of $144 per month, the Enterprise Plan encompasses all offerings within the Personal and Pro Plans, along with:

Enterprise-grade support Designated customer manager Tailored custom features
Embark on a complimentary Taplio journey for 7 days. Subsequent to this trial period, you have the liberty to select the plan aligning most harmoniously with your requisites.
04 Taplio Tutorial: How to Use Taplio for Content Generation?
Certainly, here is a guide on effectively utilizing Taplio for content generation:
Initiate Your Taplio Account: Begin by signing up for a Taplio account, an effortless process available on the Taplio website.
Select Your Subscription: Taplio presents three subscription options: Personal, Pro, and Enterprise. Access Your Taplio Account: Log in to your Taplio account via the website or the user-friendly mobile app.
Navigate to the "Content" Section: Locate and click on the "Content" tab, the hub for content creation and management.
Utilize the "Generate Post" Feature: Engage the Taplio AI content generator by clicking the "Generate Post" button.
Specify Your Subject or Keyword: Input your chosen topic or keyword, guiding the AI towards generating relevant content.
Opt for Your Content Format: Tailor your content format – opt for a blog post, article, video script, or social media post.
Initiate Content Generation: Trigger the AI's creative prowess by selecting the "Generate" button, prompting content aligned with your topic and format.
Evaluate the Content: The AI might generate multiple content pieces. Review each offering and select the most appealing one.
Customize the Content: Tailor the content to your preferences through editing.
Schedule Your Content: Opt to schedule content publication on LinkedIn for a later time. Publish Your Content: Release the content either immediately or at a designated future time.
Here are supplementary insights for optimizing your content generation experience with Taplio:
Precision in Topic: Opt for a specific topic or keyword to enhance the AI's ability to craft content resonating with your target audience.
Industry-Relevant Keywords: Employ keywords pertinent to your industry and intended audience, increasing the discoverability of your content.
Concise Delivery: Keep your content succinct and straightforward – concise pieces are more likely to engage and retain readers.
Visual Enhancement: Integrate visuals to break up text and elevate the visual allure of your content.
Multi-Channel Promotion: Extend the reach of your content by promoting it across social media and diverse platforms, amplifying audience engagement.
With this guide, you'll harness Taplio's potential for dynamic content generation, catering to your audience and enhancing your digital presence.
05 Taplio Alternatives: Which is your Best LinkedIn Content Tool?
ChatGPT For Linkedin
ChatGPT For Linkedin is the solution you've been looking for. Advanced AI-generated replies are optimized for maximum engagement and designed to drive more interactions on your posts. With ChatGPT For Linkedin, you can achieve 10x growth in your engagement and transform your LinkedIn strategy.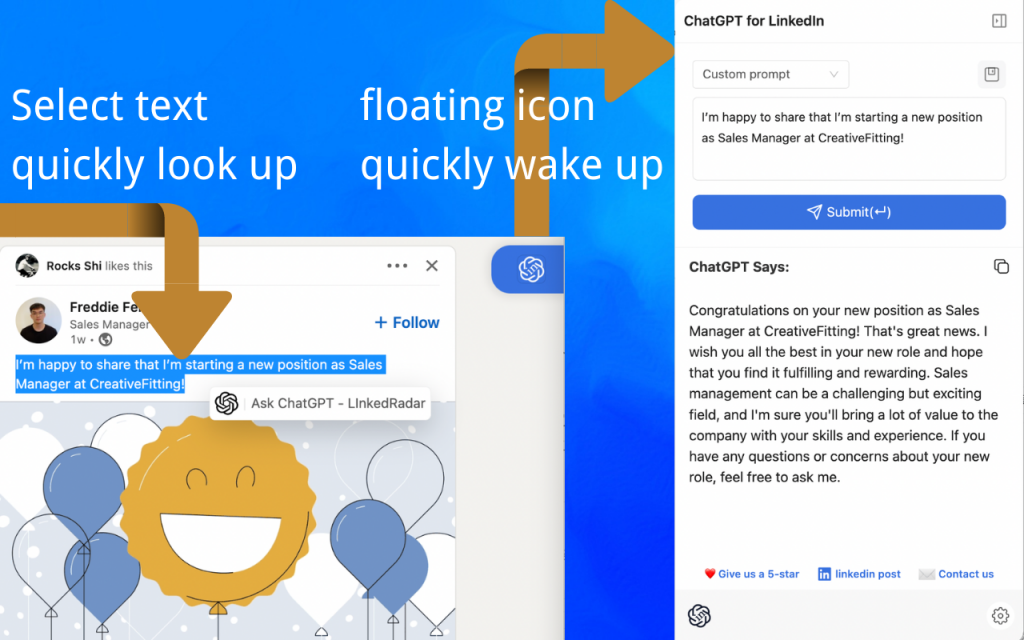 Engage AI
Engage AI is an innovative AI-driven solution that assists businesses in enhancing customer engagement and communication through personalized interactions.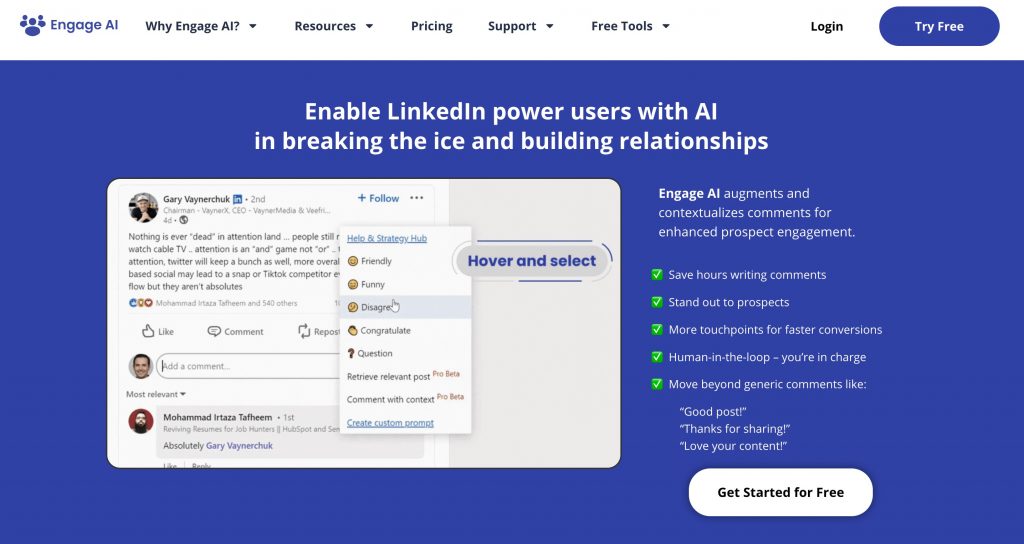 SocialPilot
SocialPilot is a comprehensive social media management platform that empowers users to efficiently schedule, publish, and analyze content across multiple social channels.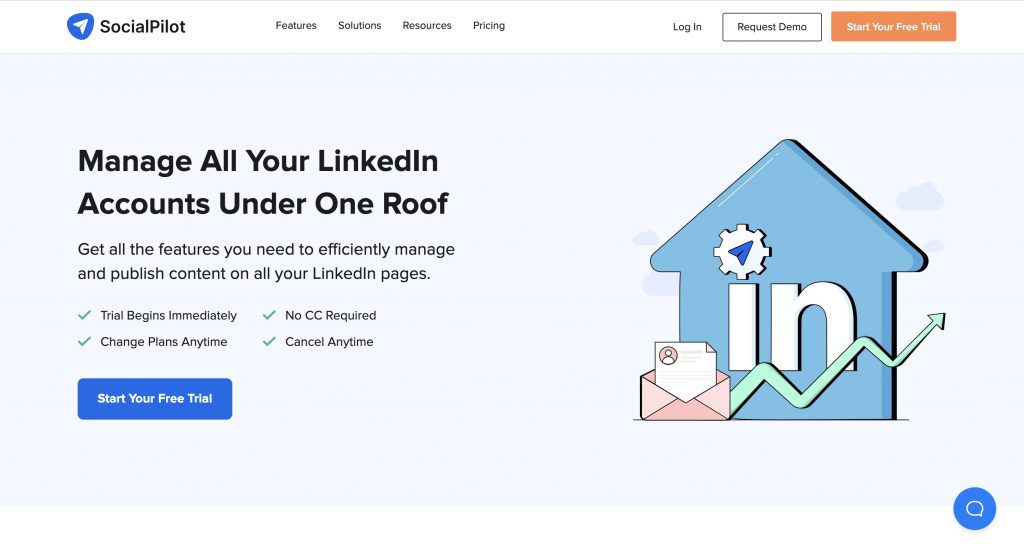 AuthoredUp
AuthoredUp is a cutting-edge platform that leverages AI to create high-quality written content, helping businesses streamline their content creation process and engage their audience effectively.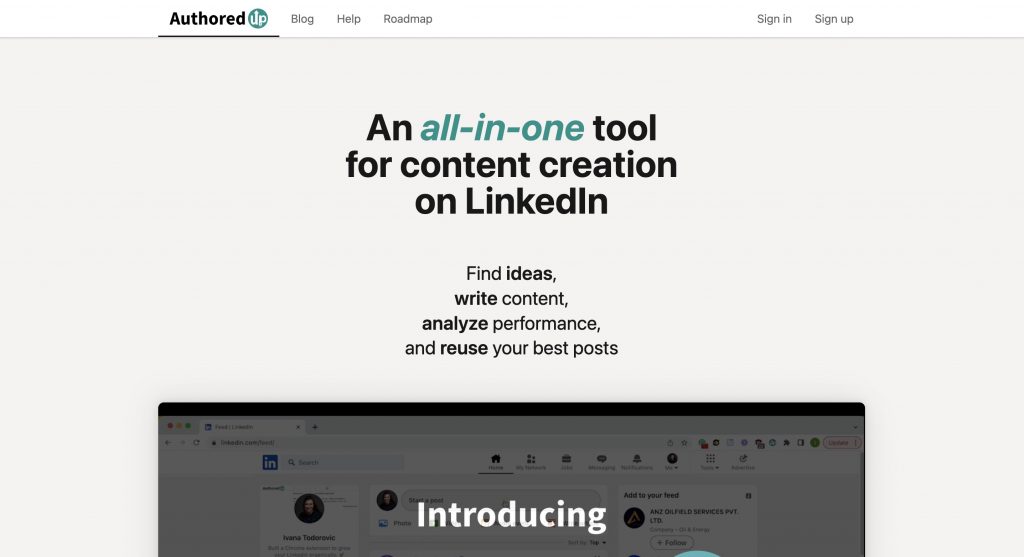 Connect with your prospects on LinkedIn. Receive responses effortlessly through LinkedRadar🚀
Mimic Human Behaviour
Reduce account risk by mimicking human behavior. Including random delays between actions, and gradually increasing daily limits.
Smart Limits
Allowing our users to send up to 100 invites and 100 messages in one day.
Templates
LinkedIn's specialists meticulously craft high-conversion templates, designed to augment the efficacy of your automated LinkedIn messaging outreach.
Stable Country-based IP
LinkedRadar provides each user with a stable country-based IP so that the user's account is not under suspicion.
Boost your LinkedIn sales outreach by 10x!
The safest prospecting tool for LinkedIn
START FOR FREE